July 6-9, 2016
The Gili Islands
What Are the Gili Islands?
The Gili islands (Gili means small island) are three islands that rest off of the northwest coast of Lombok, an archipelago created by volcanic activity. The largest island and farthest west, Gili Trawangan or Gili T, was our first stop. It is known as the "party island" attracting backpackers with its three main draws: snorkeling, diving and partying. There is a small local community on the Island.
No cars are allowed on any of the islands; only bikes and horse drawn carts. Gili Meno is the island in the middle and the smallest and quietest of the three.The island farthest east, closest to Lombok is Gili Air. Gili Air has the largest local community and the majority of locals are Muslim. Gili Air is supposed to be the quieter holiday alternative to Gili T, though some claim that it will become the next Gili T.
We are visiting both Gili Trawangan and Gili Air to get a fair sampling of the Gili's. It's an easy task to get around considering the islands are so close we could probably swim.
Gili Trawangan
We took a 'fast boat' to Gili Trawangan from Amed, Bali. An hour later as the boat approached the Gili islands it was an impressive sight- three little circular islands in a row surrounded by white sand and unbelievably clear turquoise water--resembling, as we like to think, Lombok's thought bubbles.
First Impressions
The fast-boat dumped us on the narrow beach of Gili Trawangan. From which we wondered to the main beachfront street that circles the entire island. The street was bustling with a sea of tourists, horse carts and dozens of people riding bicycles who really shouldn't be. There really is no place for anything other than pedestrians on the main street. Everyone has to move out of the way when a jingling horse cart races past. Then the bikers jam up traffic even more and aren't coordinated enough to maneuver around the pedestrians. If you don't ride a bike at home and generally don't know how, why do you think renting and riding one through a crowded pedestrian street is the place to try it out?
Our accommodation on the island was basic but sufficient- bamboo hut, bed, fan and mosquito net. We spent most of our time on or near the beach. There's not much else to do actually. Gili T is probably ideal for a young backpacker interested in cheap prices and partying but for us, it lacked any cultural depth we enjoy (though we knew that beforehand). Nonetheless it is still a beautiful, if overcrowded, island.
Snorkeling Trip
For 100 IDR each ($7.50 USD), we took a 5-hour organized snorkeling trip around the Gili Islands. Dozens of companies organize these trips each day, all advertising essentially the same trip with 3-5 stops at different snorkeling locations. There were about 20 of us on the boat. We made two stops before lunch, one at a coral reef where we saw lots of colorful fish, and another stop at Turtle Point where we did not see any turtles.
The boat made a stop on Gili Air for lunch where our boat left us for over 2 hours (even though the lunch stop was supposed to be an hour). Back on the boat we were surprised to see that one of the crew was actually counting to make sure we had all made it back on the boat. Quite the display of responsibility. Because we had wasted so much time for lunch we were pretty sure our boat wouldn't make the promised 4 stops for snorkeling. This belief was correct, we only made one more stop, which was fine by us...at that point we were getting tired.
Night Market
Both nights we walked the island to see sunset from the west coast. Spacious beach side restaurants and bars line this quieter side of the island where you can catch the sunset from swings built right on the water. The scenery on the west of the island is much different than the east, the waves break far in the distance, and calm water covered in green plants meets the shore.
Walking the entire perimeter of the island we found the night market which opens in the market square every night at 6. We had both read about the night market prior to visiting and were expecting cheap street stall eats, but the prices were comparable to the nearby restaurants. Disappointing. Not a deal at all. The dessert cart however was very reasonably priced with cakes and cookies for 5,000-10,000 IDR (20-80 cents).
Walking around at night many locals will call out 'bro', 'man' or 'dude' and offer drugs to fuel the party scene. Magic mushrooms can be found in restaurants and milkshakes around the island. There is no police presence on any of the Gili Islands. This is in stark contrast to the very severe drug penalties in the rest of Indonesia.
Gili Air
From Gili Trawangan we took a public ferry to Gili Air then set out to do a lap around the island. Gili Air is definitely quiter and slower than Gili T. It was a refreshing change of pace and not to mention had none of the congestion issues on the main pathway. We walked the whole island in about 90-minutes, getting acquainted with our new surroundings consisting of tranquil narrow beaches, turquoise water, a few construction sites, and small trails leading to villages in the center of the island.
Nasi Campur
In Gili Air we had our first delightful experience with nasi campur. Outside of the main strip of restaurants we found a tiny little, ill-kept warung catering to the local population. We sat down at the only table after pointing to the selection of food available at the counter. Nasi (rice) Campur, a staple in South East Asia, is a mound of rice with an accompaniment of sides. Our plate of nasi campur contained white rice surrounded by helpings of fried tofu, fried tempeh, strips of chicken, sambal (spicy chili sauce), veggies, peanuts and fried coconut shavings. A heavenly combination of ingredients creating an exciting mouthful each time we took a bite.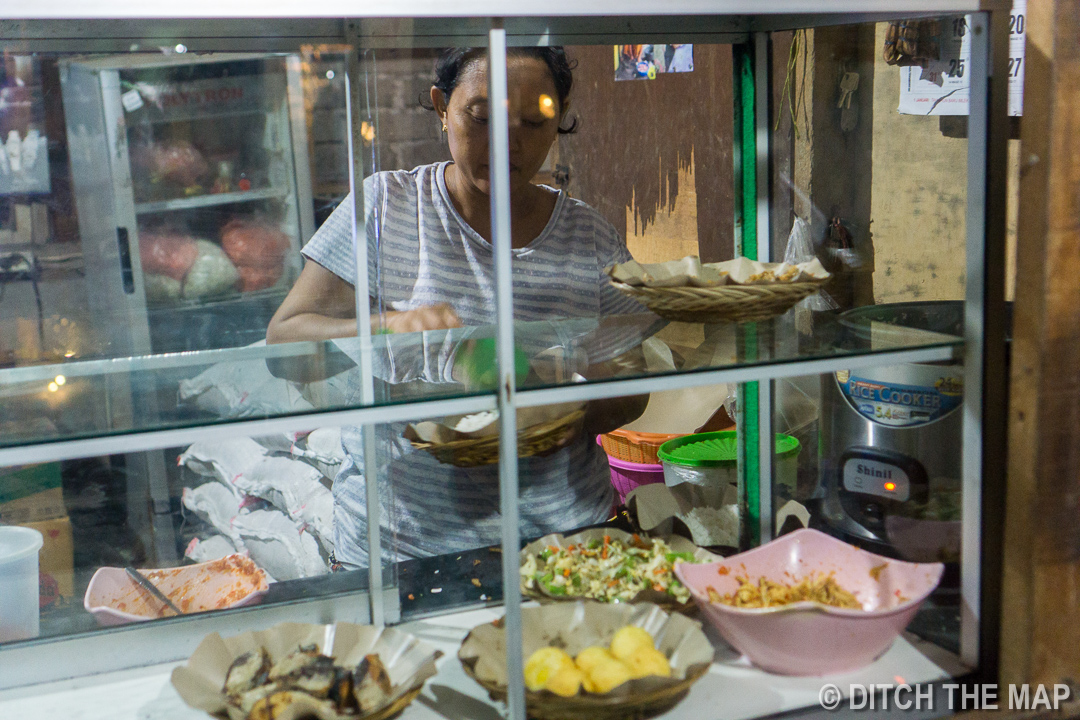 As we chowed down two other travelers joined us at the only table (this happens a lot- after we sit down other travelers see white people and deem the place safe to eat- we've started trends a few times). They were our new friends for the evening- a girl from Greece and a guy from Uraguay. Our first time meeting other travelers from either of those countries.
Small World
After a stuffy night's sleep, a giant croaking lizard in our room and the early morning sounds of roosters and the mosque's call to prayer, we woke to start our final day in Gili Air. We walked around the island contemplating how we wanted to spend our day- kayaking, paddle boarding or snorkeling.
On the same walking path in the distance was a girl who looked incredibly familiar. We had actually seen her the day before on Gili T as well, and thought she looked remarkably similar to a girl from Spain who we had ran into twice while traveling in South America. We were both trying so hard to figure out if it was her while also trying very hard not to stare too obviously when we just had to ask. A look of recognition came over her face and she remembered the exact hiking group we had been in when we hiked the Salkantay trail in Peru! Not only had we seen her on the way to Machu Picchu, but then later ran into her again on Taquile Island in Lake Titicaca and now in The Gili Islands- what are the chances!
Island Living
We spent the morning snorkeling off of the shore. Sadly, most of the coral near the shore is dead and washes up along the beach in bleached and broken pieces. We did see a number of colorful fish and were both left breathless when a school of thousands, literally thousands of 3 inch fish, swam around and beneath us in such a high concentration that they blocked out our view of the ocean floor below. Amazing!
Out of the water we explored the inner streets of the island weaving through local villages, passing rogue roosters and the occasional cow.
Ultimately, and totally intentionally, our route took us back to a street stall selling martabak (a sweet or savory stuffed pancake). Martabak is not like any pancake we've ever met. Its dense, intense and packed with goodness. We ordered a 'complete' traditional martabak which was filled with chocolate, cheese, peanuts, coconut and sesame seeds. The cheese added the perfect amount of saltiness to balance out the chocolate and leave you desperate for another bite. This is definitely not a meal for one, you need a partner in crime to finish the whole thing. To our surprise the chocolate used inside the martabak was in sprinkle form- just like the hagelslag we ate in The Netherlands! Which makes sense because Indonesia was a Dutch colony. Oh the connections our traveled brains make. They also sell bags of chocolate sprinkles (hagelslag) in the mini markets and grocery stores too.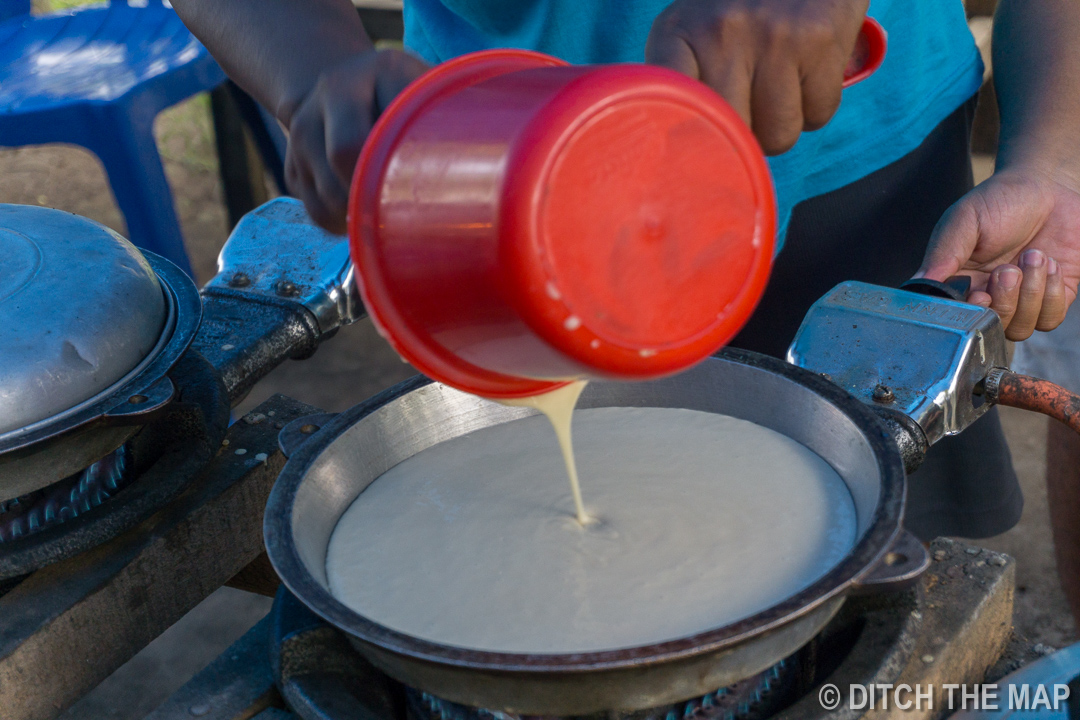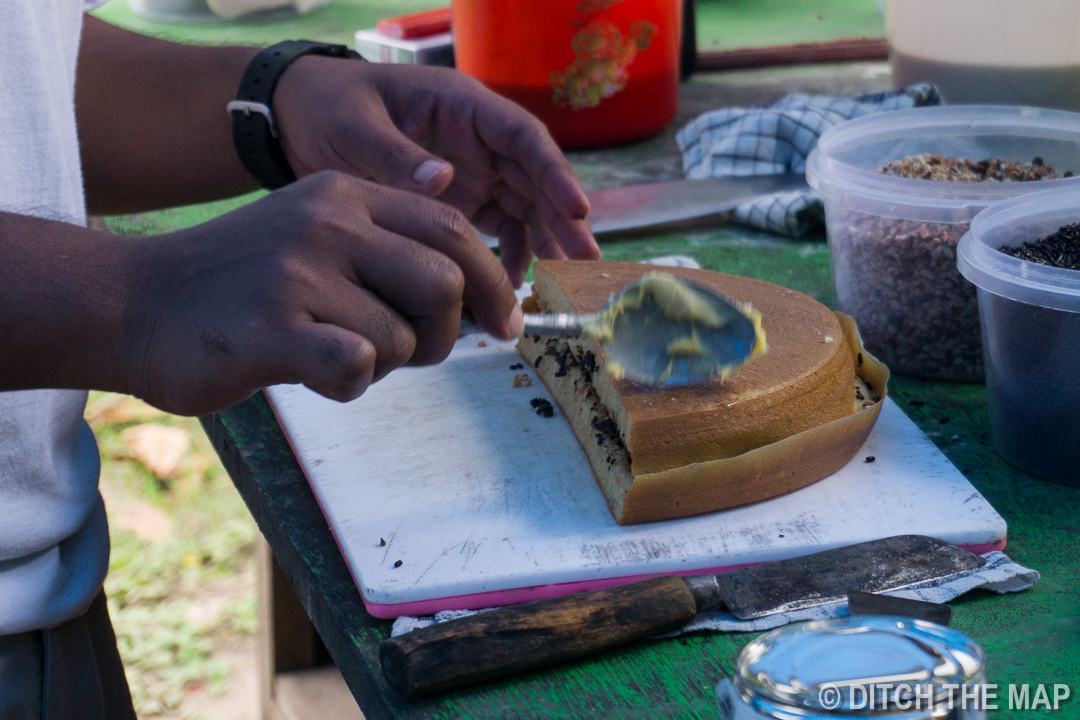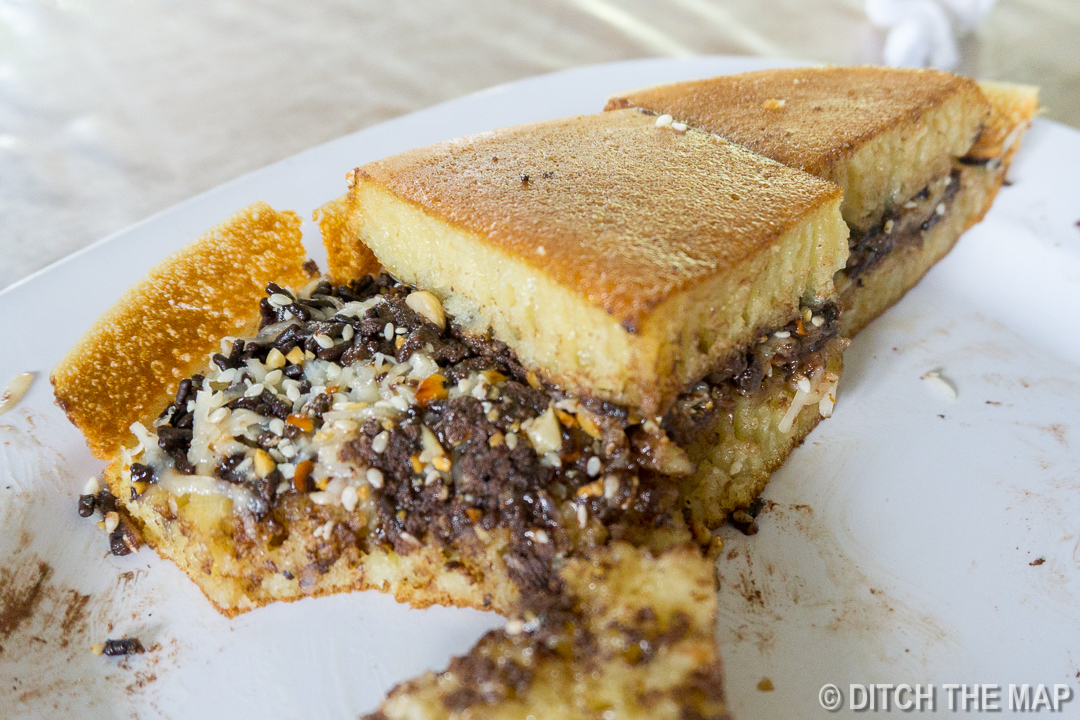 Our friends from Greece and Uruguay unexpectedly showed up at the street stall too looking to get their sweet treat fix (though it's probably not all that surprising to run into someone on Gili Air considering that you're never farther than a half mile apart from anyone on the island.)
Fish, Fish Everywhere
At dinner time, the restaurants on the main road laid our their trays of whole fish, squid, and prawns on ice. We inquired at many places and found that for the same type and size the prices varied considerably depending on the restaurant--the higher-end places charging 4 times more than the cheaper places. Since the quality of the fish where the same (they all came from 100 meters away) and a grill is a grill we opted for the cheapest option. One man outside a restaurant quoted us 110,000 IDR for a large red snapper. I talked him down to 85k IDR (~$6.50 USD). The guy proceeded to gut and split the fish in half the fist prior to putting it on the grill. The fish was served alongside vegetables and fries. I was also able to use the limited salad bar. Almost every restaurant offered a free salad bar for customers who bought seafood. I found the fish tasty... and can only hope it hasn't been on and off ice being frozen and thawed for several days in a row.
If you're looking for another detailed write-up with more recommendations about visiting the Gilis please read Angelina DiGiovanni, a fellow travel blogger's, post here