June 24- 28, 2016
Seminyak (South Bali)
Bus to Bali
We met our over night bus to Bali at the bus company office. We frantically searched for food before the bus left with little luck. The bus was located on a strip of highway surrounded mostly by other bus companies. We ended up with an ice cream cone and a plastic bag full of soup from a street-side Warung restaurant. Perhaps not the most practical of snacks. Thankfully we had bought plenty of fruit the night before to snack on during our 22 hour ride.
The bus was OK and equipped with slightly reclining seats, a pullout foot rest, a/c, and snacks, blanket and pillow provided. At 8pm the bus made a stop for dinner. The price of dinner was included in our ticket purchase. It was a buffet style restaurant and everyone in the restaurant ate in silence and not a single person, except for us, went back for seconds. When finished dinner, the majority of people on our bus proceeded to smoke an 'after dinner' cigarette. There is a large smoking culture here: it seems like just about everyone smokes.
Back on the bus we watched the movie, The Year of Living Dangerously, based on a novel about a journalist in Jakarta. He falls in love with a woman at working at the American Embassy at the time of a coup attempt by the Communist Party of Indonesia. Pretty slow movie and not very informative about Indonesia. We are always trying to watch movies and read books about the places we visit to further educate ourselves. Any recommendations?
We slept off and on through out the night and woke up in the morning when the bus was on the ferry crossing from Java to Bali. Traffic in Bali was slow moving, but the scenery was beautiful- rich greenery and rice fields lined the highway. Finally around 12:30 in the afternoon we arrived at our final destination.
Dentist Visit
From the bus stop I headed over to a dentist I had found online and had scheduled an appointment with the day before. The dentist was in a clinic that also specialized in aesthetic anti-aging procedures. I was skeptical to visit a dentist abroad, but the clinic received stellar reviews online.
The waiting room was full of people- a lot of older women from Australia who probably visit for cheaper procedures than back home. As I looked through the pamphlets and prices I noticed that the anti-aging procedures were super affordable- microdermabrasion for only $20, and all sorts of other procedures for cheap too- botox, chemical peels, etc. My appointment to get a new night guard took all of 10 minutes. The doctor was professional and the facility very clean and modern. Best of all, the night guard cost only $30! Now I understand why medical tourism is a 'thing.'
Beautiful Beaches
We stayed in a hotel in southern Bali in the beach town of Seminyak. We had read reviews saying that Seminyak is a bit quieter than neighboring Kuta where the backpackers and younger Australian's party. It didn't take long to observe the lack culture and authenticity in southern Bali. Almost all of the restaurants serve western food- we even went to a restaurant dedicated to mac and cheese! (can't complain too much about that though...it was delicious) The streets are lined with shops and restaurants, and hardly any of the warung street-side restaurants we enjoyed so much in Jakarta and Yogyakarta.
On our first night we walked down the beach to see sunset and stopped for a beer and live music. The vibe was amazing. Colorful bean bag chairs and lanterns dotted each beach-side restaurant which overflowed onto the wide sandy beach. We had actually expected southern Bali to be more rowdy and rambunctious because of the reputation it has, however we found the crowd laid back and respectful. But, here there is the largest number of white people we've seen since before India. White people out number locals on the beach and almost everywhere in southern Bali, it seems. There are a sizable number of Asian tourists from other Asian countries as well.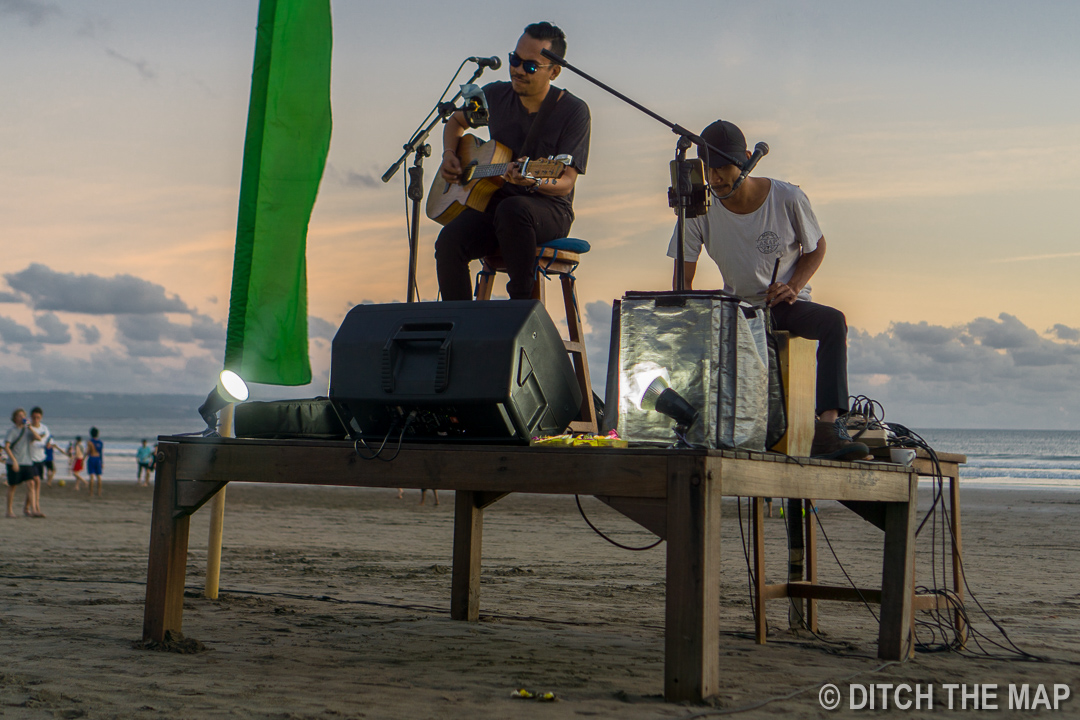 Each restaurant had a live band playing, consisting of guitar, drums, and vocals. They played acoustic versions of popular music and mellow beach tunes. We enjoyed beers and the ambiance as lanterns were released into the night's sky. On our second night we even saw Indonesian men and women in traditional dress performing a fire dance during the live music intermission.
We spent an evening trying to find some of Bali's famed night life in the town of Kuta, south of Seminyak. We walked over two miles enjoying the mild night air. As we walked taxi drivers and shop keepers tried to beckon us by calling out, what do you need boss? We are 'boss' and 'darling' to everyone we pass on the street. The locals are very friendly and won't try to rip you off without a big beaming smile of their face. They do make us feel very welcome though with their greetings and big smiles. Very nice and inviting people.
In Kuta we aren't sure where we went wrong, if we took a wrong turn or weren't on the right street, or maybe it's not quite high season yet, but after 12 the only bars we saw were shut down or almost empty. The area was super commercial- at one point we passed a McDonald's next to Burger King and had to ask ourselves, "we're in Indonesia right?" Apparently Australian schools are just letting out for summer break in a few days and then the crowds will pickup. Bali is like their Disney Land, or Vegas or something like that.
Cheap Pampering, Yea!
On our second day in Bali we decided to indulge in a massage after some beach time. For $3.75 each we got our feet rubbed for an hour! It was bliss. After all the walking we've done on our journey our feet were thankful for the rub down. The best part was that we were able to share a beer and snack at the same time! Truly heaven.
Not quite finished being pampered, we enjoyed a second massage the following day! This time we opted for a neck and shoulder massage. Delightful once again. These basic massage parlors are everywhere. The layout is simple with a few lounge chairs and massage beds separated by curtains. Some even offer free WIFI so you can browse the web while getting your feet rubbed. For only $4 for a 60-minute back, head, and shoulder massage we'll be taking a year+ off work indefinitely.
Not Everything is Expensive in Bali, Indonesia
Munduk (North Bali)
The drive to Munduk was a beautiful one. From the south of Bali we made our way into the hills of the north and wound up mountains past scenic rice fields. The scenery was so lush and green- I don't think we've ever seen so many shades of green before! Munduk is a small hillside town an hour from the Bali's northern coast known for rice fields and coffee plantations. It's a sleepy town with just a few homestays and restaurants and not nearly as touristed as southern Bali.
Checking Out Munduk's Waterfalls
Shortly after checking into our home stay we headed out into the drizzling rain to hike to some waterfalls. Following a hand-drawn map given to us by our homestay we wandered off the main road onto a paved path. The path took us through through tropical brush past hillside villages, cocoa plants, papaya trees and coffee plants. The trail was like a maze through the forest. Unable to decipher our map we asked another couple on the trail for directions. They pulled out nothing other than another hand drawn map! Together we asked some locals to point us in the right direction. After about 45 minutes of walking we discovered the first waterfall. It was huge and beautiful and cast mist into the air everywhere. We followed over 400 stone steps up even higher to reach another, larger waterfall 20 minutes away. Our efforts were rewarded with another equally as beautiful waterfall.
Civet Coffee Stop
On our walk back from the waterfall hike we stopped at the restaurant, Eco Cafe 2, for a coffee break. This second floor restaurant showcased incredible views of the surrounding hazy mountains and rice fields. We had the whole place to ourselves and the traditional music playing in the background really completed the whole experience. We ordered two types of civet coffee- robusta and arabica. The coffee was served in a fancy contraption. We ordered some traditional Indonesian food to accompany our coffee. We enjoyed:
Lak-Lak: Chlorophyl green little pancake (made of ride flour or wheat flour), baked on an earthen mould served with fresh grated coconut and syrup brown sugar
Toge: Steamed vegetables, fried tofu/tempe and beans spiced with crushed fried peanut served with rice
Civet coffee, or Luwak coffee is made from coffee berries ingested and then passed by the civet- a cat like animal. The intact coffee beans are collected from the civet droppings and then used to produce the world's most expensive coffee. ,We were told that the civet coffee we were trying was from free-range civets, hopefully this is the case...there are many ethical concerns regarding animal cruelty in the civet coffee industry.
Civet coffee was introduced when native farmers were banned from having any of the coffee produced by the Dutch established coffee plantations in Indonesia. The Indonesians working on the plantations were still able to enjoy the coffee by using the beans found in the civet poop. Now it is considered the most expensive coffee in the world, even though though it doesn't receive high ranks from the Specialty Coffee Association of America who regard it as a gimmick. A cup of civet coffee in the US will cost you anywhere from $35-$100! But in Bali it'll cost you only $3-$5 a cup. Our consensus: no discernible difference in taste from a regular cup of arabica or robusta coffee. But robusta coffee is strong! We were wired all night.
As we headed back to our homestay we could see the sunset lighting up the sky in the distance. It was too irresistible to pass up so we hopped into the nearest restaurant with a second floor balcony and enjoyed the view with a beer. It was beautiful to watch as it set behind the mountains and reflected off of a lake in the distance. It's truly undeniable how beautiful Bali is!
Day Trip to Bedugul
We woke up early to get a head start on our second and last day in Munduk. We rented a scooter to drive the 8 windy miles to Pura Ulun Danu Bratan Temple in the town of Bedugul. Only ten minutes into our journey it started to pour. We took cover in a roadside restaurant and waited out the rain for an hour with tea and hot chocolate. We were chilled to the bone thanks to the rain and cooler temperatures up in the mountains.
Impatiently we waited out the rain and the hopped back on the scooter. the mountain roads snaked beside beautiful green views of valleys and rice fields. We made a pit stop to check out some monkeys hanging on a guard rail in the sun conveniently sitting near some street side restaurants and shops. Shop owners keep the cheeky moneys at bay with pellet guns. We bought a handful of bananas for about 40 cents and fed the devious monkeys. Some were very well fed, aka greedy little punks stealing bananas from other monkeys, and the size of small dogs!
Pura Ulun Danu Bratan Temple was beautiful but felt like a bit of a circus. The landscaping and crowds made it feel more like a carnival than a religious site. The two floating temples themselves were ornate and striking against the misty mountains in the background. But after getting a few photos, neither of us were too eager to stay longer.
We took the scooter to a market near buy to checkout some local produce. Locally grown strawberries are a big sale item around Bedugul and many people were pushing them. Because of the market's proximity to the temple, the prices were very inflated. We did buy some homemade sweet potato and spinach chips- the fact that it's spinach cancels out the fact that it's fried, right? We made another stop at a place called the Strawberry Stop where we tried some fresh strawberries and ice cream to see what all the hype was about. Pretty darn good.
Warung Lunch Break
On the drive back we made a stop for lunch at the most welcoming selection of warung restaurants. Dozens of warungs lined the entire intersection serving only bakso (meatball) soup or satay (grilled meat skewers). They were very unassuming places with only a few plastic stools each, made for quick in-and-out dining. We walked by the small restaurants observing what others were eating, saw an enticing dish, sat down and ordered the same thing! I can confidently say that it is the best meal I've had in Indonesia so far. For $1.50 I had pork satay in the most incredible teriyaki/soya/BBQ/chili type sauce accompanied with firm rice balls. A-m-a-z-i-n-g. It was served fresh, hot and ready to order.
Riding Through Rice Fields
Before returning to our homestay we decided to take a ride through nearby rice fields. The roads were very gravely and the weather was making a turn for the worse so I headed back to the room while Scott continued to the fields. He claims it was one of the highlights so far. With only one person on the scooter it handled nicely on the winding hills and narrow dirt paths. He saw friendly locals tending to the fields and exchanged friendly waves as he drove by.