Getting to Myanmar
Our flight from Hanoi to Bangkok was easy, but we spent almost two hours trying to leave the airport. Despite telling our airport staff that we had a hotel in Bangkok booked for our 12 hour lay over, they directed us through security toward the gates of connecting flights. To make a long story short, we waited in the immigration line three times and had to explain ourselves countless times before being allowed to exit the airport.
The next morning we stocked up on all the goodies 7/11s (yay for our brief stop in Thailand) had to offer and then borded our flight to Yangon, Myanmar. I was surprised that the ATMs in the airport worked for me--my bank had said that because of certain sanctions my card would not work.
I first noticed that many of the locals spoke phenomenal English almost immediately after stepping outside the airport--quite a contrast from Vietnam where not many people spoke English. All the taxi drivers quoted us reasonable prices and there were no scams to ward off. We split a cab into the city along with a very nice guy from Switzerland. The traffic was the worst we've seen in all of SE Asia. After dropping us off our driver waited to ensure we were let into our guesthouse before driving away. I think I'm really going to like this country.
Our guesthouse's reception was on the 3rd story of a very narrow and rundown building. And our room was yet another 5 stories above reception. Unintentionally funny motivational plaques hung on the walls encouraging us to keep climbing the never-ending steps.
In Myanmar you must stay at a registered hotel or guest house, as the government finds a way to profit from every transaction. A tax of at least 10% goes to the government no matter where you stay.
Yangon The Melting Pot
Walking through the streets of Yangon took me back to my time in Nepal and India. The smells of paan lingered in the air as I walked through hordes of food stalls. Myanmar, unlike other SE Asian Countries is a true melting pot, attributable to its colonization by the British. The diversity among it's people is apparent. There is a large Indian population, and numerous Indian restaurants and stalls. As we learned through our pre-Myanmar research, during British colonization of Myanmar, "Indian immigrants flooded into the country, acting like second colonizers: building businesses and taking rare, low-level government jobs from the indigenous population. In 1927 the majority of Yangon's population was Indian. Chinese immigration was also encouraged, further subjugating and marginalizing the Burmese people." (Lonely Planet: Myanmar)
Now it seems that the cultures have merged. Many people in the big city are modern and wear jeans and t-shirts though some women still prefer the traditional style of dress; a very flattering and form fitting ankle length skirt called a lungi and matching top. This outfit is often brightly colored with a variety of patterns. The men who choose to wear the traditional dress, wear a long piece of fabric wrapped around their waist. Similar to what the men wear in Kerala, Southern India. This garment, also a lungi, is a piece of cloth sown into a cylindrical tube, slipped over the head and tucked in at the waist.
Another very unique practice to Myanmar is the use of thanaka, "a yellowish-white cosmetic paste made from ground bark, seen commonly applied to the face and sometimes the arms of women and girls, and is used to a lesser extent also by men and boys. Thanaka cream has been used by Burmese women for over 2000 years. It has a fragrant scent somewhat similar to sandalwood. The creamy paste is applied to the face in attractive designs. Apart from cosmetic beauty, thanaka also gives a cooling sensation and provides protection from sunburn. It is believed to help remove acne and promote smooth skin." Hundreds of women we saw wore this thanaka paste, some covered just their cheeks, others their whole face. Having the paste on your face is seen as "beautiful." The sun is incredibly strong here too, so another layer of protection against it is smart. In Vietnam they use hats and face masks to protect against the sun, and here thanaka. It seems like the inhabitants of every country in SE Asia have their own creative ways to keep their skin the desire shade of 'white.'
New Street Food
We wasted no time diving right into to the impressive spread of new street food. We tried:
Sour mango with salty paprika
Sticky rice with fried onions, salted peantues and shaved coconut
A medley of corn, beans, pickled tomatoes, lime juice, hot peppers, and salt
Fried dough with peanuts and sesame seeds
A fried pancake with Palm Sugar
The City
Yangon is a big city with heavy traffic. Despite a poor waste removal system, hence trash litering the streets, the locals in Yangon have charm. All of the locals we encountered were welcoming and friendly. We received many good natured looks and stares, most out of curiosity. We also received a ton of smiles and kindness and a few intrigued locals struck up conversation, asking us where we are from and where we are visiting in Myanmar. When we asked to take photographs we were met with smiles. The prices in the city were very resonable, nothing seemed to be priced for tourists. In fact sometimes it felt like we were the only tourists around. Unforunately it rained for several hours each day during our stay, but we didn't let it stop us from exlploring a few neighbohoods of the city including China Town. A solid, fast internet connection evaded us no matter where we went. Oveall, there's not too much to do in Yangon, two days is enough to try the food, get a feel for the local vibe and, of course, visit the incredible Shwedagon Pagoda.
Shwedagon Pagoda
We woke early to visit Shwedagon Pagoda before the heat and the crowds. The Pagoda opens at 4am. We made it by 6:30am and there was already a crowd. Before entering we had to remove our shoes, sign in and buy a ticket (for tourists only). We were only the second and third tourists of the day, and the day before Shwedagon only saw about 20 tourists. The vast majority of visitors to the pagoda are devout Buddhists.
We walked the grounds of the Pagoda. It's a fantastic spot for people watching. The women were dressed beautifully in the equivalent of their "Sunday best." Male monks wondered about and female nuns dressed in vibrant pink with shaved heads practiced their religious routines. The locals were just as curious about us as we were of them.
Colorful offerings of flowers and plates of food could be seen everywhere. Gold dominated the intricate buildings. "Beginning in the 15th century monarchs gave their weigh in gold to the pagoda. Traditionally donating gold has been a way to earn merit. Queen Shinsawby was reportedly the first to donate her weight in gold, [600 years ago, for a total of 88 pounds.] King Dhammazedi gave four times his weigh to outdo her. Over the years the weight of all this gold is said to have reached 45 tons."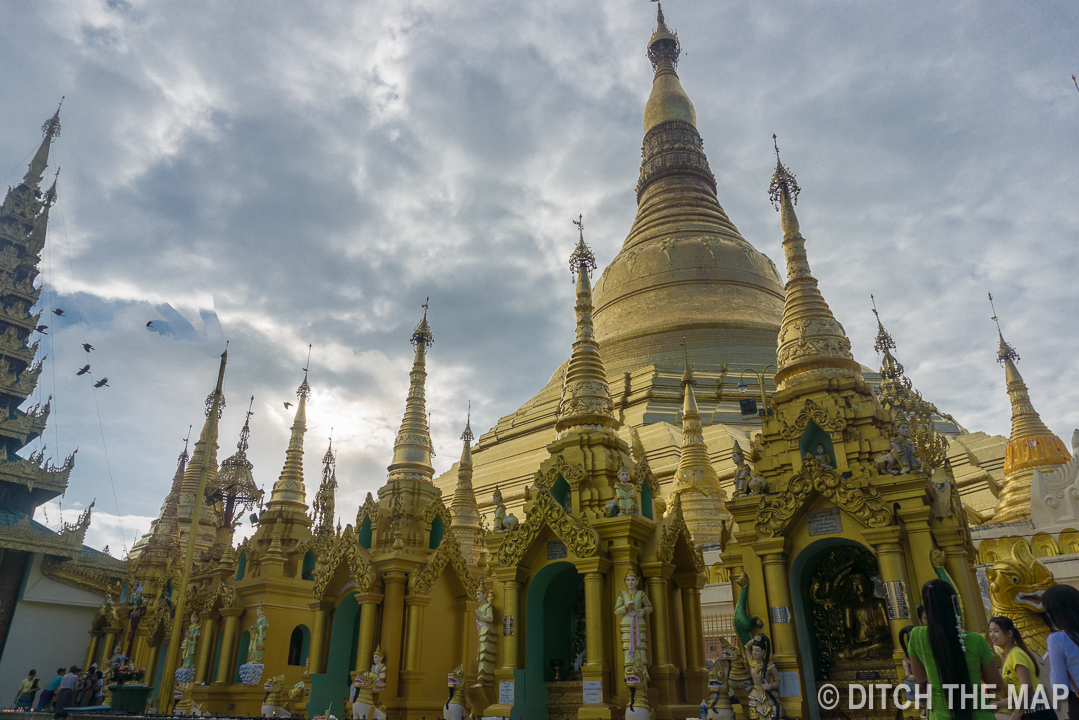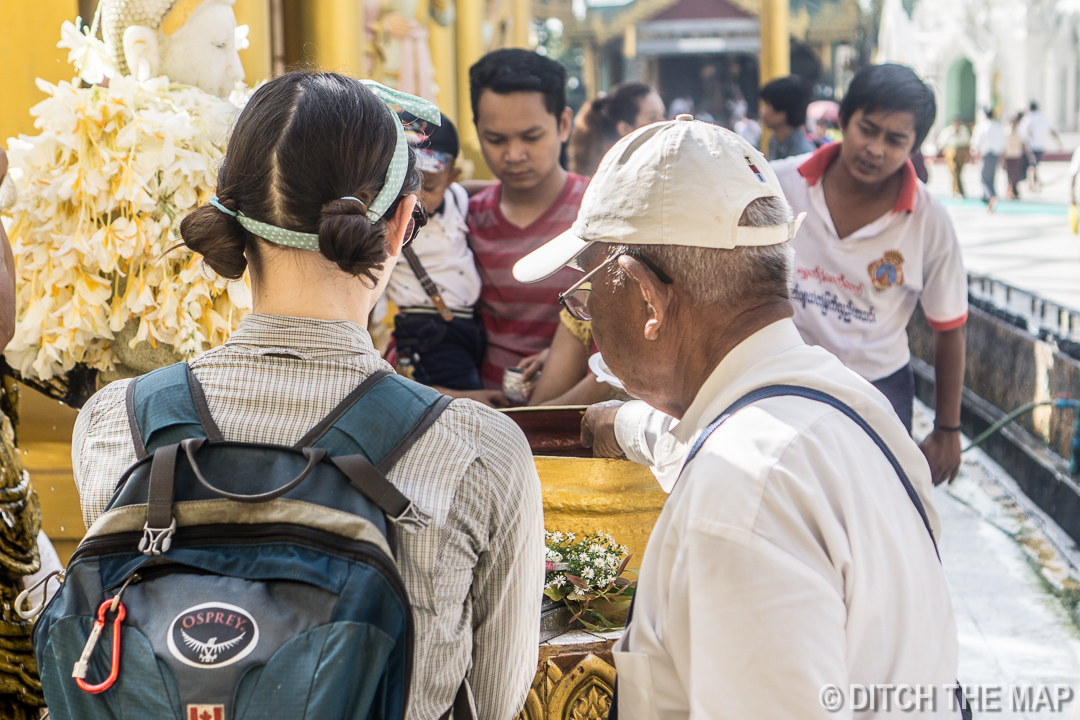 Eight Days in a Week
A tradition at Shwedagon Pagoda is to pour water over your 'planetary post' or the animal/Buddha shrine indicating the day of your birth. All Burmese Buddhists know the day of the week that they were born on. Burmese people believe that the astrological day a person was born is a great determinant in his or her personality and life. However, here they believe that there are eight days in the week, with Wednesday split into two days, Wednesday morning and Wednesday afternoon/evening. Different animals represent each day of the eight day week. Inside of Swedagon Pagoda, there is a corner with a post, or alter for each day of the week. We found our birthday posts covered in flowers and prayer flags and poured water over each Buddha image and animal statues.