October 11-12, 2016
Getting to Bagan
We split a 9,000 kyat ($7.25 USD) taxi ride to Yangon's central bus station, which was an hour away—we were strongly encouraged to give ourselves 2 hours in case the traffic was bad. The bus station was huge, by far the largest we have seen in Asia so far (including India). It reminded me of the mega bus stations found everywhere in South America. We topped off on street side food before getting on the luxury Myanmar Bus Line, JJ Express. See alternative options for Yangon to Bagan buses.
I was stunned to see how nice the bus was…the nicest in Asia. Although the seats only reclined to 145 degrees we had plenty of wiggle room, the air was crisp from the strong A/C, and each seat came equipped with it's own TV. Check Bookaway for more Bus options in Mynamar. I arrived in Bagan well rested, while Sylvie was completely exhausted from a poor night's sleep.
As was customary in Cambodia and Vietnam throngs of 'enterprising' locals, looking to make a quick buck on ignorant tourists, accosted us in hopes of selling us on their overpriced taxi services. We were quoted 10,000 kyat for a journey that was less than 2km away. Each taxi driver continued to tell us that our hotel was, "very far away, more than 7km away". I pulled out my phone, opened the map showed where we were and how far our hotel really was. Each time the guy reduced the price, but offered no apology and showed so sense of shame or guilt. My opinions of Myanmar dropped significantly during my first 10 minutes in the country's most touristed city.
We decided to walk towards out hotel and we caught a taxi driver just outside the drop-off location. We offered a flat 2,000 kyat and the driver accepted the offer. It seems that many of the taxi drivers here have already grown overly accustomed to western tourists. Myanmar is not set up for backpackers and travelers; it seems that the vast majority of visitors are package tourists, who tend not as budget conscience. The prices are still much lower than what they are used to so they don't think twice. I doubt they realize how much over the fair price they are paying. I hope people reading this make a concerted effort to only pay fair and reasonable prices when they travel, even if that means having to walk away and take more time out of your day to find a good rate. Honest people should be rewarded and overpaying, though seemingly harmless, will severely damage local economies.
Feeling Jaded
We decided to stay farther out of the city to save on costs, but the extra effort in getting to and from the city was not worth the extra effort. We rented an e-bike (foreigners are not allowed to rent motorcycles) from our hotel the second day. We tried hitchhiking only to be passed by all the local busses. When we finally did flag someone down they did not hesitate to ask how much money we would give them for the ride. For being a country of Buddhists the drivers in Bagan seemed to be overly concerned about profiting off of tourists. In no other country have locals tried to charge us for hitchhiking. There is no transparency in prices (no tour agencies, no online booking sites for transportation, etc.).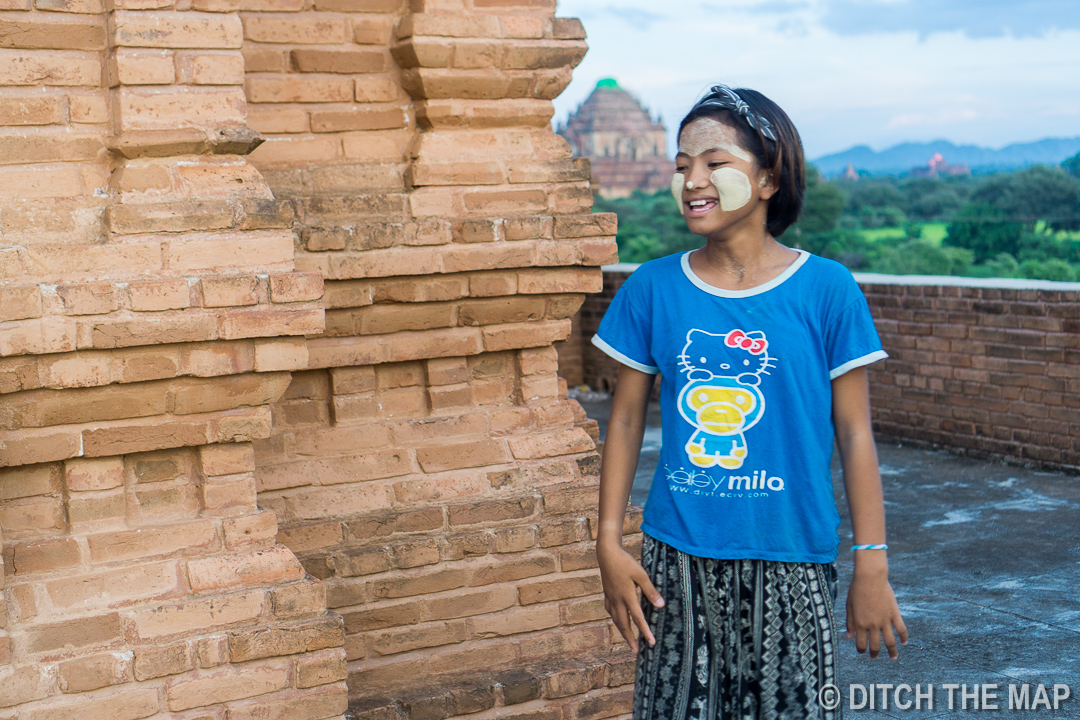 Wikitravel quotes prices from a year ago, but be cautioned, you may have to pay two to four times those rates. I was disappointed by a sense of greed that I felt from a few interactions. Average people driving down the road would not take us unless we forked over an equivalent of a day's worth of salary, even though they were heading in the same direction. The fact that so many had cars equipped with power locks, a/c, and aftermarket stereos really shows how much they are profiting from tourism--According to Wikipedia Myanmar is the poorest country in South East Asia.
Guidebooks quote e-scooter rentals a 6,000 kyat a day but you wont find them here for less than 12,000. We negotiated down to 8,000 but that involved shopping around and have to walk away, only to have a man run after us.
There is a popular tactic that "painters" use to sell their art. I can already see this scheme morphing into a full-out scam. I give it another 5 years before the Lonely Planet covers the Issue.
After a beer and a friendly round of Scrabble we were on our bikes heading to a lookout point to enjoy the sunset. A friendly-looking local on a motorcycle stopped and ask if we needed help. He suggested a Pagoda that had a great view but was very isolated from the packs. He did say, "[he] was a painter and that we would like to show us some work". I can promise you that in 5 years most people offering sunset lookout suggestions won't be so upfront about their true motives. He did show us a great view and he was really a nice guy. We had been wanting to purchase a monk painting but felt a little on the spot while he was displaying his work after the sunset. We were happy to give him the business, but in retrospect I would have felt better giving him 2,000 kyat as a gesture of kindness for the superb location instead. The following day we walked into a desolate pagoda during sunrise and were followed by a man—the man made a U-turn on his motorcycle when he saw us pull off the road. He had a backpack on and we knew he was trying to sell us his 'artwork'. When I firmly told him I would not buy anything from him he seemed to have vanished.
The Pagodas of Bagan
Thankfully the city of Bagan redeemed itself after its shaky introduction. We spent two days visiting dozens of Pagodas scattered throughout the entire city. The corridors of the larger pagodas were peppered with vendors selling everything from paintings and puppets to gongs and buddha statues. We both felt that the bigger and more popular pagodas were not as enjoyable as visiting the smaller and more deserted ones. Climbing atop age-defying stupas surrounded by untamed undergrowth felt like we were stepping into a fairytale 1,000 years in the making. During our second sunset we were taken to a very hidden pagoda. A couple of young local children from a nearby house had taken pride in showing us their favorite lookout point. We were joined with another couple, shockingly an American couple, that had just started their long RTW trip. We enjoyed chatting with them and sharing some of our worldly insight/advise. We spent a while sharing our stories and laughed together as the children sang "All About That Base" and some various K-Pop (Korean Pop Music). There wasn't much else to do in the city and we were glad we only were spending 1 night (2 days) in Bagan before departing to Inle Lake. However I can see how spending a week in Bagan could fly by--however I would want to stay closer to town and have a more relaxing accommodation if staying that long.
The people of Myanmar still seem to amaze me in their friendliness, however the influx of tourism has already begun to change this element in a small but well-seen demographic in Bagan.