Backpacking is a glorious thing!
But packing your bags alone won't get you around the globe. For that you'll need a plan.
To help you get started we've prepared a list of 10 exotic places where you can find volunteer opportunities and earn free housing in exchange for your work. find volunteer opportunities
Lets get started!
INDULGE YOUR APPETITE FOR PASTA AND PIZZA WHILE BACKPACKING IN BEAUTIFUL ITAL
Passionate travellers should not miss to explore the famous French Alps in Italy. If your travel plans includes this scenic & beautiful country then you're surely a great lover of art, food & adventure. Being in Italy & not tasting mouth-watering pizza and pasta is so not cool!
As Italy is known for its cheese & food you'll most likely find a lot of cooking volunteer opportunities here. Also, if you've got the knack & culinary skills, then join well-known restaurants that'll teach you a lot about the country through its food. This way, you'll get an opportunity to work there and get food & accommodation in exchange for your services.
Another option that you can check out is skiing in the gorgeous Mont Blanc massif.
If you visit Italy then make sure to try this amazing sport. You might be able to enjoy skiing while working as a part-time skier instructor if you've got the skills.
Mont Blanc also offers a lot of bed and breakfast employment opportunities for those interested, a great way to meet new travellers while at the same time getting free room in exchange for work. Just pitch for it & let the fun begin!
ENJOY A PERFECT EVENING WITH YELLOW TAIL WINE IN AUSTRALIA
Australia is anything but boring when it comes to wildlife, good food & above all WINE! Yes, you heard that right! When you plan on visit Australia, make sure to also include tasting of local wines in your plans, as this place is known for its splendid wine production. If you're a die hard wine lover then you're surely going to enjoy staying in Australia.
The real charm of this country is in having a glass of Yellow Tail Wine on the Harbour Bridge. This is one of the reasons why many travellers love to visit Australia besides their exotic beaches.
Its so much fun waking up to a lovely morning in Australia, exploring the place in depth and winding off the day with a bottle of Australian Yellow Tail Chardonnay. This place has a lot to give in return for a curious & adventurous explorer like you.
Whenever you plan a trip to Australia, make sure to learn how the wine is made or processed. Wine loving travellers can work in Australian wine production factories to closely observe the process & enjoy the most aged & finest wines. Its okay if you don't have much information about wine and its production, you can ask the locals or your Australian host to suggest you some pretty good wines for getting all tipsy and high!
You can opt for other volunteering jobs too, if wine is not your thing. Look out for bar work or traditional fruit picking gigs that'll give you a chance to know more about the place and its lifestyle, while at the same time getting free accommodation in exchange for your services.
There is a huge fruit picking market where farmers look for young backpackers taking volunteering holidays abroad, who can provide good services in exchange for free food and housing. Applying if you're 18-30 years is a great idea, as famers are more likely going to pick travellers from this age bracket.
WORK IN PUBS THAT NEVER SLEEPS IN VIBRANT THAILAND
Thailand is one of the most popular destinations for backpackers looking to volunteer in southeast Asia, and its not hard to understand why. This country has everything to make you fall in love with it. You'll find fascinating travel locations, relaxing spa resorts, colourful floating markets, cute tuk-tuks, amazing night life and almost everything you'd need to break the monotony of your routines. The locals here are very welcoming too, you're not going to feel out of place & uncomfortable, even if its your first trip to Thailand.
You'll never get bored in Thailand because this country never sleeps. The vibrant & starry atmosphere will keep you awake & energetic to groove all night long, something that is hard to find anywhere else in the world.
Other than this, Thailand also boasts a lot of work & travel opportunities which makes it a great place for travellers wanting to take volunteering holidays abroad. Right from selling veggies on perky floating markets to serving alcohol in bars and pubs.
If selling vegetables or alcohol does not excite you, you can opt for bed and breakfast employment, a lot of hostels in Thailand are run by foreigners who need english speaking personel.
Apart from serving & selling, if you're good at English, you can also teach Thai children at Surin, where locals look for travelling teachers who are good in speaking & writing English. You can join as a part-time teacher and ask for accommodation and food in return for your services. Whatever your passion is, just give it a try, enjoy your stay & make the most out of your skills.
VOLUNTEER AT SEA AT SCENIC CARIBBEAN ISLANDS
Looking for Caribbean volunteer expeditions? Then this one might be just for you! The Caribbean islands are well known for cruising & delicious food. Dinning under the sky in fresh air with pleasant music will kick away all of your worries. If you're a food freak then you're surely going to enjoy having exotic food in this refreshing environment.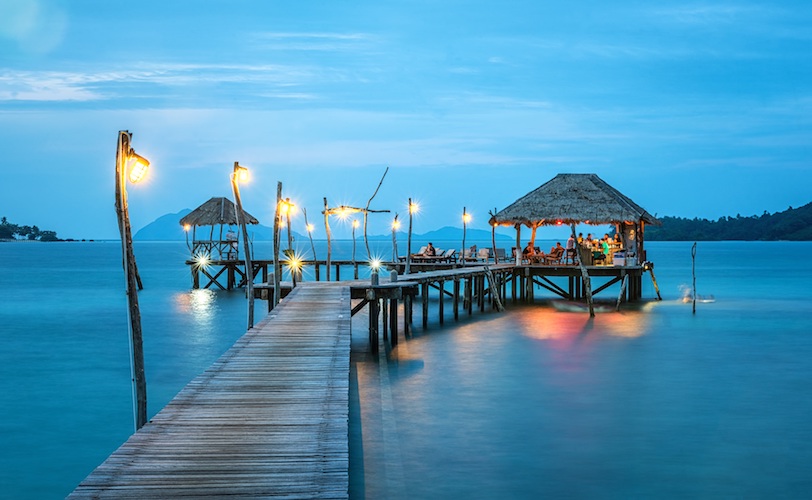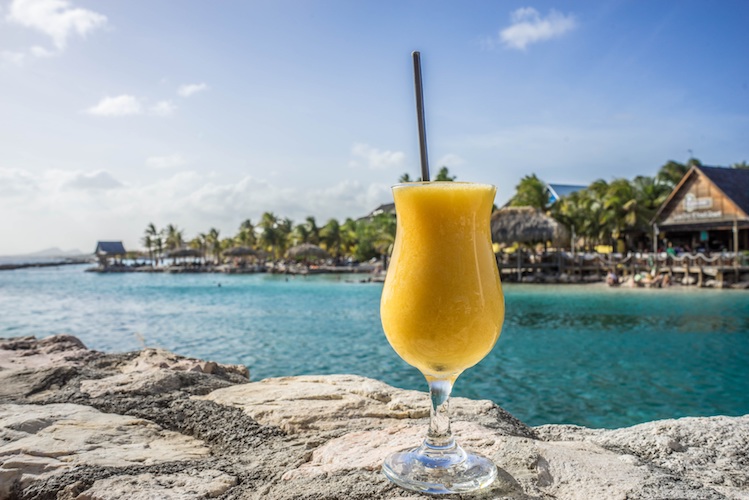 Have you ever thought about volunteering at sea and working on grand cruises? If yes, then you've come to the right place. A lot of yachts & cruises look for stewards & helpers to serve their guests. If you think you've got the skills, or have a little bit of experience with this kind of work then you might be good to go. Your stewarding job roles may include- cleaning, cooking & serving the guests. Its completely up to your skills. This way you can work during the day and enjoy your evenings on sexy & luxurious Caribbean cruises.
FALL IN LOVE WITH THE USA WHILE EXPERIENCING YOUR VOLUNTEERING HOLIDAYS
USA is a nation of freedom and style. If you enjoy a wide variation of landscapes, amazing jazz and rock music, chilling iced drinks, beaches, mouth watering beer, thrilling road trips then yes, you'll fall in love with the USA for sure.
Your journey in the nation of pride cannot be completed without visiting Mount Rushmore National Memorial and its magnificent mountainside carvings of four American presidents.
If you're into working in colder latitudes you could look for opportunities in Alaska. Here you'll find many off-the-grid homesteads and communities, often run by older people who need help with physical labour. Your tasks may include reparation of boats, general handyman work, and cutting lumber.
While your backpack throughout the USA, you'll get to see something new every day and meet a lot of different types of people. Capture the beauty of the Statue of Liberty, or the epicness of the Manhattan skyline. For travellers like you, USA never runs out of places to volunteer, be a guide, musician, entertainer, teacher, chef or anything. Just carry your passion & get started!
EXPLORE THE WORLD'S OLDEST DESERTS WHILE VOLUNTEERING IN NAMIBIA
Travellers like you, whose love for travelling grows with each country you visit are most likely to get caught up in the Namibian wanderlust & amazing wildlife.
Namibia is a land of huge landscapes & spectacular sand dunes that makes it a perfect destination if you're looking for mind-boggling serendipity.
The country has a natural beauty that'll make every step interesting. Along with this, it is one of the lesser populated countries in the world. Since, half of the population lives below the poverty line, it increases your chances of getting child care volunteer jobs. It can be a plus point for you if you're skilled in the health and education sectors.
Backpackers who're on volunteering holidays abroad in Namibia can also look for options like teaching English to the Namibian children or getting to work in the health sector for the betterment of the locals. A great way to earn accommodation in exchange for helping the community.
However, it can be a little tricky as Namibian people are not good at making the first move. So, you'll most likely have to make the approach.
ENJOY YOUR EVENINGS AT LIVELY PUBS WHILE VOLUNTEERING IN THE UK
To see the stunning beauty of mother nature, UK is always a great idea. The refreshing air & weather of this country never make you feel tired. It's a land of royalty, status, brands & the famous London Eye.
The Brits have a knack for pop music and can make you weak at your knees with their extraordinary taste of music. There are almost 60,000 pubs all over the UK that are insanely classy and waiting for you. Were sure that you'll end up 'Gobsmacked' (shocked and surprised beyond belief) after a few rounds.
If you're a traveller & looking for some work & travel opportunities, then pubs and luxurious hotels in the UK have a lot of offers that you can pitch for. You can easily get volunteer work in bars as a game attendee, or in casinos as a bartender.
These places not only spices up your evenings but also makes your volunteering holiday abroad a lot more memorable. And you can ask for food & accommodation in exchange for your services! We're sure you're going to take joy in serving local beer with mouth watering fish and chips!
EXPERIENCE VICTORIA PEAK AND DISCOVER NEW BRANDS IN HONG KONG
If you're interested in volunteering in southeast Asia then make sure to consider Hong Kong. This lively city has a lot to explore & shop. Yes, you heard it right! If you're a female traveller then you're surely going to love your decision of travelling into this shopper's gold mine.
You can find the best-branded handbags, cosmetics, perfumes, watches & clothes here. Whether its your love for Gucci sunglasses, classy Cartier watches, or anything you can lay your eyes on, you can get it here at prices that you'd never imagined.
As there are a lot of shopping malls filled with tourists from all over the world, the local shopkeepers often look for salespersons knowing foreign languages. If you have a crush on a certain brand you can opt for opportunities to volunteer in shops selling just that brand. And you can ask for food and accommodation in return for your work.
A SELFIE AT THE EIFFEL TOWER IS A MUST WHILE WORKING AND TRAVELLING THROUGHOUT EUROPE
The graceful & epic monuments of Europe becomes the center of attraction for every traveller at the very first sight. Right from lip-smacking food to the leaning tower of Pisa, Europe has it all.
There are also a lot of host families in Europe willing to take on a traveller or two, many of them lives on farms where there are many different things to do. Perfect if you're looking for gardening volunteer opportunities, or helping out with the horses.
Europe offers places to volunteer in many different climates, ranging from the warm mediterranean sea to the cold but epic mountains of Norway, Finland and Sweden. Perfect if you fancy trying many type of works while travelling through Europe.
You can also try volunteering at Europe's amazing towering buildings, artistic museums and of course, the sky-touching Eiffel Tower. If you've got the right skills, you can work as a tourist guide and get to meet interesting people from all over the world.
You can plan your visit somewhere in May, June or September. Then it will be less crowded, cheaper and the weather will be absolutely awesome. During these months, pitching for volunteer work is also easier, especially if you're looking for bar work with accommodation. So, say Yes to Europe & Enjoy your stay!
GET TO KNOW THE EPIC HISTORY OF CULTURAL INDIA ON YOUR VOLUNTEERING HOLIDAYS ABROAD
Namaste! This is how people greet each other in India. This colourful nation is the motherland of various cultures & trueness. Its scattered culture & pure spirituality makes it a 'devbhoomi' (Land of Gods). You'll get to hear or see a new culture & a new language after every 10 kilometers.
Anywhere you turn in India, you'll see something that you might have never heard of. Right from amazing beaches to dense mountains, you'll get to see everything here. The best food, rich culture, interesting volunteer opportunities, huge temples, historic monuments;
all in all it is a treasure of history, rituals and colourful festivals.
All this is waiting for you in India! Hard to believe? Its hard to explain about this place in just a few lines. You'd have to visit the place to experience it all.
If you're creative then there're fabric designing factories where you can try your creativity in carving amazing Jaipuri masterpieces.
The second name for India is 'Land of Spices.' No matter what part of the country you visit, you'll get to taste a new spice at each destination. If you've got a great love for spices, then visiting South Spice Market can be a good way to put your cravings to rest. Here, you're going to find spices that have medicinal properties and are used in both manufacturing of medicines and home remedies.
Have the intention to work & you'll get hundreds of opportunities to work in this colourful & festive nation. India is one of the most popular destinations for people looking to volunteer in south Asia and its really not hard to understand why.
Now, you've got options from all across the world to travel and explore. The next time you pack your bags, pitch for any country that you find interesting and look for ways to make your journey a priceless possession.
We hope that these ten amazing places to volunteer at was of use to you, please reach out if we missed something or just want to say hi.
Thats all for this time!