September 6-11, 2016
Our Workaway fell through and our Vietnam visa doesn't start for a while--so we're stranded in the lovely town of Kampot for 6 days.
The City
After yet another hot and uncomfortable minivan ride we found ourselves in what seemed like the middle of nowhere. The city of Kampot is a tiny overgrown village consisting of only a few dozen thousand people, while the province is home to three-quarters of a million people. We were dropped at the center of town, near Durian Circle.
We found a nice hotel after looking at few different guesthouses. $13 a night for A/C, a TV, and an attached bathroom, we'll take it! I later checked our hotel on booking.com, which priced it at $29/nt. We rented a motorcycle for $3/day, which helped us to travel outside the city. The city is small enough to walk.
The outside of many restaurants and guesthouses were run down, but somehow this helped add to the amazing charm of this tiny city. Once setting foot inside the dilapidated buildings I was amazed by how clean and modern they were. I guess there is no reason to rebuild an already existing building? There seems to be more aging western expats here than backpackers, which is something I have yet to see during this trip. I'm sure the $0.50 drafts and $0.80 smokes helps in attracting the foreigners. Many of the restaurants are operated by local families, but there are a few that are western owned/operated. Not surpassingly these establishments are rated very high on Trip Advisor, as they were a step above the local competition. Every restaurant and guesthouse here seems to come equipped with a young child and a baby--families use the first floor as their restaurant and live on the 2nd floor. The term "work-life balance" seems to have its own meaning here. I noticed toothpaste and laundry in the wash closet (it must have been the only one for the house).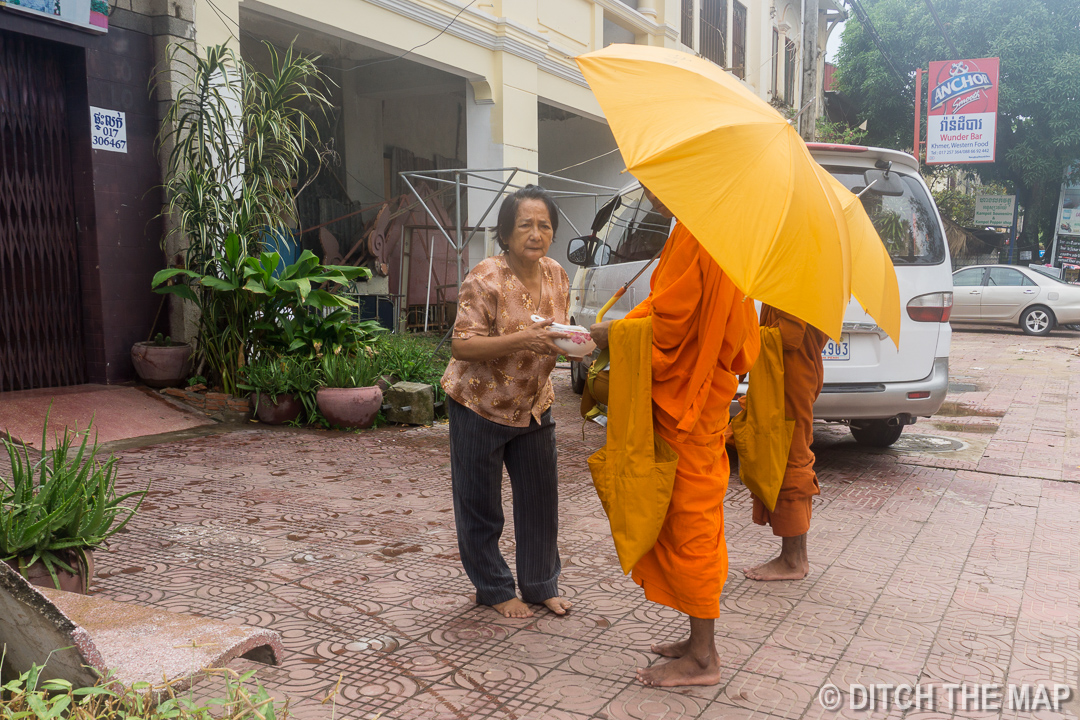 Prices are cheaper here than elsewhere in Cambodia, but still pricier than they should be considering Cambodia's GDP. It's shocking that in Thailand prices are so much lower, even though their salaries are higher and they are more developed.
Yoga / Women's Spa
We went to an all-women's retreat on several of our mornings for a yoga class (they offered one all-gender yoga class a day). One day Sylvie got a face massage but I wasn't allowed to wait, I was kicked out. There was another yoga place closer to us according to Trip Advisor but it seems to have closed within the last several months.
Expats, Their Women, and Drugs
Expats in many cities relocate for work, relationships, to raise children, to run a business, or to retire but here the reasons seem to sway towards the less wholesome. The vast majority of Expats living here are older men accompanied with local women--several decades younger. Prostitution is a lucrative and popular profession for women in this part of the world. Although some of the women joined with these older men are surely prostitutes some are actually married to them. I'm not sure how much companionship, other than sex, they offer these men as their English skills are lacking and cultural differences are immense. What startled me is that many of these 'couples' even have young children. It's an awkward site to see a 60+ year old man with a 30-40 year old Cambodian wife and a young child. What's upsetting is that on numerous occasions I've seen the men treating the women poorly. It comes as no surprise that the men sit back drinking there $0.50 drafts while the women tend to the toddler.
Another breed of Expat, although not taking advantage of the women, are usually not found too far from the local pubs. They seem to have low education, dozen's of body tattoos, drink most of their day away, and chain smoke with other similar expats. I was lucky enough to have some beers with a few of this breed. Their stories were anything but interesting. They moved here because it's cheap. From what I gathered these few didn't seem to care much about the local culture but wouldn't shut up about how cheap the cigarettes were. Did I mention that while eating dinner one night we witnessed a man doing lines of coke several times throughout the night. He was loud, trying to brag to the entire restaurant about doing coke. I think he wins the father of the year award--he snorted the cocaine right in front of a 4-year old child that was sitting at the same table. For such a quaint town it surely attracts a large volume of unscrupulous expats. I apologize to all the expats here in Kampot that don't fit the two breeds mentioned above.
Eating Out 1 Particular Night
At dinner one night I sat next to a very drunk guy who was screaming profanities in English and some other language I couldn't recognize...maybe some slavic language? At one time he put a cellphone in his mouth and bit really hard, breaking the glass. He then threw it into the street only to later yell at the waitstaff to help him find his phone. What a looser.
I chatted with some Australian and New Zealand guys at dinner and during our conversation an older Cambodian man up to us and started making machine guy and bomb sounds with his mouth. He wasn't able to communicate any other way. The guys I was with lived in Kampot and told me they knew the guy and that he had fought in the Vietnam war--we has been shellshocked for the last 40 years.
Around Town
Kapmot is known for Pepper and Salt-- Their Pepper is known internationally and can be found in almost every shop around town. There is a national park an hour away called Bokor National Park. Do yourself a favor and skip this little side trip--it will take your an hour out of the way for less and great views. If however, you're looking for a good motorcycle ride I would encourage it. The new road is extremely nice and makes for a fun and adventurous (though very safe) up the mountain. We went to a casino at the top and walked around a bit. Despite the ridiculously large number of staff the hotel and casino was devoid of life. Not sure how that was a good investment?
During one afternoon, after 75 minutes of moon salutations we took a road trip to the small seaside resort of Kep. Before being eclipsed by Sihanoukville, Kep was the main seaside destination in Cambodia. Though it was largely destroyed by the Khmer Rouge and the Civil War that followed it has begun to increase in popularity. Largely visited by Cambodians it's slowly (very slowly) gaining in popularity with tourists. We walked through the Crab Market where I sampled a baby squid. Men and women were standing knee deep in the adjacent sea picking their traps from the water and selling the fresh catch right there in the market.