September 29 to October 1, 2016
Arriving in Sapa
Our overnight bus to Sapa went off without a hitch. Check Bookaway for more Bus options in
Vietnam. Arriving before sunrise in a new city is always exciting as we get to see the city waking up for the day. After stepping off the bus no more than 15 seconds passed before Black Hmong women accosted us—they were asking if we needed a homestay. Although we had arrived with no reservations booked anywhere, it was just too damn early to start making any plans. These women were much more tenacious than any other culture we've experienced here in Southeast Asia. We had somehow transported ourselves back to India. However, unlike in India, these women were not hostile, they looked put-together, and inevitably smiled once they knew our wallets were not open to them. The Black Hmong are a tribe that live in the mountains in Northern Vietnam, along with the Flower Hmong and Red Dzao tribes. The name Black Hmong comes from the black embroidered dresses that the women wear.
Having successfully pushed our way through the pack of enterprising rural Black Hmong women we sat down at the only restaurant open at the ungodly early hour. The temperature was quite brisk and the warm chicken rice porridge (congee) coupled with authentic Vietnamese coffee warmed our bellies. Despite having coffee quite often during our time here in Vietnam this was the fist time it was served in the authentic metal filter drip contraption. Contrasting my last visit to Vietnam 8 years ago things have modernized like crazy, their coffee delivery system included. I was happy to experience the metal mechanism that I fell in love with almost a decade ago.
After being splashed by a restaurant employee's failed attempt to wrangle a large fish out of an adjacent fish tank we paid our bill and headed into the town to find a hotel. At $10 our first hotel was good enough—our own bathroom, a TV, and a fan.
Motorcycle Ride
With our rented motorcycle we drove northwest to two waterfalls—Silver Waterfall and Love Waterfall. Although the waterfalls weren't spectacular the walk to Love Waterfall was quite beautiful.
While parked alongside the road we stopped at two separate vendors to buy some food. We ate buffalo jerky, sticky rice in bamboo, and a sweet potato. The jerky was placed on the fire to warm it up and then cut up for us. We dipped it in chili sauce. I loved how the jerky was still raw and fleshy in the middle. We dipped the sticky rice in a peanut and salt mixture. The potato was roasted on the fire and we ate whole. We were served tea while eating roadside. The experience was fantastic—sitting across from the Hmong lady dressed in black with colored embroidered accents and gold teeth.
I continued to ride through several villages but the roads were so bad that I had to 'lay my bike down' once. Thankfully my long pants saved most of my skin, but it did tear the fabric. A quick ride through the Cat Cat village made it perfectly apparent that it wasn't too unique, just simply an extension of the Sapa region.
Scheduling a Trekking and Homestay Tour
While walking around Sapa we encountered 2 young Hmong women…well, actually hundreds. But these two must have been in the right place at the right time because I actually approached them and inquired about a homestay. We had asked a few tour agents here in Sapa and the prices seem to be fairly standardized.
TOUR PRICE INFO: We were interested in a 2-day/1-night homestay trek. The tour agents here quoted us around $54 for a group tour and $100 for a private tour. My friend, Andrew, had provided me contact information for the guide he had used during his time in Vietnam. She quoted us $80 for a private tour. The public tours were more expensive in Hanoi and cost $90 for a public tour.
The two Hmong ladies showed us a map and told us what to expect for a homestay and trek. They were very charming and I felt comfortable with them. I hate booking with agents and much prefer to book with locals. If I booked with an agent I would have paid much more only to have the actual village guides make a pittance (I've heard they make no more than half). We agreed on a price of $55 for two people and two days. We were promised to sleep at the one girl's house. She was 25 and already had 3 children while the other girl was 30 and had 5 children.
The Hmong are an ethnic group from the mountainous regions of China, Vietnam, Laos, and Thailand. Hmong are also one of the sub-groups of the Miao ethnicity (苗族) in southern China. Hmong groups began a gradual southward migration in the 18th century due to political unrest and to find more arable land.
During the first and second Indochina Wars, France and the United States recruited thousands of Hmong people in Laos to fight against forces from north and south Vietnam and communist Pathet Lao insurgents, known as the Secret War, during the Vietnam War and theLaotian Civil War.[citation needed] Following the war, hundreds of thousands of Hmong refugees fled to Thailand seeking political asylum.
Homestay With the Hmong in the Hills of Sapa
We met Julie, our Hmong 'trekking guide' the following morning at 9am in front of the Church, a landmark in Sapa. TomTom, our other guide stayed home to prepare dinner. Julie was carrying her four-month old son strapped to her back like all Hmong women with infants do. She trekked the entire 12-km mountainous trek without complaint or breaking a sweat. The Hmong women are some seriously strong ladies and the backbone of the Hmong community.
We had an opportunity to speak with Julie during our five-hour hike through the most breathtaking landscapes of rolling hills and rice fields speckled with flowers, villages and cascading white mist. Julie spoke with us about her marriage and her family. She has 4 daughters and 1 son. Hmong's believe the ideal family consists of one boy and one girl so they will continue to have children until they have at least one of each. She was married young to her husband. It is common for most Hmong women to marry around the age of 16 or 17.
Julie also told us about her sister. At first we had difficulty understanding the story; she spoke about how her sister 'disappeared' to China. No one heard from her for a long time. When she finally called she let her family know that she was happy and married with children. Later we learned that people come to Sapa and take Hmong women across the border to marry Chinese men. Because families in China are only allowed one child there are more boys than girls. It's not unheard of that Hmong girls are taken against their will in order to provide these men with wives; Click here to learn more.
Julie, like the vast majority of Hmong women in Sapa, works in town trying to promote her trekking or selling hand woven items to tourists. The Hmong women (and Red Dzao women, identifiable by their red head pieces) come from surrounding villages into Sapa each day for work and return to their village each night. Many of the woven items they sell, including their own traditional dress is dyed with Indigo, which they grow in their villages. Working with such potent indigo dyes have stained many of the women's hands blue. Because the Hmong women largely depend on income from tourists almost all of the women are able to speak English while the men cannot. Julie, even though she hadn't attended school as a child (her mother pulled her out after one day), was still able to converse in simple English. Many children do attend school in Sapa and the surrounding villages now, though there are many that hustle and sell small woven items and bracelets to tourists. Many tourists think 5,000 dong is nothing and that it will help the children more than themselves, but buying these items only perpetuates the cycle of kids ditching out of school in favor of making money.
Julie pointed out villages as we walked by the odd pig or water buffalo lazying about in watering holes. She also showed us a church up on a hill in one of the villages. In that particular village all of the Hmong are catholic. After a stop for lunch of noodle soup, some socializing with German tourists (on the same trek with a different guide), and some more breath-taking scenery, we arrived at Julie's house. We were greeted by her adorable, sassy and pant-less two year old daughter who right away lead us into the home and smacked her hand on a bench telling us to sit down. Julie's husband was working on the house so we could not stay with her as her home is under construction. But we took a little break at her home anyways and enjoyed spending time with her daughter. Earlier in the day Julie had proudly whipped out a Polaroid photo of her family that another tourist had taken, seeing how happy it made her we offered to take another family photo for her, one that we could print larger when we got back to Sapa. She was thrilled.
Julie's adorably impatient daughter was hungry and demanded 5,000 dong from her mother so she could go to the shop next door for a snack. She strolled out of the house and came back a few minutes later with a bag of candy. Two years old and quite the little miss independent. Can you imagine letting your two year walk to the corner shop by herself? It's different in this community though, it's very tight knit, everyone knows everyone and there really are no safety threats.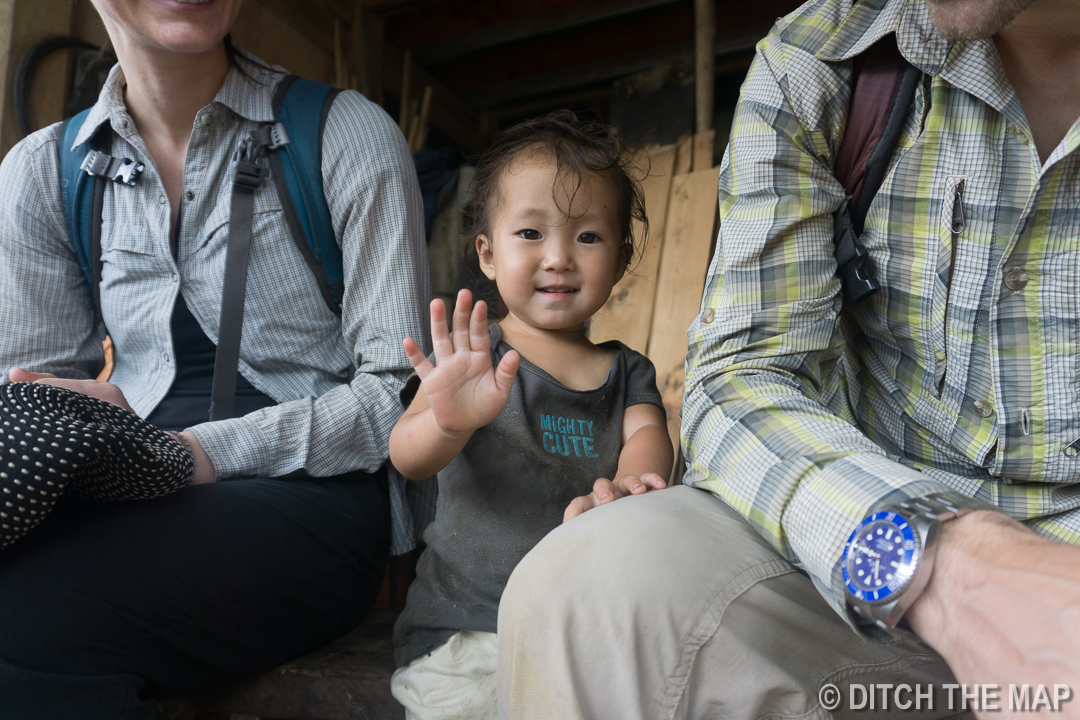 Julie lead us on our final walk of the day to TomTom's house. Whereas Julie's house had been situated on the side of a dirt road, TomTom's house was down a makeshift walkway surrounded by rice fields on all sides. We were greeted enthusiastically by the spunky 25 year old TomTom who was preparing dinner with one of her sons. She invited us into her home and we took it all in. It was a spacious and simple single-room construction made of wood and bamboo. Her home had a tidy, well-swept dirt floor and only plastic chairs and a folding table for furniture. They did have electricity however, but only the essentials; one light bulb and one outlet for their rice cooker and hot water heater. There was no running water or bathroom in the home, but a hose outside provided water and the rice fields were the toilet.
Two beds, draped with mosquito nets sat in opposite corners of the room. One bed TomTom shared with her entire family; 2 sons, 1 daughter and her husband. The other bed was for us. Our notion or privacy in the states is so very different than that in Asia. It is not uncommon for many generations in one family to sleep together under one roof. With such little privacy, intimacy is reserved only for reproduction.
We sat in TomTom's home as she bounced around preparing dinner. TomTom's mother came by to drop off TomTom's 18 month old daughter and eat dinner with the family. We were very entertained by the tiny squealing girl who followed her mother around everywhere. TomTom's four year old son, wanting to help his mommy took to peeling a gourd outside. Though TomTom was married at 17, and now only 25 years old, it was easy to forget that she was in fact younger than us. Her level of maturity and ability to juggle her three children so gracefully was impressive. She does it with such ease and a constant smile and friendly attitude. We felt completely welcomed in her home.
We were served a spread of gourd, tofu, rice, spring rolls, and noodles for dinner. This was a fancy meal because we were guests. TomTom told us that they usually just eat rice and gourd for dinner, or sometimes only rice. They do add water to their rice to make it more soupy. All families have a stock pile of 100's of kilos of rice in their houses fresh from the recent harvest. One family eats about a kilo of rice per day, one kilo of rice costs 11,000 dong or about 50 cents.
Even though we were in northern Vietnam eating dinner among the Hmong, we could have been eating with any family anywhere in america. The food was laid out in the center of the table, we served ourselves, and were told to eat up from our hosts who were eager to please us. The parents attended to the kids and the little girl made a mess of her noodles. Three well behaved dogs waited patiently for scraps at our feet. It was just an ordinary dinner for them, but such a special experience for us to share with them. When you strip away all of the luxuries, love and family prevail and food unites.
After dinner we spent sometime with the older son (7 years old) who took an interest in drawing and writing in my journal. He sat drawing and writing so intently and so focused for almost an hour that the following day we were inspired to buy him his own journal and pen. Before bed all of the family brushed their teeth (we were very impressed to see that they valued dental hygiene), they were sleeping by 9pm. Early to bed, early to rise.
We slept pretty well and woke up to the call of roosters. TomTom invited us to sit by the fire where she was boiling drinking water for the day. Again she prepared a feast for us: eggs, bread, cheese, rice, bananas and left overs from the night before. Before heading back to Sapa we took some photos of TomTom and her family with the promise to print them when we arrived back in town. It was raining so we opted to walk the 8km road back to Sapa instead of taking the scenic route through the rice fields. In Sapa we printed the family photos for Julie and TomTom. TomTom was so thankful she gave us two bracelets off of her wrist as a token of appreciation. She is such a sweetheart. We will never forget her generosity or our incredible experience with her and her family.
Julie and TomTom made our experience in Sapa unforgettable. If you are traveling to Sapa and looking for an authentic experience living like a Hmong we highly recommend hiring Julie and TomTom as your guides. They do not always have access to internet so the best way to contact them is by phone.
Tomtom's phone number (+84) 0 165 212 4416
Julie's phone number (+84) 098 219 6044