August 12-15, 2016
Thailand Bombings
On our first mornig in Georgetown we woke up to news of the August 11/12 Thailand Bombings--11 bombs scattered throughout the southern areas of the country (the Muslim regions). Sylvie and I had been planning on busing to Surat Thani, Thailand from Georgetown to then catch a ferry over to Koh Samui, Thailand where we reserved a beautiftul house for a week; we have been tiring from travel and wanted to give ourselves a vacation on the Thai island. We'd been excited about the place for a while and as of writing this we are not certain as to where we are going to go. I do believe that even if AirBnB does not refund me my money for the house my insurance will cover the loss since it can technically be seen as an 'act of terrorism'. Right now we are looking at a few options:
take overland transportation from Georgetown, Penang, Malaysia to Surat Thani where we catch a ferry to Ko Samui
we can fly from Penang (or Kuala Lumpur for a little cheaper) direct to Koh Samui
we can take a train direct to Bangkok and then move east into Cambodia
we can fly direct to Siem Reep, Cambodia and skip over Thailand.
To make matters worse my computer is broken; it will not power on. Along with a year's worth of photos and videos I have our financial information, health records, insurance documents, visa/passport/vaccine files, and many other important documents. One place in Kuala Lumpur told me it would take 2-3 months for the computer to be repaired. On top of planning our next travel destination, I have to find certified apple repair shops (hard to come by in Asia), have them run a diagnostic scan, communicate with my insurance company to file the appropriate claims, email Bangkok to request that they pre-order the parts I need so they are in stock when I arrive. Balancing all of this is stressful, but hopefully it will be sorted out soon.
UPDATE: we are going to Koh Samui, we just decided to fly there for safety reasons!
Discussion with Chinese Hotel Worker
I had an interesting conversation with one of the employees at our hostel. He is a 3rd generation Chinese man living in Georgetown in Penang, Malaysia. The region of Penang is 80% Chinese, but Malaysia is 80% Malay and Muslim.
The employee talked about wide spread corruption in the country. And a 50mr ($12.5) going rate for all types of bribes. Currently the President of Malaysia is involved with a company that is being sued by the USA.
Talking further with the employee, he said that there are Chinese schools in Penang, which teach Mandarin, and teach at higher level than the Malay schools. The government pays for half of the Chinese schools and the Chinese community pays the other half. Although some Malays go to these schools, he said that they often don't do as well because, in his words, "their math skills are very poor." The government mandates that all universities have an enrollment of 75% Malay, though he thinks that this degrades the quality of the schools since as the Malays under perform the Chinese. There are no set standards for the schools by the government, making quality vary greatly. The Malays that do perform well in academics usually go to the UK or Australia for school and remain there.
He went on to tell me that almost every business, company, and establishment in Malaysia is Chinese run/owned. This is a remarkable fact given that they only make up a small fraction of the entire demographic. He said made some unfavorable claims against Malays, remarking that they are "lazy, not hard workers and put off hard work and focus on 'Allah.'" I was humored to hear his take on the situation.
I asked his take on the recent Thailand Bombings and believes it is the southern Thai Muslim insurgency being violent. No matter where I am in the world, it seems that the local people I speak with do a good job stating the facts while holding onto some level of political correctness. He said that Thailand is not a safe place to be now and commented that the problems seem to be escalating in SE Asia (Indonesia, Philippines, Malaysia). We chatted for an hour and I really enjoyed our conversation. I agree with his statement that the "Chinese are simply more 'aggressive' and hard working."
After walking around with a more scrutinizing eye I did find some very striking things; most businesses are in fact owned by the Chinese while the Malays tend to hold jobs working as employees at 7-11s and chain restaurants. After digging around on the internet it seems that even though the Chinese make up just a quarter of the population they own the vast majority of businesses in Malaysia. This is similar in Indonesia too. It's striking considering that the Malaysian government is all Malay and they even instituted a nation-wide affirmative action in favor of Malaysians.
Trying New Food
Kaya - a coconut jam often infused with pandan and palm sugar. Very sweet with predominant coconut flavor.
Penang Laksa - with a thicker consistency than the other Laksas I've tried, It also has mint and pineapple--very delightful. This is a common street-side noodle soup that can be purchased for as little as 3.50rm ($0.85).
Wanton Mee - a noodle dish with pork and greens that Sylvie can't get enough of. Good thing that you can get a portion for less than a buck.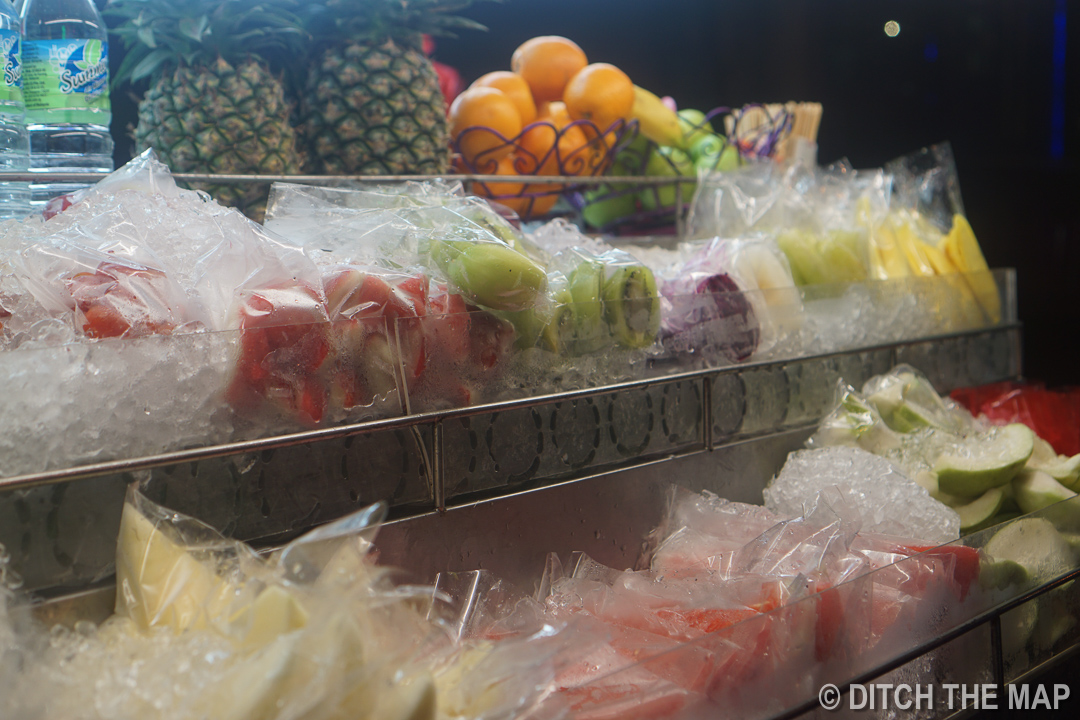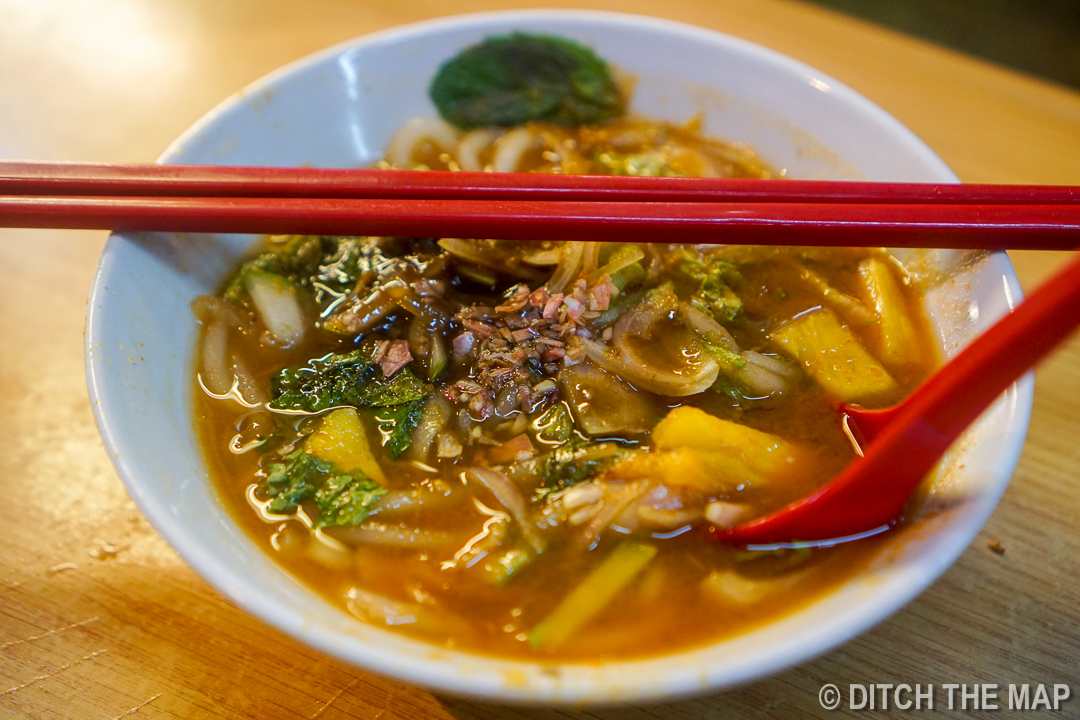 Around the City
The city is divided into several culturally diverse neighborhoods, all of which reside within the UNESCO World Heritage Boundary. From North to South the neighborhoods comprise of:
Colonial British buildings and a fortress
Cantonese-Speaking China Town
Little India
Mandarin-Speaking China Town
Large Malay region
We walked around getting lost within the World Heritage area but and enjoyed the varying foods, but we both were a bit underwhelmed by the lack of atmosphere and personality. Many of the streets were empty and even the streets that had shops were sparse. Penang is well-known for their food, but we also struggled to see this. However for many tourists its a great city to sample a diverse range of cuisines as one can find Indian, Malay, and Chinese restaurants and street-side vendors on popular streets.
We went to a Camera Museum, which Sylvie had read about. Despite being rather small we both found it entertaining. There were many cameras on display spanning more than century. The content was not technical but fully immersive. There were even old camera commercials playing on a TV in the background.
We made a stop in a cat cafe, which was a large disappointment, unlike our positive experience in Kuala Lumpur. The room was tiny and only had half a dozen cats, all which could care less about our presence.
The city was really shut down on Sunday, but Monday offered new hope. We got out early and stumbled upon a large outdoor local market where we sampled local fruit and bought some pork floss.
We went to the cinema and saw the new Star Trek movie. Wow, what is happening to our culture. It was pathetic. But for $4 we both got out of the heat for a few hours.
Hawker Markets
We went to two separate Hawker Markets. The first one we went to, on Kimberly Street, was tailored to locals. Although there weren't too many food options and the quality was fairly low the prices were also very low. The second market we went to was called Red Garden and was for tourists. The prices were significantly higher, there was more beer flowing around, and there was an incredible diversity of cuisines (Mexican, Indian, Japanese Chinese, etc.).