Arriving in the Cameron Highlands
We were lured to the Cameron Highlands by the promise of hiking and colder weather. We certainly were not disappointed. Shortly after arriving in the town on Tanah Rata, right in the middle of the highlands, we dropped off our bags and were on our way to our first hike. The towns of Tanah Rata and Brinchang make the best base for backpackers looking to explore the hiking trails.
Tanah Rata is a small town and easy to navigate. There's a main strip (and that's about it) with a bus station, tour offices, restaurants- a surprising number of which are Indian- and mini markets. There were many visitors from Europe, the Middle East and Malaysia. The Cameron highlands are a popular vacation spot for peninsular Malaysian's looking to escape the heat.
Fruit for sale on the street of Tanah Rata.
Hiking the Trails
Fourteen trails wind through the highlands at elevations of 1135 to 2000+ meters. The trails pass views of mountain peaks (some take you up to the mountain peaks), tea farms, strawberry farms and moss-covered forests. Each of the 14 trails are day hikes of varying times and levels of difficulty. We hiked two trails during the two full days of our stay.
Trail #10: The trail head for trail number ten alluded us even after receiving directions twice. Finally, on our third try we found the trail head behind the Oly Apartment building. We followed the steep mud path as it lead us deeper into the woods on an over-grown trail. At first we were unsure if we were on the right trail because it was so overgrown, but a few strips of caution tape tied around trees served as trail markers.
As the trail progressed, it offered a few challenging sections of uphill scrambling over slippery tree roots. The cool weather and shady tree coverage was a welcome change of pace from the heat and humidity we've been exposed to for the last several weeks. At the highest point of the hike there were hazy views of the town below, not really anything special. We followed the slippery trail back as it descended and found ourselves at a weather station. The hike took a little over two hours.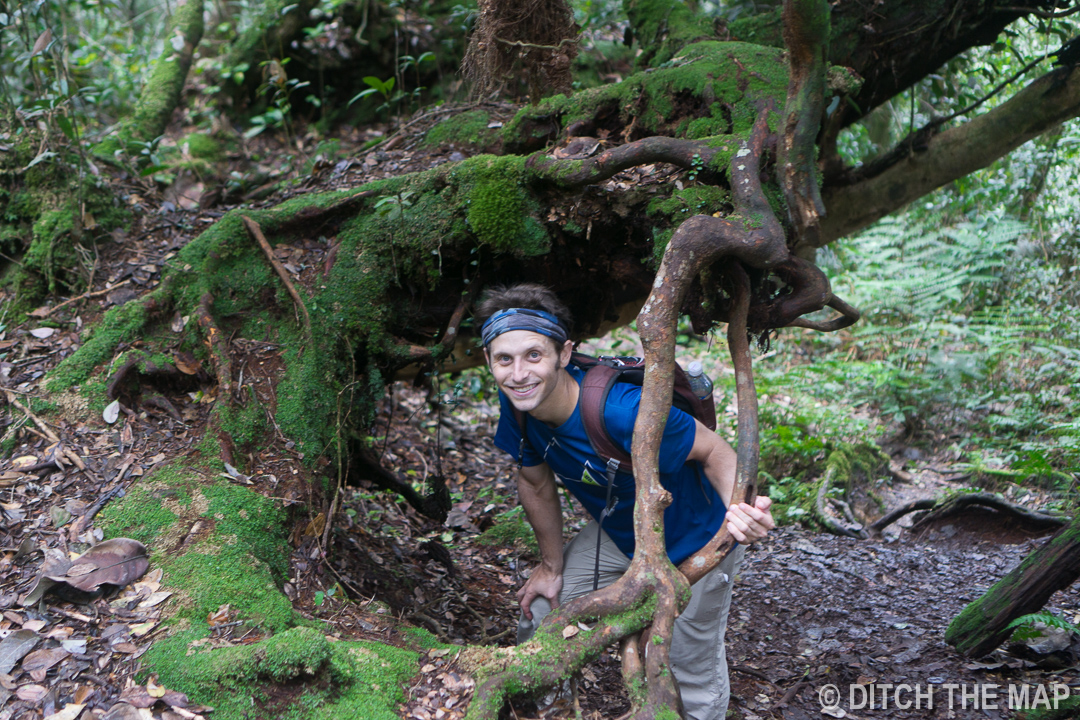 Trail #1: To get to trail number one we had to hitch a ride six kilometers up the road to the town of Brinchang. The man we hitched a ride with actually happened to be a tour guide. He gave us some pointers for the trail before dropping us off. We bought a few snacks at 7-11 and were on our way. We passed a vegetable farm and a section of trail obstructed by nearby construction before really getting into the wilderness (the highlands are getting increasingly built up- we saw construction everywhere!)
The majority of the trek was up hill. Tree roots became ladders. It rained the night before and the hike was made more challenging as we avoided puddles and slipped in thick mud. Fortunately we never got stuck in the rain while hiking, though it rained heavily both nights of our stay. The $5 sneakers I purchased a few days prior held up surprisingly well! Between ducking under branches, slipping around in the mud, and pulling ourselves up steep inclines with ropes, we got a good work out. The view from the top of Gunung Brinchang at 2032 meters was a bit anticlimactic.
The walk back down followed a paved road, which was rather boring. However there were spectacular views of rolling hills covered with tea and strawberry farms. Along the road we stopped off at the tourist attraction, The Mossy Forest--A wooden boardwalk weaving above a mossy area of the forest for 700 meters. This stop is good for families or people who do not want to hike as it's much easier to navigate than the trails. If you have hiked some of the trails however you've already seen mossy forests up close and personal- no need to include The 'Mossy Forest' on your itinerary.
Unfortunately the giant Rafflesia flower evaded us on our treks. This giant parasitic flower is the largest flower in the world. It's a rare sighting as it only blossoms for several days before starting to rot. It's rumored to smell like rotting flesh. We will find you before our time in Malaysian is through, Rafflesia!
We Are Going to Malaysian Borneo!
At our hostel we met a fellow traveler, Naomi, who has extensively traveled throughout South East Asia. Her style of travel is so closely aligned to our own that we heeded her advice about Borneo (sometimes its hard to get travel advice from others when you have different interests, budgets and travel styles.) Her stories and suggestions were so compelling however, that low and behold, we have decided to go to Borneo! It didn't take much to convince us as we were already very interested, but her stories of remote wilderness and bizarre wildlife really sealed the deal.
At the lone Starbucks in town we used the only reliable WIFI around to book our flights, make reservations, and plan our route through Malaysian Borneo. Thanks Naomi from the UK!
Don't forget to Pin this article if you enjoyed reading it.
Originally published on July 23-25, 2016