We arrived at the train station 45 minutes before our 15-hr overnight train to Kochi was scheduled to depart. Kochi is our first destination in the state of Kerala "God's Own Country" (as it's called), the true south of India. As the departure time neared the train was delayed by 40 minutes. Over the next 4 hours the train continued to be delayed by increments of 30 or 40 minutes—we ended up waiting at the filthy, stinky, muggy railway station for almost 5 hours (our train was 4 hours late).
Today (June 8th) is the official start of the monsoon. The monsoon has brought with it intense downpours up the coast from Kerala to Goa and has caused landslides onto/near the train tracks. This was the reason for the delay.
The next morning, while reading on our Kindles, a man in our berth started talking with us. He was traveling with his wife and young son. After a friendly good morning, he asked us which church we belong to- a bit presumptuous. He then, quite frankly asked me if I believed in god. In response, I was respectfully vocal about my 'beliefs' as he was his. Why should my personal feelings or beliefs offend anyone else if spoken tactfully? I told him that though my family is Jewish, I am an atheist.
He went on to tell me that if I don't believe in Jesus Christ I will go to hell. I wanted to tell him, "I'll take my chances", but realized he was not trying to be mean and probably felt like he was helping me. I told him that I use science to base my decisions on life rather than faith. To which he stated"science can't explain everything." I responded by staying, "you're right, but I only have beliefs in things that are supported by science. I cannot see eye to eye with people who don't value science and think faith has credibility. Just because you believe in something or 'have faith,' it doesn't necessarily make it true. "A person must be comfortable with just not knowing something, lest they fall victim to the blind certainties of religion."
This Indian man did not upset me, but his unquestioning mindset disappointed me. In many rural and less educated parts of the world some people take god to be a tangible entity responsible for all. By constantly praying, sacrificing, and purging they appease their deities. Just yesterday on the front page of an Indian newspaper an ad read something like this, "Cure Your Cancer with Ayurveda Treatments". Typical Ayurveda treatments involve self-induced vomiting, enemas, nose cleanings, and blood letting.
The City of Kochi
We spent the evening walking around Fort Cochi. There were a few small chapels and one larger church in the area. Actually our host at the guesthouse was a proud Christian- there is a large christian population in the state of Kerala. He was a very nice and friendly man, offering us tons of advice about his city.
We walked north to the Chinese fishing nets and strolled along the beach. The monsoon clouds prevented a sunset view and the occasional downpours finally pushed us to buy another umbrella. In front of the large fishing nets men sold their daily catch. Many people buy their seafood at these beachside stalls and carry them across the road to have them prepared at the street side restaurants.
The next day we walked across town to the Jewish Synagogue which is several hundred years old. It was basic, but refreshing to see. Nearby was Jew Street- a road with too many spice and sari shops.
Later we headed to the train station one city over and dropped our bags in the coatroom while we waited for our train to Appelley. To kill time we walked around the flooded streets for a few hours. I bought 3 mangos for 50rp ($0.75), as they were only 50rp/kg. Most other places sold them for between 80rp and 150rp on the street, I got a great deal! We walked into a fancy 3-story jewelry store selling mostly gold items. As we walked toward the front door two security guards checked our umbrellas. We entered the store and 6 elegantly dressed women approached us. They seemed shocked when I simply stated, "We just want to look around alone, thank you".
Each jewelry item in the store had its exact weight in grams listed and there were posters with the current price for gold. Prices were determined by weight alone, which is very unusual. I went online with my phone and found the price of gold to be <$1,300, they were selling gold for ~$1,350 (not much of a mark up). American jewelry stores would go out of business if they sold their items so cheaply. However the jewelry here seemed to be produced by molds, not by hand. There where rows and rows of rings, chains, pendants, and the like offering slim variety of styles and many duplicates of each style.
We had originally planned on spending two nights in Kochi but after having spent 24 hours we were certain we wouldn't have regrets if we moved onwards to Appelley. Kochi is relatively clean, quiet, and calm compared to the India in the North.
Appelley
The City of Appelley
We took a 90-minute train ride to get to the city of Appelley, south of Kochi but in the same state- Kerala. The train snaked its way through the backwaters offering views of swampy fields and lush greenery. A short rickshaw ride took us to our humble guesthouse. Upon arrival our host Matthew, a short jolly man, greeted us with a borderline manic giggle. After Sylvie and I realized he was harmless and rather kind we softened up to his esoteric mannerisms. He, like our last host, is a Christian. It really is quite surprising to meet Indians who are not Hindus.
We journeyed for 40-minutes through town to Finishing Point, the docking area where the majority of houseboats both start and finish their journeys. Alleppey is famous for its houseboat tours, which cruise Kerala's backwaters. Although booking a 5-hr day tour with an included lunch is more cost-effective many tourists opt for a 1-night rental. Sylvie and I decided on 2 nights, which is not as common. After looking around a bit and checking out several boats as preliminary research, we caught a rickshaw back into town to pick up some local pastries and grab a quick bite. One can really taste all the ghee (clarified butter) used in the pastries!
After dinner, while we were walking back to our guesthouse, we were caught in yet another torrential down pour. Rain was blowing in every direction and the sewers were overflowing within minutes. We had to take several detours. Entire streets were flooded with 6 inches of water. By the time we made it back to our room we were soaked.
The city of Appelley is small and centered around two parallel streets. There are many bakeries. Peppering the roads are tourist offices selling houseboat tours, which range from average accommodations to very luxurious. Appelley sees quite a bit of domestic tourism but it definitely doesn't offer the higher standards of western tourists (local restaurants are basic with low standards of hygiene and quality). However prices are not inflated like the more tourist-centric destinations like Mumbai or Goa.
We woke up early and headed to Finishing Point again, this time to book a houseboat. We looked at several boats before settling on one. After a while of looking we got fed up with the hassling and decided to make a decision (apart from the number of bedrooms the boats were all very similar, levels of cleanliness did vary though). Dozens of people approached us to sell us on their house boat and we always replied, "we're looking for a houseboat for 2 nights that has 1 bedroom, an up stairs, and an enclosed main room." One after the other would wave their head and say, "Yes, yes. I have what you're looking for". After following that person for 5-10 minutes they would walk us onto a boat and ask, "how many rooms?" and "what's your budget". They were so concerned about getting our money they weren't even listening to our requests...we would ask for a 2nd floor and they would say no boats have 2 floors. We'd point to another boat with a 2nd floor and we were told another lie.
Cruising Kerala's Backwaters
We had our own houseboat for 2 full nights. Our personal crew prepared 3 meals a day and multiple snacks. We were able to get our own houseboat (with crew, food, and everything else) for 6,000rp ($90) per night, with it being monsoon season we were able to negotiate a lower rate. A boat like ours typically rents out for between 7,500rp and 9,000rp per night in high season.
The boat owner had originally asked 6,500rp and I countered with 5,500rp. He was not insulted but stayed firm on his price. I tried to negotiate but he did not budge. We started to make our way off of the boat slowly, hoping that our threat of leaving would make him drop the price. He did and said he would do it for 12,500rp- only $8 more than I wanted to pay, but I knew that it was early and that we could simply come back 15 minutes later so I rolled the dice. I said that it was still more than the 12,000rp we wanted to spend so we would have to look elsewhere. He let us walk off the boat but 3 minutes later he was jogging towards me nodding his head and reaching out his hand and saying, "ok, 12,000rp, deal". That is how we chose our houseboat, the "Paradise Houseboat".
We gave the crew a 5,000rp deposit and they went off to buy supplies while we went back to our hotel to pack our bags. We met back at our boat and departed just before noon. We cruised the backwaters for several hours before stopping for a very filling south Indian lunch. Many of the dishes have coconut incorporated into the sauce. After lunch we cruised for another couple hours until reaching our final docking spot for the evening around 6pm. It poured for most of the day and we were unable to us our top deck. For a midday snack we were served sweetened milk coffee and fried bananas.
We got off the boat and walked around the village, though there wasn't much to see and it was too wet to really enjoy any of it. We decided to turn around after a while when Sylvie saw a dead rat, bloated from it's own decomposition, floating on its back in the water besides us. Dinner was just as good as lunch and just as filling- so much food for two people! Very carb heavy meals. We'll have to detox once we reach dry land again.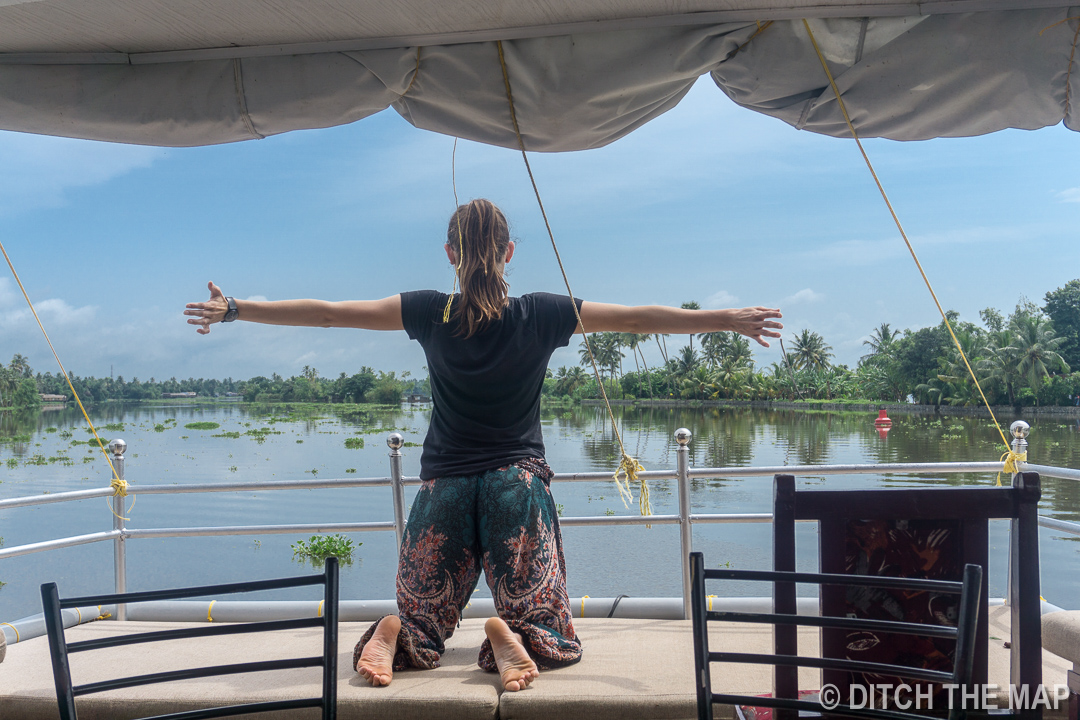 We were dismayed to find dozens of mosquitos buzzing around our bedroom with no netting for our protection. The a/c seemed to render the mozzies dumb and I was able to kill most of them. Sylvie slipped her mesh laundry bag around her head for added protection from the buggers. The laundry sack was given to me from a very nice Swedish couple while I was traveling Africa several years ago. It has a very fine mesh and can be used as a makeshift mosquito net that fits around one's head.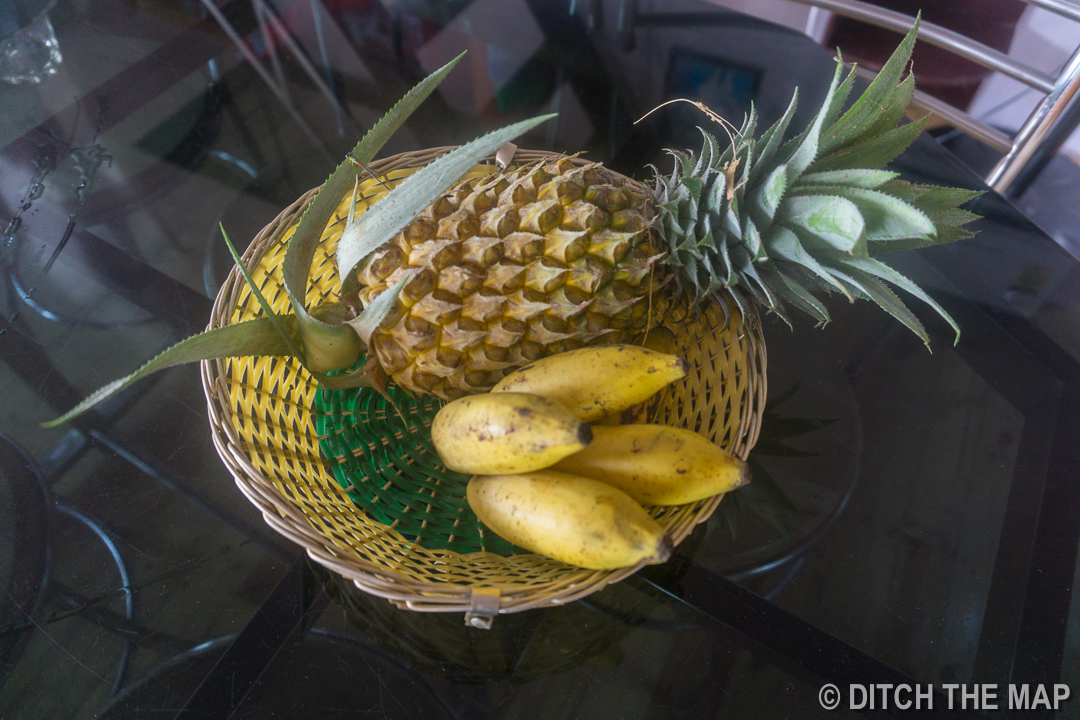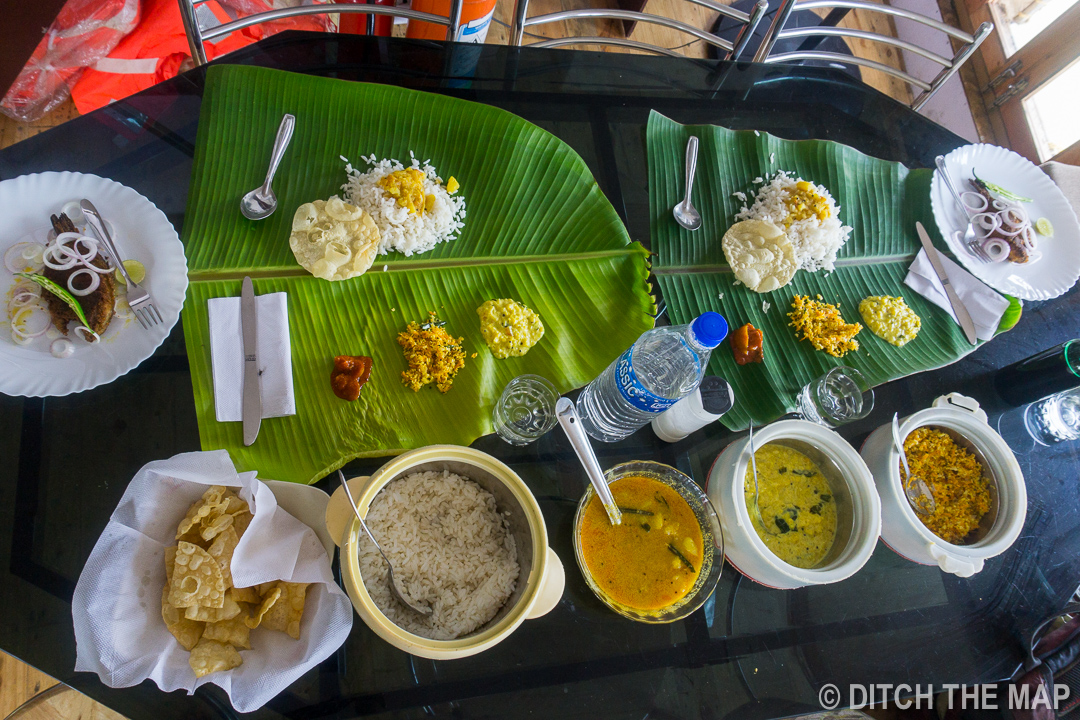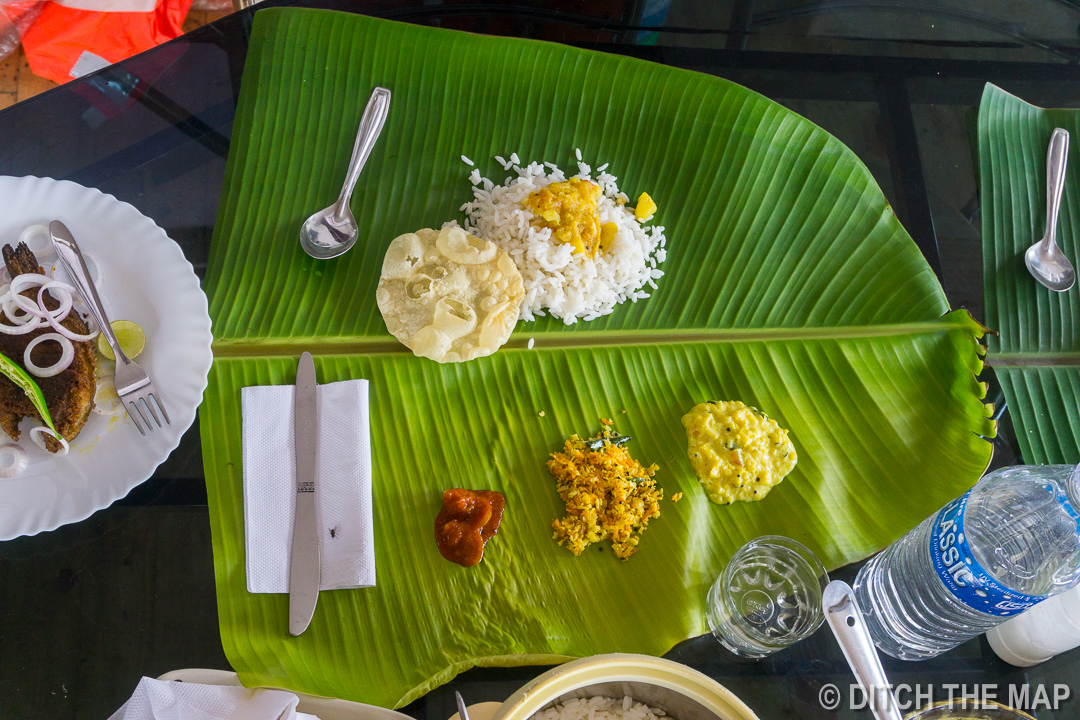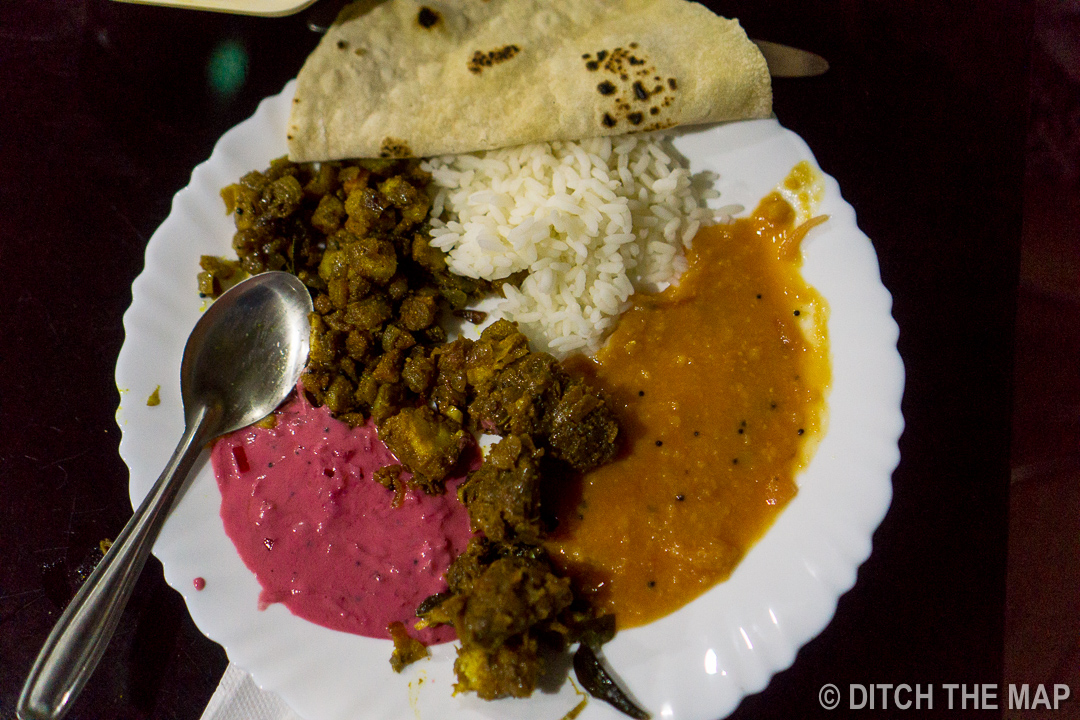 The second day was a repeat of the first day but we had the entire day to enjoy the scenery. The weather was much better and we were able to enjoy the second floor of our boat. We took a different route taking us deeper into Kerala's backwaters. The rain held off for most of the day. This was actually our first day since the onset of the monsoon season where it rained less than 3 hours. Breakfast was traditional south Indian with dosa and Idly; there was a coconut chutney that was very tasty. We've been enjoying coconut rice with every meal (sometimes with beetroot, other times with carrots), along with a curry of some sort, and rice. We've also had chicken, fried fish, lentils, and chapatti. Neither Sylvie nor myself care too much for the unripe mango chutney. However our snack at tea time during the second day was quite a treat— I'm pretty sure it was deep fried white bread!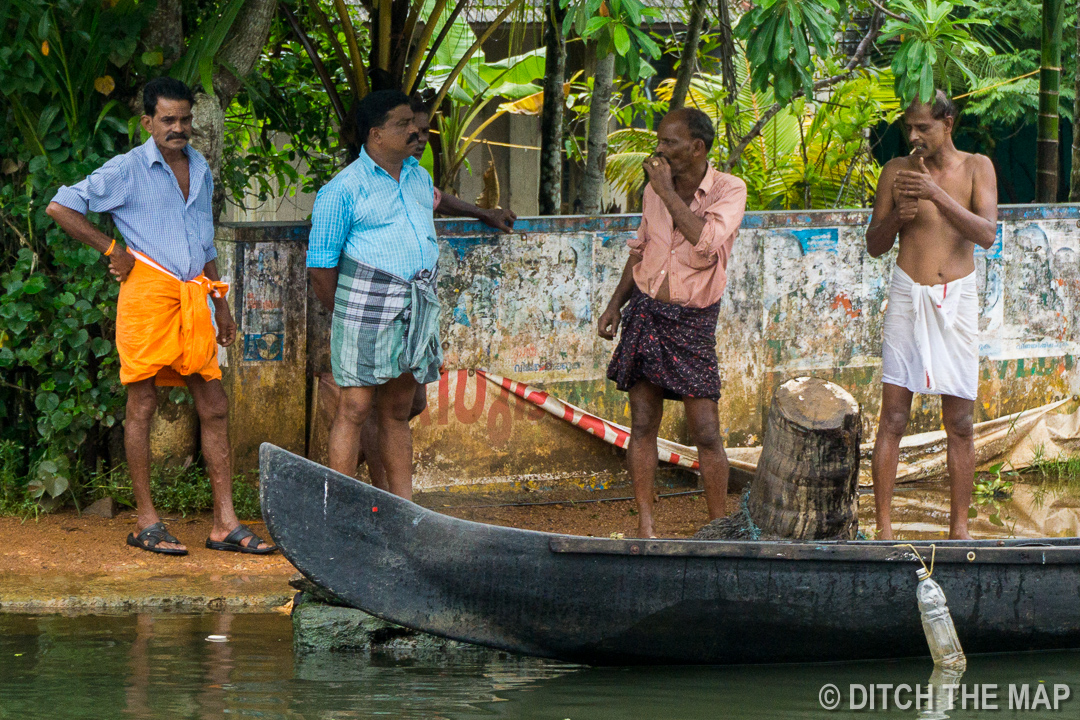 Varkala
Our next stop in Kerala was Varkala, a small beach town south of Appelley. It took 2.5 hours to reach Varkala, but the 2.5 hour train delay extended our journey. Varkala may be one of the smallest towns we have visited in India yet.
Our hotel was less than a minute walk from the beach and we could hear the ocean from our room. After putting down our bags we raced out to see the beach. Our hotel is situated on top of a red cliff over looking the beach. With a short walk down a set of stone steps we were on the beach. Along the cliff is a path with shops and restaurants. All the restaurants overlook the ocean and all of them were dead because of low season. It almost feels like have the whole place to ourselves.
We walked from restaurant to restaurant at night peeking our heads in to see if anyone was there. We were accosted by the staff as they plead for us to come in and eat at their place. It must be very hard for them this time of year.
During a walk around Varkala, we came across a very distraught young guy (27 years old). He was on his motorcycle and pulled over when he saw us. He said, "could you help me with something". I was immediately hesitant because most times this kind of encounter ends with asking for money. But, this guy really just needed our ear. He went on to tell us that his wife of 3 years left him. She was from northern Spain and met him in 2011 while she was traveling. They fell in love and she stayed in India and married him. But apparently she never told her friends or family this. She went home to visit family and told him she didn't want to see him again. The poor guy was so upset and wanted our advice. He said that his friends and family "don't understand" and just tell him things like, "well, that's what you get when you get involved with foreigners". Indian men don't discussion emotions and we could tell he felt very alone. When his male coworkers saw that he had been crying they just teased him and said he was possessed by satan. He went to pray at his local church and even spoke with this pastor. His pastor said "foreigners change husbands like they do their clothing".
We spent the day planning our next destination, Indonesia. We've booked flights to Kuala Lumpur and then Jakarta, Indonesia. For $135/each I think it's a great deal. Indonesia does not require Americans to obtain a visa for a stay of 30 days or less. But we'll have to opt to pay for a 30-day visa as those are extendable for another 30 days. We expect to easily spend more than a month traveling between all of the islands.
Kochi (again)
Traveling Back to Kochi
We headed back to Kochi to spent a night near the airport before our early morning flight. While waiting for our train back to Kochi I saw a masked woman sprinkling white powder on various portions of the track. She would walk a few planks, sprinkle some white dust, and continue onwards. It became clear that she was sprinkling lye on the human waste—the train toilettes are just holes and much of the waste is concentrated along the train stops since trains are stationary there, giving people time to use the WC.
I approached a young Indian couple at the train station and inquired about their bags. They were some of the only Indians that I have seen carrying backpacking-style bags. We talked for a while. They are from Mumbai and spent the 45 days in Varkala, Kerala setting up their bungee-jumping business. We talked about our travels and they said after their business is up and running that they want to travel too. It's refreshing to see a young progressive Indian couple with dreams that differ from that of mainstream Indian culture.
Finding a Guesthouse
We took a cab from the train station to Fort Cochi. Using the car service Ola we only paid 140rp (~$2) for a 40 minute ride. We checked out 5-6 guesthouses to compare prices. Most were a flat rate of 800rp ($12). We had the idea to check booking.com to see if we could book one of these rooms for less. Turns out I was able to get the same room for only 630rp (~$9) with an included breakfast! Because I use booking.com so frequently, my 'genius' status saves me 10% on most hotel stays.
Sylvie and I went to a Kathakali performance during the evening.
Kathakali is a stylized classical Indian dance-drama noted for the attractive make-up of characters, elaborate costumes, detailed gestures and well-defined body movements presented in tune with the anchor playback music and complementary percussion. It originated in the country's present day state of Kerala during the 17th century and has developed over the years with improved looks, refined gestures and added themes besides more ornate singing and precise drumming.[1] The themes of the Kathakali are religious in nature. They typically deal with the Mahabarat, the Ramayana and the ancient scriptures known as the Puranas. This is performed in a text which is generally Sanskritised Malayalam."
From 5 to 6 we watched as the actors tediously applied their face makeup and at 6 the show started. From 6 to 6:30 we were given a short demonstration of the body movements, hand gestures, and music. Also we were provided with some history and context for the art form and the evening's performance. At 6:30 the hour-long speechless drama commenced. There were 3 characters. Green face paint signifies a noble male, red denotes evil, black means uncivilized hunters or woodsmen. Women and ascetics use a yellowish face paint. Actors can have their face painted a solid color, but most often have intricate designs using multiple colors. The amount of each color on their face signifies that persons personality. The paints are derives using coconut oil and minerals found locally.
On or last day in India, in preparation for a few more months of travel, we decided to get some prescriptions refilled. We went to a hospital, but first had to get an appointment slip. The appointment cost 1rp ($0.01)—just over a penny! All of our prescriptions were free!
We took the ferry to get from Kochi to Ernakulam, which only cost 4rp each. There was a men's line and a women's line. There were a dozen men line, but only 2 women. Sylvie waited in the women's line and bought both of our tickets. Although there were two lines there was only one teller. Wow!
Reflections on India
Our travels in India have concluded after a little more than 7 weeks exploring the country. We've had the chance to visit several of the different states in India and experience the differences in culture and food in each. We have been met with kindness and countless challenges. It is safe to say that we have each developed a love/hate relationship with India. We will miss the foods and the colors, but not the pollution or the noise. Or the constant cutting in line in front of us, the yelling rickshaw drivers, the puzzling (unethical) business practices, the level of pride where people would rather refuse our business than take our negotiated rate, inflated tourist prices, and having to always make sure we are not being short change after a transaction.
Original Publish Date June 9-17, 2016