May 23-25, 2016
30th Birthday in Udaipur
Arriving in Udaipur
After a short 7-hour non-ac sleeper class train ride we arrived in Udaipur before 7am. What a great way to start celebrating my birthday, I had all day to enjoy it. After a short Uber ride we were dropped off at a dock on Lake Pichola where a boat was summoned for us.
Arriving to Our 5-Star Hotel
The boat took us across the lake to another dock, this one attached to the 5-star Leela Hotel, where we were greeted with a full welcome party. A couple of men helped us off the boat while another held an umbrella to shield us from the already intense sun. We passed by a man playing indian music as we entered the grand lobby. As we entered the front doors of the hotel we were showered with rose pedals that were dropped from the 2nd floor. We had our picture taken and received the ceremonial red bindi on our foreheads. "Happy Birthday" was uttered no less than 5 times.
We were shown to our room, which was quite exquisite. We had a shower along with a separate change room, a bath in a private room, and a walk out balcony overlooking the lake. We had coffee and sweets waiting for us in the room. One woman talked with us about what the hotel had to offer and our butler walked us through all of the room's features. We tried to tip them but they refused to accept our offer.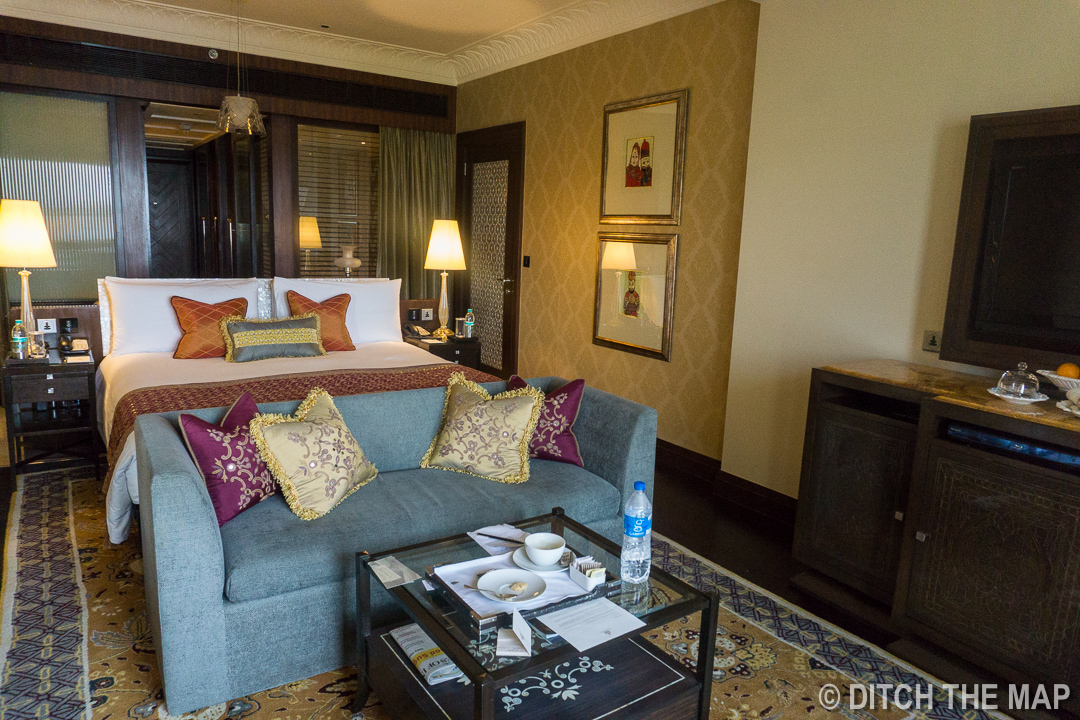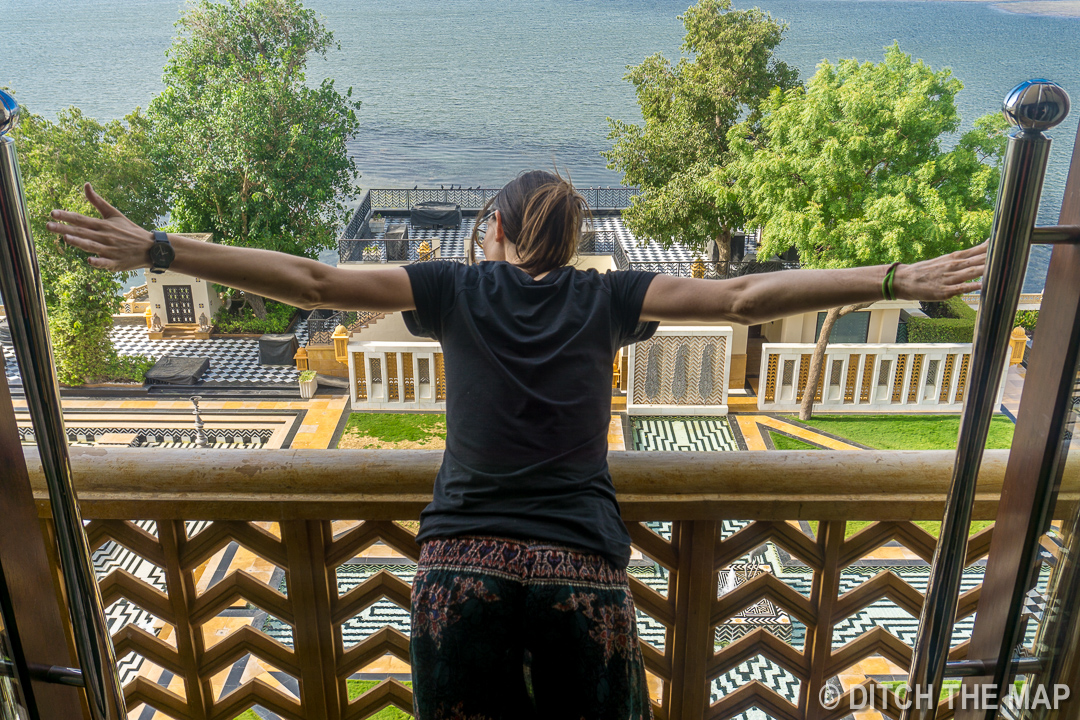 Exploring the Hotel Property
Although we wanted to stay indoors and enjoy our ultra-modern hotel room we pushed ourselves to explore what the hotel had to offer outside our room. The hotel had numerous seating areas facing the lake, a couple of spas, a bocci ball and croquet court, a gym, a lovely pool, and gorgeous landscaped courtyards. We enjoyed a workout and then sat by the pool for an hour before our 2pm hour-long massages that Sylvie had surprised me with.
The massages were magnificent. We were greeted with juice and cold towels as we waited for our private rooms to be readied. Prior to our massages the ladies washed our feet in large copper basins. The women were from Burma and gave us some of the best massages either of us has ever had.
Relaxing in our Room
Back in the room Sylvie had another surprise waiting for me. At 4pm our butler rang our bell and delivered to us a wine and cheese platter that Sylvie had prearranged. We sat back, in front of our large window-paned doors and enjoyed the food and drink while admiring the grand view in front of us. Slipped onto the platter was a handwritten card Sylvie had been working on for some time. What started as a list of 30 things she loved about me turned into a list of 40+ things. It was the most heartfelt thing I've ever read. She really is so special!
Sunset Cruise, Indian Show, and Dinner
We went down to the dock, by the front doors of the hotel, at 7pm where another boat was waiting for us. The hotel had arranged a private sunset cruise for us in the lake. On the boat was a table with a chocolate birthday cake just for us to enjoy. The place setting was adorned with roses. During our boat ride our captain pointed and explained the various sites along the lake. There was another staff member that took our photo as well.
Afterwards we walked around the hotel, again admiring the beautiful art, furniture, and other various decorations. This truly was a 5-star hotel! We took a seat in preparation for the 7:45 evening song and dance performance. Shortly before the show began a staff member came up to us and said that we should go to our room because there was a special surprise waiting for us. I looked at Sylvie and she was just as clueless as I. Upon entering our room we quickly noticed that a bouquet of flowers had been arranged on our table. Besides our flowers was the framed picture that was taken when we arrived at the hotel. What was the largest surprise was the bath. They had drawn a bubble bath an lined the entire perimeter, as well as the bubbles themselves, with rose peals. We felt guilty since we had already taken a bath earlier and were already dressed for the night. We waited 20 minutes before we came back down as to not insult their kind gesture.
We had front row seats to the performance. There was an Indian band and multiple dancers performing for several guests. There seemed to be only 3 or 4 different parties at the hotel. Traveling during low season really has its perks--you have an entire 5-star hotel staff at your disposal. The performance was very enjoyable and different than what one would consider typical Indian music. It had an almost-Arabic feel to it.
We decided to make dinner reservations at another hotel to get some variety in our atmosphere. The prices were also very expensive in our hotel. The restaurant we went to was right next to our hotel and we enjoyed our meal very much. The view alone was what made the entire experience special as it was right on the lake. (We later found out that our hotel had set up a special table for us to enjoy dinner. I don't know what that would have included but we both felt a little guilty for having gone to another hotel).
A Breathtaking Breakfast
We enjoyed the best meal we've had in as long as we can remember. The breakfast buffet had it all. French-toast with chocolate ice-cream and maple syrup, waffles with mascarpone, pancakes with Nutella bananas and chocolate syrup. There was a fruit spread of kiwis, pineapple, plumbs, watermelon, etc. There was fresh lox, 5 types of nuts, 4 types of cereals, and dozens of freshly baked pastries. There was salad with countless dressings and lunch meats. Yogurts, spices, preserves, olives, everything you can think of. There were half a dozen cheeses, of which the goat cheese was Sylvie's favorite. She especially enjoyed the berry compote with the cheese. The staff was so helpful that it made us feel a little uncomfortable. I don't like feeling like I have servants working for me. Much of the staff felt a little awkward when I refused to accept their offers to hold or carry things for me. I told them not to clear my plate and that I would reuse it because I wanted to save on the energy/work and they didn't seemed to really understand. You can tell that people that travel and stay in places like this don't really see any of India. One staff member even told me that I should try an authentic Indian tea that he can make for me. What h brought was just chai masala. Another staff member suggested Sylvie try an authentic Indian breakfast, but it was just a dosa. People staying in places like this certainly don't see the really india.
Finding Our Cooking C
Before our stay in Udaipur we booked a cooking class in advance. Shashi's cooking class was highly praised online so we booked a 5:30pm class with her, figuring it would be our dinner as well. While researching the cooking class online, our hearts were warmed by Shashi's story- her husband died some years ago and to make ends meet for her two young sons she was encouraged to start teaching cooking classes. When she began giving lessons years ago she was nervous and spoke no English, but in the last few few years her business has taken off, especially after recognition in the Lonely Planet guide book.
A complimentary tuk tuk was sent to pick us up for the cooking lesson. A few minutes later we arrived at a large home and were greeted by Shashi's son. It turns out that Shashi was visiting a sick friend, so her son would be teaching us. He led us to a large, very clean, well stocked, and organized kitchen. We were so pleasantly surprised by the set up. He spoke about his mother and it was clear he took a lot of pride in her accomplishments. He was very professional and had a packet of the recipes we would be making, a clip board and pens for us to take notes.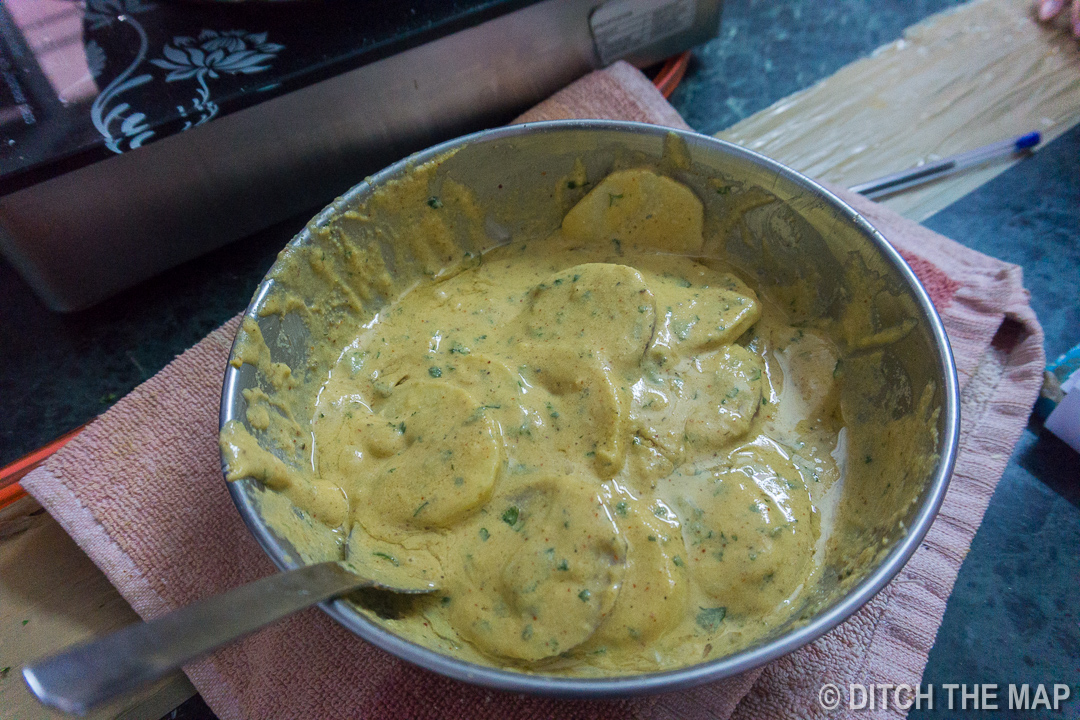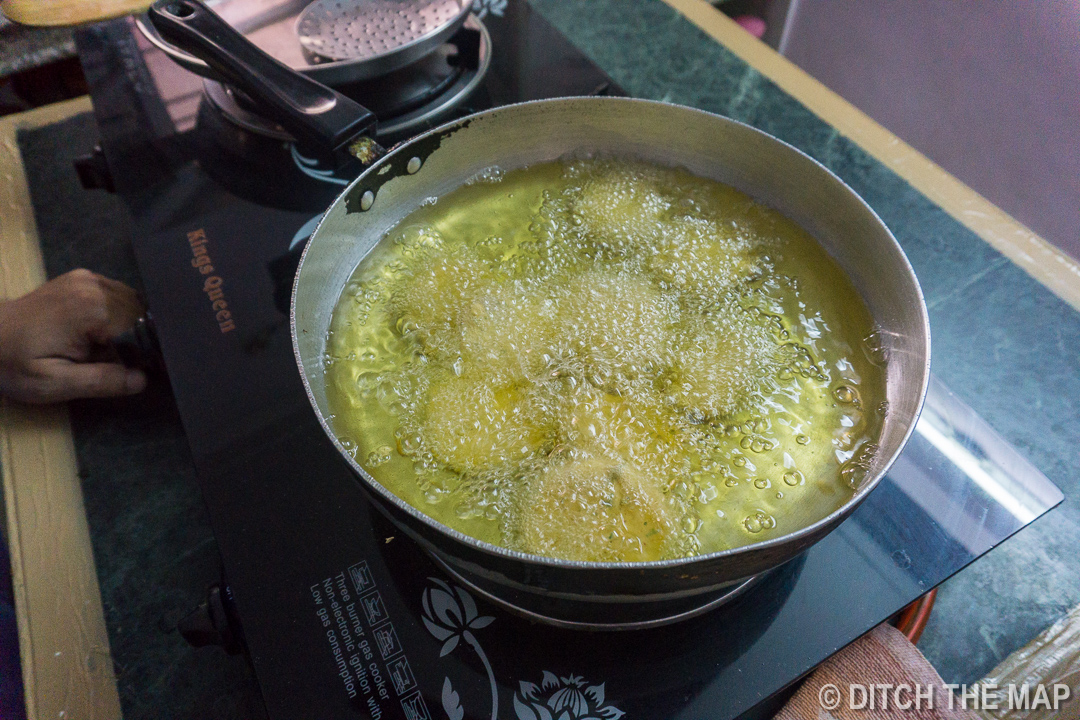 Our Cooking Lesson
The lesson began by making some delicious chai tea. More milk than water and lots of sugar is the secret for rich and creamy chai. For an appetizer we made pakora-a popular fried vegetable fritter that we frequently see on menus. We sliced onions and potatoes and coated them in a chickpea flour and spice mix and then deep fried them. For dipping sauces we made a sour and tangy mango chutney along with a mild cilantro chutney. The mango chutney is made from unripened mangoes, but during the off-season mango powder is used.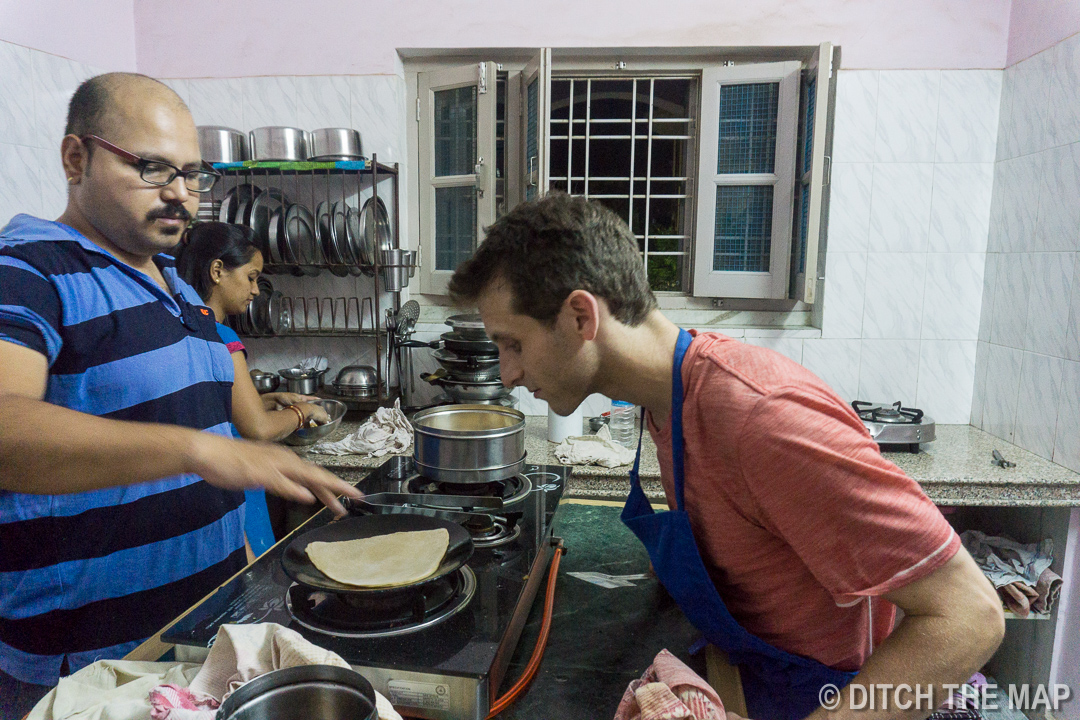 The next few dishes we made all used the same basic sauce for a base--as it turns out most Indian dishes use this basic sauce as a base and then add a few extra ingredients/spices to create the vast majority of Indian dishes. We made cauliflower curry, paneer (cheese) butter masala, vegetable Palau rice (similar to biriyani), and several different Indian breads (tomato and garlic cheese naan, chapatti, plain paratha, stuffed paratha and a sweet paratha). All of the cooking was vegetarian, the family is from the brahaman caste and doesn't eat meat or eggs, though they do eat honey and milk. The younger generations have starting eating eggs in their birthday cakes however.
Many of the reviews we had read suggested that the class was very long. The course, although pleasantly designed, may have been a bit over-ambitious at around 4.5 hours long. We made so many complete meals and each was for a portion of 2. The food would have been ample for 3 complete dinners for the two of us.
Observations on Indian Cuisine/Life
By Scott Biales: Indian cuisine is largely unhealthy. All dishes are made using an oil base. In addition to this oil base some dishes call for extra butter whereas others require yogurt/cream. Pakora and most other snack foods are deep fried. A cup of chai is made with 4 heaping teaspoons of sugar and full fat milk. When prompted why Indians don't eat salads we've been told that they just don't like the taste. They do eat raw onions however, as the taste is more pungent. I once thought Indian cuisine was so complex and intricate however most dishes are 90% the same and the breads are largely prepared the same as well. Paratha is just chapati with oil applied to every possible surface during every possible stage in cooking. Indian cuisine, as prepared by most Indians, does not relay on innovation but dated cooking traditions. Chapati must be rolled circular, paratha triangular, and naan in an oval.
From our experiences over the past month it's apparent that Indian society is not motivated by the same forces as much of the western world. We, as westerners, place a heavy bias towers progress in the sciences and much of our decisions are based around reason/logic. In India religion and family tradition play much larger roles in daily life. This has large implications. It's easy for us to write off much of Indian lifestyle as unhygienic, dirty, and ignorant. However we only come to these conclusions when looking through our lens of western standards. I have a constant internal struggle between the notions of cultural relativism and objective truth--as a Ayn Rand supporter and man of science/reason I can't help but feel as though Cultural Relativism stops when a culture prevents free thought and degrades a person's individual intellect. Using an Hyperbole as an example I'll best illustrate my point: killing an innocent person is wrong no matter what culture you're from
"Cultural Relativism is the principle that an individual person's beliefs and activities should be understood by others in terms of that individual's own culture. It was established as axiomatic in anthropological research by Franz Boas in the first few decades of the 20th century and later popularized by his students." [wikipedia]
Our instructor told us that Indian food is not unhealthy and that they use sunflower oil, which has very little fat. He also said that ghee is healthy since it's butter that has had its fat removed. However ghee is actually butter with its milk solids (proteins) removed, which leaves only the fat behind. Our instructor told us these things as if he was 100% positive. This is a common thing in India. I'm confident it's because they don't fully understand reason/logic/science. Although the hindu religion is very interesting I find it incredibly harmful to society. It has taught an entire culture to use faith, in the place of science, as a guiding hand in one's life.
It's clear to see that many of India's problems can be linked to blind faith in religion. The highly educated class in India seems to have broken away from these outdated mythologies. Last night we met a very kind woman at a bus stop who told us that there is a temple in Rajasthan that will grant any of your wishes if you bring 5 coconuts. How can a country repair roads, heal the sick, and create peace if this type of thinking takes precedent over reason?