April 28-30, 2016
Overlanding From Nepal to India
We made it to our A/C luxury bus at the New Bus Station in Kathmandu by 2:30. Even though we were scheduled to depart at 3:00pm we didn't leave until almost 4:00pm. The bus was crummy and Sylvie and I were the only 'White People' on it. I doubt the locals paid $20/ticket for this bus. We were worried that the A/C didn't work because the temperature on the bus, mixed the humidity, was insufferable. However, shortly after the bus had turned on its engines the air slowly began to cool.
Thanks to my lofty dosage (2mg) of Lorazepam I was able to sleep off and on for much of the night. We made a few stops before it was pitch black. On one of the stops I jumped off quickly to get some more water, but when I turned around the bus had already started pulling away. Sylvie had gotten up and demanded the driver stop. I must have been outside for no more than 3 minutes.
At one stop everyone seemed to get off so we ate a very quick dinner—Local Dal Bhatt. We had a large portion with unlimited refills for only 250rp ($2.50). Our route was so indirect we ended up driving west for 5 hours before turning around to make it to the eastern Indian-Nepalese border.
We pulled into the Indian border city of Kakarvitta and ate a quick meal and then exchanged my money into Indian Rupees. Surprisingly no one in Thamel, Kathmandu had Indian Rupees. We walked for a while before we found the Nepalese building where we stamped out of the country and then followed a long bridge into India. After making some photocopies of our documents and meeting an immigration officer we were stamped into India.
We caught a collective ride to the larger town of Siliguri for 25rp ($0.40) each. In Siliguri we had waited two hours for a bus to take us to our Homestay just south of Darjeeling in Kurseong. After 2 hours we grew inpatient and walked outside the bus station. To our surprise we found a collective taxi that was taking passengers to Darjeeling. We paid 140rp ($2.15) for the two of us to get to Kurseong.
During our 2-hour wait I went in the train station to inquire about trains to Varanasi and Kolkata. There were no direct trains on the 30th and the train on May 1st to Varanasi was too expensive (we had to pay for the entire ride to Delhi and just get off early at Varanasi). The train on May 1st to Kolkata didn't leave until very late in the evening, which would mean thatand Sylvie and I would need to spend an other day in Darjeeling—something neither of us really wanted. I'm not sure what we'll do about our next destination, but we may have to suck it up and take another shitty bus.
Our Homestay at the Makai Bari Tea Estate in Kurseong
Getting to the homestay was quite a challenge. After our collective to Kurseong we had to hitch yet another a ride to the Tea Estate just south of Kurseong. According to one of our guidebooks, "The town of Kurseong, 32km south of Darjeeling, is the little sister of (and quiet alternative to) the Queen of the Hills further up the track. Its name derives from the Lepcha word kurson-rip, a reference to the small white orchid prolific in this area. Surrounded by manicured tea estates, it is the southern terminus for the charming steam-powered toy trains of the Darjeeling Himalayan Railway."
I found the homestay online and Sylvie called them directly to set something up. I first tried to go though a broker but had up-charged 100%. We are to pay 800rp ($12.30 USD) per night per person—that cost includes 3 meals and 2 teas along with the lodging. For An extra 100rp we will be able to tour the tea estate, pick the leaves, and see how their tea is processed. This tea estate, the Makaibari Tea Estate, is one of the oldest estates in the Darjeeling region, dating back to the 1850s. There is a collective of over 2-dozen homes that work and provide homestays on the farm.
According to our guidebook, "Makaibari TEA ESTATE: anyone interested in tea should visit this organic and biodynamic tea estate. The factory is open to visitors and in between the huge sorting and drying machines and the fields of green bushes you may just run into the owner, local tea guru Rajah Ba- nerjee. Mornings are the best time to see the production process."
The Makai Bari Tea Estate sells the world's most expensive tea. At almost $850 per lb ($53/oz) they sell tea that is harvested in the moonlight during the night. I look forward to trying it out. It seems as though they sell that same tea here on the estate for $175/lb, a reduction of 90%. Tomorrow Sylvie and I will be taking the Toy Train from Kurseong into Darjeeling and spending the day in the city of Darjeeling. The day after tomorrow we will be receiving a full tour of the grounds and facilities.
The climate is very unique here. The altitude in Darjeeling is over 7,000 ft and the tea gardens are nestled right on the hillsides. Throughout the day and into the late afternoon you can see the thick fog of humidify rising over the mountain directly into tea plantations. Although making for an incredible view, it leaves one feeling clammy and unable to cool during the sticky nights..
For lunch our first day we had vegies, one fried egg, and rice that was prepared with peanuts. The rice was quite delicious. We enjoyed an afternoon tea with biscuits around 6:30pn.. Sylvie and I are sweating like crazy in our humid little room waiting for dinner to be served. It was finally served at 8:00pm.
Taking the Toy Train into Darjeeling
After enjoying some tea and biscuits we took a collective taxi into town around 6:30am. The van also picked up two other people on its way into town (a friend and a young school girl). The walk into Kurseong is a steep hour-long journey around an endless number of winding roads.
Sylvie bought a samosa for 10rp ($0.15) before we boarded our 7:00 train. The Toy Train from Kurseong into Darjeeling only departs twice a day and costs $1.00 and $3.20 for second and first, respectively. We bought 1st class tickets, which ended up not being too different than the 2nd class. There are only 3 cabins on the train and our cabin has seats for only 18 people. Our train was powered by a diesel engine but they also have trains still powered by steam. The popular 'tourist' Toy Train ride is to take the round-trip train from Darjeeling to Ghum and then back. The cost is 3 times the price of the train we took and nearly a quarter as long.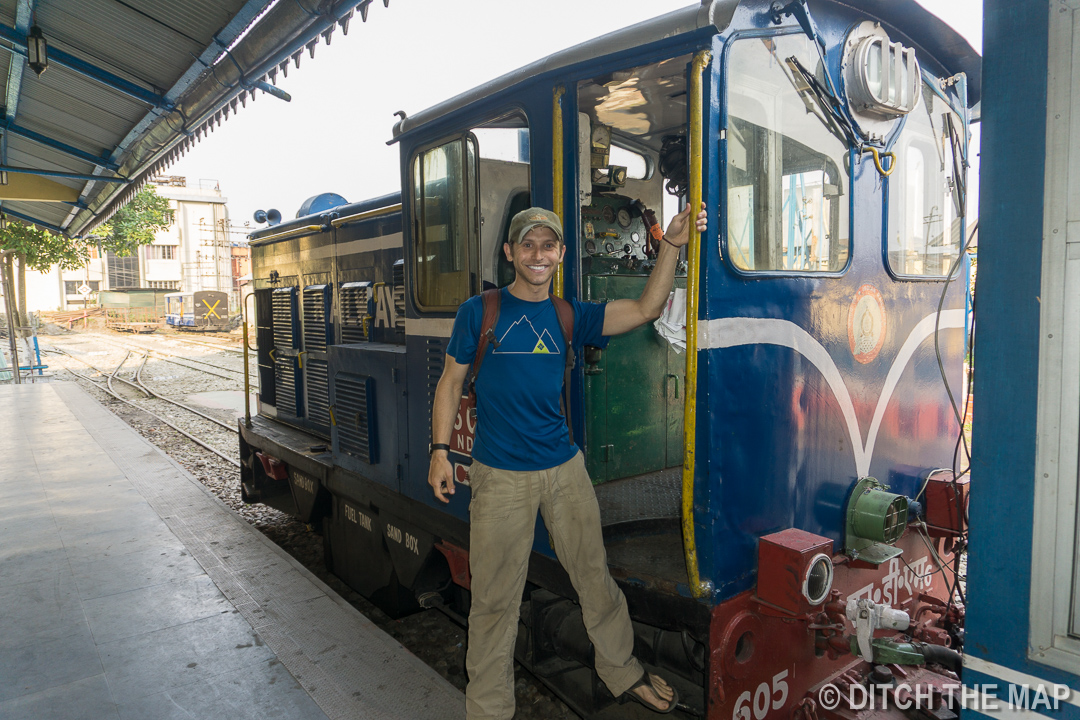 Upon entering the city of Darjeeling we were involved in a horrible traffic jam where we barely moved for nearly 45 minutes. We actually rammed right into the side of a large van. After over 3.5 hours of slowly snaking itself upward and counter-clockwise the train finally delivered us into the mountainous town of Darjeeling.
Booking an Indian Train…At least Trying To
We arrived at the Darjeeling train station and immediately found the ticket counter. We were feeling pressure to reserve our train tickets for the following day to Kolkata. After much research online we learned that reservations fill up months in advance; we can't wait until the last minute again. The people at the ticket counter were of little help, however, and we thought we would have better luck trying to reserve online ourselves. Unfortunately, this meant sacrificing most of our day in Darjeeling looking for cafes with Wi-Fi.
The City of Darjeeling
We roamed up and down the steep mountain side roads looking for "westernized" restaurants that we hoped would offer free Wi-Fi. The winding streets were confusing and lead us up and down stairs and in circles past tons of street stalls. After asking for directions several times we finally found the main square, Chowrasta. Here we settled on a café with Wi-Fi, which proved so slow it was almost unusable. We managed to do some research but again came up with the same response from all of the train booking websites- we need an Indian phone number to book any tickets. India really knows how to make things challenging for foreigners!
Giving up, we left the café in search of travel agencies around Darjeeling to have them book a train or bus for us. Again we had little luck, hardly any of the agencies booked train tickets for foreigners, some of the agencies were closed or didn't have working internet, or they quoted us outrageous rates for buses because of their commission. We decided the best plan would be to go directly to the bus station the following day and reserve our tickets on the spot. Fingers crossed that we get an air conditioned bus.
Shared Jeeps
We stopped at Golden Tips Tea Café to sample some of the local teas. We tried a first flush green tea, a second flush summer tea and a white tea. We found a shared jeep back to Kurseong. Shared jeeps are an easy mode of transport, they're constantly on the road calling out the name of the direction their headed. You just flag them down and jump in. They cram as many people as they can into the jeep and pick up and drop off all along the route. We fit 10 people into the jeep. The ride, though only 36 kilometers took around two hours. It was slow and incredibly bumpy. A few times the driver actually parked the car while we waited in bumper to bumper traffic.
Indian Bureaucracy
We were dropped on Kurseong and started our walk back to the team farm. Along the way we saw a store selling sim cards which was perfect as we needed an Indian phone number. Getting a sim card as a tourist in India involves a ridiculous bureaucratic process. We needed to have a copy of our passport and Indian visa, two passport photos, proof of home address, and proof of address in India. You need an Indian contact, mother's and father's name, and then you need to wait for the application to be approved within 3 days.
Worn out from the day and anxious to get back in time for dinner we hitched a ride back to the tea farm. Shortly after our host mom served us a delicious dinner of mutton, curried vegetables, chopped salad, rice and tea of course.
Tour of Makai Bari Tea Estate
The day began with potato veggie pancakes, fried eggs and tea cooked by the mother of our homestay. She is a sweet lady and an excellent cook. We headed down the street at 8:30 to meet at the main gate for a tour of the tea farm. The tour began in the factory which was established over a hundred years ago by the British. The factory still looks very much like it did a century ago as the old equipment is still in use.
Our first stop on the tour was the drying room. Here the leaves stay overnight exposed to fans and air. Then they go to the cutting machine which breaks down the cell walls. And next the black tea is off to fermentation. The green and white teas are not fermented. The leaves are heated in machine and then separated according to size. The larger pieces are high quality.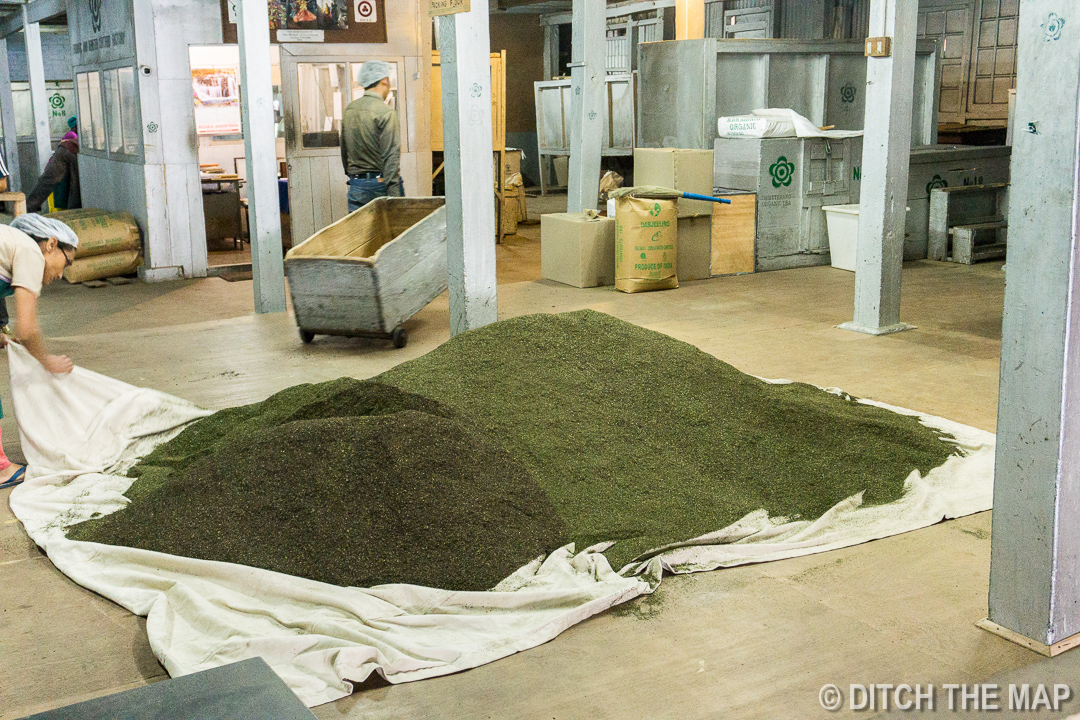 Upon visiting the tea fields we immediately noticed that all the workers were women. I asked why and our guide told us that the money is not good so men do other work. We learned that for 8 hours of work plucking tea leaves the women make 120rp ($1.85 USD). The men usually do day labor, such as building roads, that pays 400rp ($6 USD) per day. Our guide told us that their fields are made up of mostly Chinese tea plants and only a few Assam plants. About a quarter of them are hybrids. Assam tea leaves are much larger and in a day of plucking a woman can pick up to 100 lbs. Whereas the tea in Darjeeling is smaller and a day's worth of plucking only yields half a dozen kilos.
Puja at the Tree Temple
After the tour of the tea farm our guide took us to a 100+ year old Tree Temple. A shaman was performing a ritualistic puja in order to ask the gods for rain. Kurseong has been in a draught for a while and this is the first time in 2 years that a shaman has been called to ask the gods for rain. We learned about the puja from a local woman who has been working within the community to help increase the productivity of the families on the estate. Of the 1000s of homes on the Makai Bari Tea Estate less than 25 participate in the home stay. 1 person staying 1 night in a homestay produces a week's worth of income for the family.
The puja was very unique and it was amazing that we got to see it take place. The the villagers actually believed that the shaman was speaking with god.
We said our goodbyes and took a taxi to the city center and then a collective van to get to the city of Siliguri to hopefully find a bus to Kolkata. The van to Siliguri was crammed with 12 people and it was not a pleasant ride. However, we were able to catch an overnight bus to Kolkata that departed at 6:30pm. Sylvie was freaking out the entire time she was awake in the sleeper-bus. The driving was chaotic, borderline suicidal.
Luckily we arrived in Kolkata...safely