Logistics of Organizing Our Independent Trek to Everest Base Camp (EBC)
Doing it Ourselves vs. Going Through an Agency
We shopped around and found that the cheapest organized private tour package to EBC was $1040 pp. The tour was 15 days, included all meals, lodging, a guide, round trip airfare to/from Lukla, and all permit fees. Prearranged 'package' tours purchased outside of Kathmandu (like in one's home country) are much more expensive. G Adventure, as well as many other agencies all seem to charge the same rate, about $1,500 for an all-inclusive trip that starts and ends in Kathmandu. We finally opted on organizing the trek to Everest Base Camp ourselves.
"However, if you wanted to book with a local tour company, your best bet is to create a custom trip and compare prices through Tripfuser."
Getting a Porter-Guide
We shopped around at at least 3 places before deciding on an agency from where to hire a porter. Although you can hire one in Lukla, the starting city of the trek, going with an agency brings with it more peace of mind. The porters have insurance, appropriate gear, mobile phones, and at least some accountability.
There are three types of trekking support persons that one can hire. From most expensive/experience to least they are the guide, the porter cum guide, and the porter. A guide does not carry a load but provides commentary and direction during the trek and speaks English fluently. A guide is also more educated on warning signs for acute mountain sickness. A porter just carries a load, oftentimes as large as 25 kg and does not speak English. A porter cum guide is a porter who speaks limited English and can help provide some direction throughout the trek. The porters cum guides usually hold less weight but still up to 15kgs. Many porters cum guide are porters undergoing training as a guide.
Prices through an agency for the three are $20-25, $16-18, and $14-$16, respectively. After doing some research it seems like hiring without an agency one can save $5-$10/day. Many agencies quoted us $20/day for a porter cum guide. Even though I know I could have talked them down to $16/day I settled on $17/day when we found a company we 'trusted'. Our porter/guide will meet us in Lukla airport holding a sign with our names.
Getting Our Gear
We needed to get a lot of gear. Many places on Thamel only sold their bootlegged gear to ignorant naïve tourists, but the shops further from the center also rented gear. We stopped in between 15 and 20 different shops to price out the gear we needed to rent. To sum up a very long and very exhaustive series of events we settled on one place where we rented everything. We rented 2 -20C sleeping bags, 2 'down' jackets, and 2 bags (one for ourselves and one very large one for the porter). We got the sleeping bags for 70rp ($0.70), the Jackets for 60rp ($0.60), and the bags for 80rp ($0.80) each per day. For a total of around $50 we rented all the gear we needed. We also bought hats, gloves, and warmer socks. The socks came in different colors and had varying branding on them, however they were all wrapped in the same poorly bootlegged packaging. The socks were sold as 'wool', but I can promise you that they were cotton. We topped up on antibiotics (for food poisoning), Diamox (for altitude sickness), and various other remedies. We also got 2 rolls of toilet paper, hand sanitizer, and other things of the like.
We bought chocolate treats to take with us since they are very expensive on the trek. In fact they get more expensive the closer we get to EBC. Many of the supplies have to be flown in by small aircraft to Lukla airport and then carried by porters for dozens of miles in the mountains. The supplies that are not flown in to Lukla travel even farther, an extra several day hike from Jiri.
Our Budget for Doing the EBC Ourselves (w/o Agency)
+ $596 Flights to and from Kathmandu and Lukla ($147 pp/trip + $8 for cab to and from airport)
+ $232 Porter cum guide @ $17/day (+$20 tip and cc surcharge)
+ $92 TIMS Registration (2 x $12) + National Park Entrance (2 x $34)
+ $140 Supplies/Gear (bought in advance and en route; first aid, meds, equipment, etc.)
+ $24 Lodging for 11 nights
+ $310 Meals for 11 days (includes $25 snacks purchased beforehand)
TOTAL = $1,394 (for two people)
Get advice and check out what 16 professional travelers brought with them for the Everest Base Camp hike!
Itinerary
Day 1: Kathmandu -> Monjo (via Lukla)
Flying into Lukla
After waiting in line for what seemed like forever we finally got to the counter and weighed our bags. There is a 15kg/pp limit. The people in front of us were over but slid the ticket agent 500rp ($5.00) and that was that. I was praying it wouldn't affect the safety of the flight. We were flying on Yeti airline and into Lukla airport. Yeti Airline is considered to one of the top 5 most dangerous commercial airlines and the Lukla airport is oftentimes named the #1 most dangerous airport to fly into. There have been at least 2 fatal accidents within the last 8 years alone. However seeing as in 2015 alone 40,000 people flew in Lukla to hike to EBC I was able to relax a bit.
We took off a little late but the flight was only 30 minutes long. It was smooth, but loud. We flew between the mountains, actually quite close to them. When we finally landed we all gave the pilots a round of applause. I do have to mention that at one time during the flight I did notice the Captain picking up a newspaper to flip through a few pages.
At the Lukla airport there were dozens of porters trying to 'sell their services'. Fortunately we met up with our prearranged porter. He picked grabbed our bag and we followed him into a teahouse where Sylvie and I split a salami pizza and tea. In order to save money we bought 50 tea bags back in Kathmandu. We only spent 10rp ($0.10) per tea bag. A tea on the EBC trek can cost between 50rp - 150rp ($0.50-$1.50). They sell 1L of boiled water that I bought for 200rp ($2) and we got more than 6 glasses of tea out of it. We got the idea of bringing our own tea bags from a blog we had read online.
Walking from Lukla to Monjo
We registered our TIMS card at the start of the trek and had to declare all valuable electronics that we had with us. We had a MacBook air 11", Sony mirrorless DSLR a6000, 2 Kindles, and 1 iPhone. I noticed there were quite a few missing person posters hanging up. One of the guys was a mid 20s American that went missing a year or so ago. I asked how that happens and the guy at the registration told me that sometimes people go our trekking by alone and get lost. I know my family is happy that Sylvie and I are going with an expert, but hiking with someone else is kind of a buzz kill. Hiking is a very spiritual and personal experience and having to do it with a stranger does detract from the entire experience. (After having just completed the trek I would say that it's perfectly safe to do the hike without a guide/porter, but it's always safest going with a hiking partner.)
As we headed out towards EBC we were instantly immersed in the Sherpa lifestyle. The Sherpa ethnic group from this area, which is just a few dozen miles from Tibet, has inhabited these lands for many centuries. An interesting fact: The Sherpa people have evolved mechanisms to better adapt to the high altitudes in the Himalaya without developing the chronic side effects like other people living in high altitudes. It has been shown that this evolution has occurred in just 3,000 years--the fastest example of human evolution that we have on record.
The trail so far is a dirt clearing bustling with porters carrying supplies to and from teahouses, yacks/buffalos/horses, and other fellow trekkers. We stop by a few small Buddhist temples and spin the prayer wheels for good karma before setting onwards. Many of the establishments are teahouses but there is still a fair share of local homes with organic farms. We cross steel suspension bridges that seem to go on forever. Of course we have to wait for the caravan of cattle to finish crossing the bridge before we can attempt it. The last one we traversed was slick from rain and we had to slow our pace.
We trekked downhill past Chablung, along the Dudh Kosi Valley and then through the village of Ghat. Finally we arrived in Phakding. This is the typical stopping point for day 1, but Sylvie and I wanted to keep going. We had read a blog where the writer strongly urged to continue hiking onwards to Monjo if at all possible. We trekked onwards crossing a river on a long swaying bridge that took us to the town of Benkar. Later we crossed the Dudh Kosi to its east bank on yet another suspension bridge and climbed to Chumoa. After a short climb through a forest we arrived in Monjo.
The hike from Lukla to Monjo in 4 hours—a whopping 1.5 hours faster than what the guidebooks say. This gives me a good feeling about the rest of the trip.
Staying in Monjo
We checked out two rooms before deciding on the second of the two. The first place had two types of rooms. One room was 200rp ($2) and did not have a private bath while the other room was 600rp ($6) and had a private bath with hot shower. The second place also charged 200rp ($2) for the room but there were windows on two of the walls and the room was easily 2-3 times as large. Also the room had a free power outlet, something unheard of on the EBC trek. The previous teahouse charged 300rp ($3) to charge 1 (one) item. They also charged 500rp ($5) to use the Internet, and 300rp ($3) to use the common room. All standard teahouses on the EBC trail charge 200rp ($2) per room.
For dinner we got 1L of boiled water for tea, I got the Sherpa stew, surprisingly Sylvie got the Daal Bhat. It was a cold night and we both curled into our sleeping bags with our hats and all our layers. We slept thought the night however. We were up early for breakfast and were on the road just after 8am.
Day 2: Monjo -> Namche Bazaar
Walking from Monjo to Nacmhe Bazaar
Today's hike was a short one, thanks in part due to our longer hike yesterday. However today's hike takes us up another 2,000 ft to an altitude of 11,286'. During today's hike we purchased another permit to allow us to enter Sagarmatha National Park—It was $34/pp. Sylvie started feeling a little lethargic mid-hike. However she continued to drink water and slowed her pace down. She's sleeping now (it's 2:30pm). She just needs a little time for her body to acclimatize.
Staying in Namche Bazaar
We arrived in Namche Bazaar and our porter insisted we stay at a 'certain teahouse'. I figured out it was because his company owned it. I opted to look around town and shop around. I found a hidden gem--for 500rp ($5) a night I found a room that had two sofas, a table, attached bathroom, free Wi-Fi, and a place to charge our electronics. It was below a bakery and this was their only room. I jumped at the opportunity.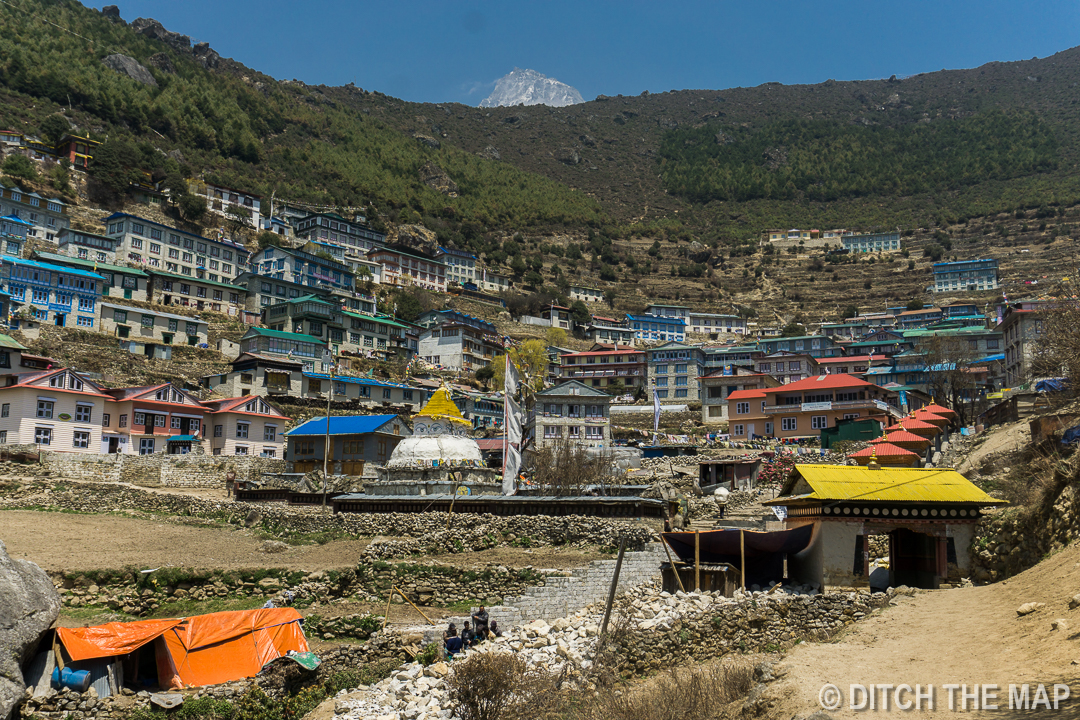 Namche is the central commercial/trading village for the Sherpas and is the most expensive region in all of Nepal.
A Note About the Sherpa People
Sherpa (Tibetan: "eastern people", from shar "east" and pa "people") are an ethnic group from the most mountainous region of Nepal, high in the Himalayas.[1]
Sherpa as a surname appears to be the result of the Nepalese government census takers. Not recognizing that some people only have one name, they wrote the word on census forms in the space for last name. In some cases the clan name was written and in others the ethnicity, i.e. Sherpa. These have then been adopted or forced to be used as last names, last names not being a part of Sherpa culture.[2]
Day 3: Namche Bazaar -> Namche Bazaar (acclimatization day)
Acclimatization Hike from Namche through Khumjung, Khunde, and then Back to Namche
We woke up to the cold morning air burning our nostrils. It actually feels colder in our room than outside!
We split a hearty breakfast to fuel our 4-hour acclimatization hike. Today's hike will help us to acclimatize faster as we visit two towns higher up the mountains, climbing 530 meters (1,740 ft) and then returning to Namche to sleep at a lower altitude.
We met our guide at 8 am. Completely unaffected by the cold he was wearing flip flops. We set out for the days hike on what seemed like a never ending uphill stretch. The sky was overcast and it felt like we were climbing into the clouds. I was unaffected by the altitude but each step up for me was accompanied by a lot of heavy breathing. Sylvie suffered a bit more from the altitude.
We reached the town of Khumjung and exchanged some friendly 'namastes' with a few locals. We took a pit stop in the monastery where we were lucky to catch a few monks chanting/praying. There is a scalp in the monastery that is rumored to be that of a Yeti, but I didn't pay the entrance into the room to verify the claim.
Shorty up the trail we reached the small town of Khunde, which houses the only western-style hospital in this span of the Himalayas, complete with a decompression chamber.
A Documentary on Sherpas
We returned to Namche after challenging our knees on a down hill descent for an hour or so. Just in time to catch the daily showing of the a Sherpa documentary that plays at several cafes in town. The documentary was eye opening. The Sherpa people have incredible strength and stamina, setting up camp before the climbers arrive, laying ladders across dangerous crevices, escorting mountaineers to the summit oftentimes putting their client's safety above their own. It's largely thankless work and I can't help but feel that they are exploited. They risk their lives everyday on expeditions. But during the 40 days that Everest is summit-able they can make up to $5,000--enough to take care of their family for well over a year, which is why many of them choose to be Sherpa guides.
Day 4: Namche Bazaar -> Tengboche
Walking from Namche Bazaar to Tengboche
After eating a subpar breakfast and repacking our two bags plus our porter bag we hit the trail by 8:15. The trail was flat with a gradual uphill grade for a long while with gorgeous views of the valley and snow-capped mountains in almost ever direction. To our dismay we started descending, fast. We eventually dropped 200 meters below from where we had started in Namche (meaning we had that much more to ascend throughout today's hike). Today's hike was not the 400 meters climb we originally thought more than 600 meters. The last 30% of our hike was simply walking uphill.
The guidebooks state this trek is between a 6-7 hours, though it took us 5 hours and 15 minutes. We did stop often to reapply sunscreen, drink water, change clothes, and just relax. If we wanted to we could have done it under 4 hours, however rushing to get to a town with nothing to do was not in either of our cards. Taking things slowly is also a safer way to avoid any sort of altitude-related issue. We did not stop for a full lunch however, which I imagine many hikers do in the scattering of towns between destinations.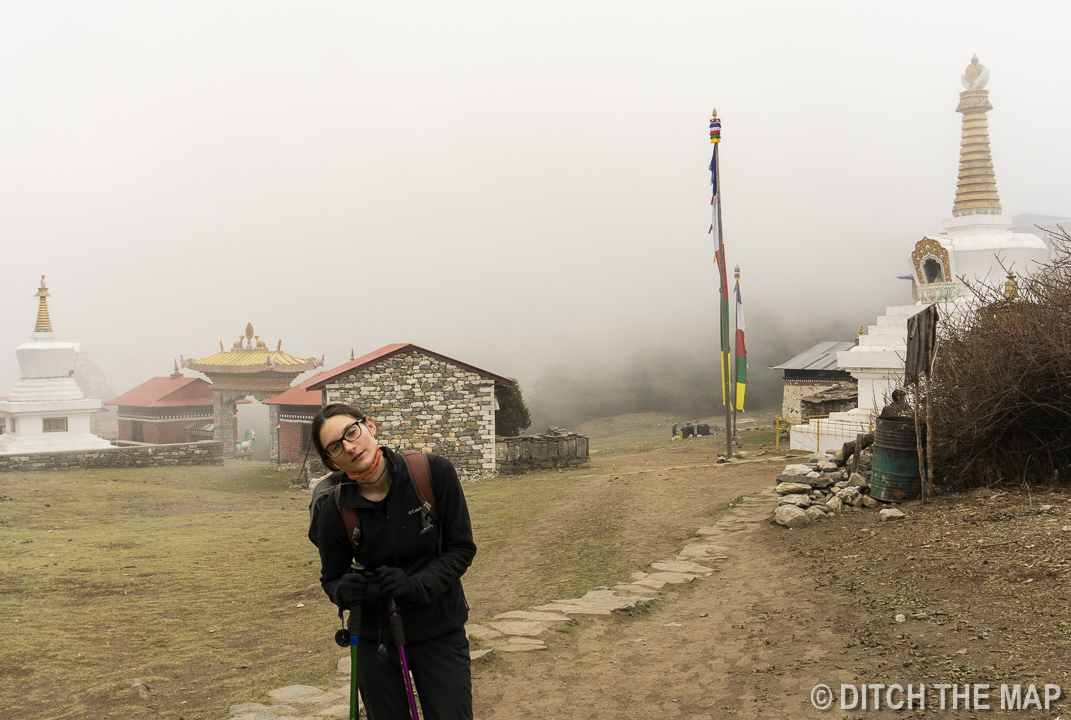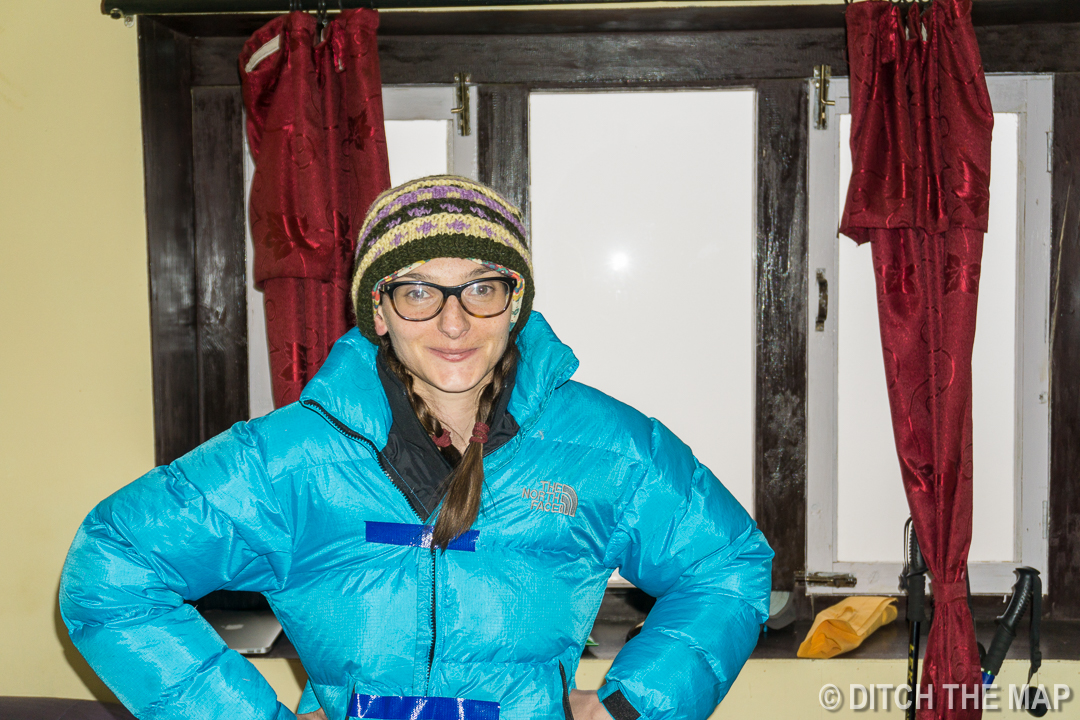 Each day I have noticed dozens of helicopter flights in the mountains. I had assumed that they were for resupply, however I learned otherwise today. The flights are mostly emergency evacuations—mainly from people experiencing Acute Mountain Sickness (AMS). If not resolved immediately it can lead to death via pulmonary/cerebral edema.
The Town of Tengboche
Tengboche is home of the largest, most important Buddhist monastery in the Khumbu Valley. I walked through it and thought it was just 'eh'. Sylvie and I looked at 3 different lodges. The place we opted in had the most expensive food menu, but the dining area looked the most hygienic—'Princess Sylvie' didn't give me much say in the matter. I know how to pick my battles. I have been handling the altitude remarkably well, largely unfazed. However Sylvie has been struggling. She's not showing signs of AMS, just fatigue and getting winded easily. Also her appetitive has greatly diminished. We've been to 'very high altitudes' many times during this trip (largely in Peru, Ecuador, and Bolivia).
I'm getting excited about reaching an altitude over 18,200 feet when I hike to the peak of Kala Patar in a few days.
Day 5: Tengboche -> Dingboche
This morning, just outside our hotel window we saw a helicopter land. After 5 minutes we saw a woman being escorted inside the vehicle and then it took off. She must have been really sick to have needed a helicopter rescue.
Walking from Tengboche to Dingboche
From Tengboche we took the trail, which dropped down to Debuche, crossed the Imja Khola and then climbed through countless mani stones (carved with the Tibetan Buddhist mantra om mani padme hum) to Pangboche. The trail then ascended past Shomare and Orsho to Dingboche, which is at 4410 meters (14,470 ft). We will stay here for two days to acclimatize. The hike took us around 4.5 hours.
The Town of Dingboche
We scouted out a couple of different teahouses in the city. Surprisingly, the city was much larger than I had anticipated, with dozens upon dozens and dozens of lodges. We finally found one, but Sylvie later regretted the choice since it only had a squat toilet and after using it the user had to reach into a dirty open bin of water to decant water into the toilet to manually flush it. There was a 5 gallons open container of near-freezing water with a turn-knob faucet that acted as an impromptu sink. Sylvie later admonished me for using that source to refill our water bottles.
I'm sitting in the dining area now. Its 3:15pm and it's very cold. It just started snowing and Sylvie ordered her dinner for 5. It is common to pre-order meals here. We'll be in our sleeping bags early tonight. All the snow was gone the following morning.
In Namche Sylvie and I took part in a research study on how altitude sickness affects cognitive functioning. We took a preliminary test yesterday and will take follow-ups in both Dingboche and Gorak Shep.
Day 6: Dingboche -> Dingboche (acclimatization day)
During breakfast this morning we saw a helicopter make a landing around 7:00am. It made 4 or 5 stops to pick up passengers within the hour. Although some may have been taken to Kathmandu for AMS treatment the others were taken to a nearby mountain for rock climbing or mountaineering activities.
Acclimatization Hike From Dingboche to Nagarjun Hill and Back
Dingboche is at a height of 4,410 meters (14,470 ft) and our next destination, Lobuche, is 4,910 meters (16,110 ft). To prepare ourselves for the upcoming altitude we hiked up Nagarjun Hill, which is at 5050 meters (15,291 ft). Sylvie made it up 75% of the way, but got tired and the cold wind started making the hike less fun for her. She returned to our teahouse with our porter as I pushed onwards. 30-40 minutes later I made it to the top. The last 15 minutes required quite a bit of scrambling over large boulders, which I found incredibly challenging but fun. There were only a couple other guys at the top of the hill/mountain. It seemed as though 90% of everyone that set out to reach the top turned back early. I don't blame them--the wind was brutal and the temperature dropped considerably at that height.
I had such a sense of accomplishment reaching the top of the mountain. There was nowhere I could go but down. The views from the top were utterly breathtaking. I could see the entire valley and dozens of mountains. I just paid 400rp ($4) to fully charge my laptop at the teahouse--using the solar arrays on the roof.
Day 7: Dingboche -> Lobuche
This morning we learned that a mouse in our room had eaten Sylvie's last granola bar and then continued onwards to our last last Kit-Kat. Sylvie did not like the fact that we had a mouse (or rat) in our room. She was worried that it was 'in all her stuff' and possibly pooped on her toothbrush. I probably made some off-colored joke and and regretted it for the next 15 minutes.
Walking from Dingboche to Lobuche
After a short uphill stint we snaked along a ravine for a while. We saw half a dozen helicopters flying up an down the valley. The views today were stunning—we were encased in snow-covered mountains for much or our hike.
Sylvie woke up with a headache and I prescribed her a paracetamol and ibuprofen combo pill. She felt marginally better but as we climbed in altitude she became a little nauseous so I prescribed her three quarters of a Snickers bar (I took the remaining quarter). I also suggest she take one more paracetamol + ibuprofen combo pill. After 30 minutes she said her headache had gotten better and she was no longer nauseous.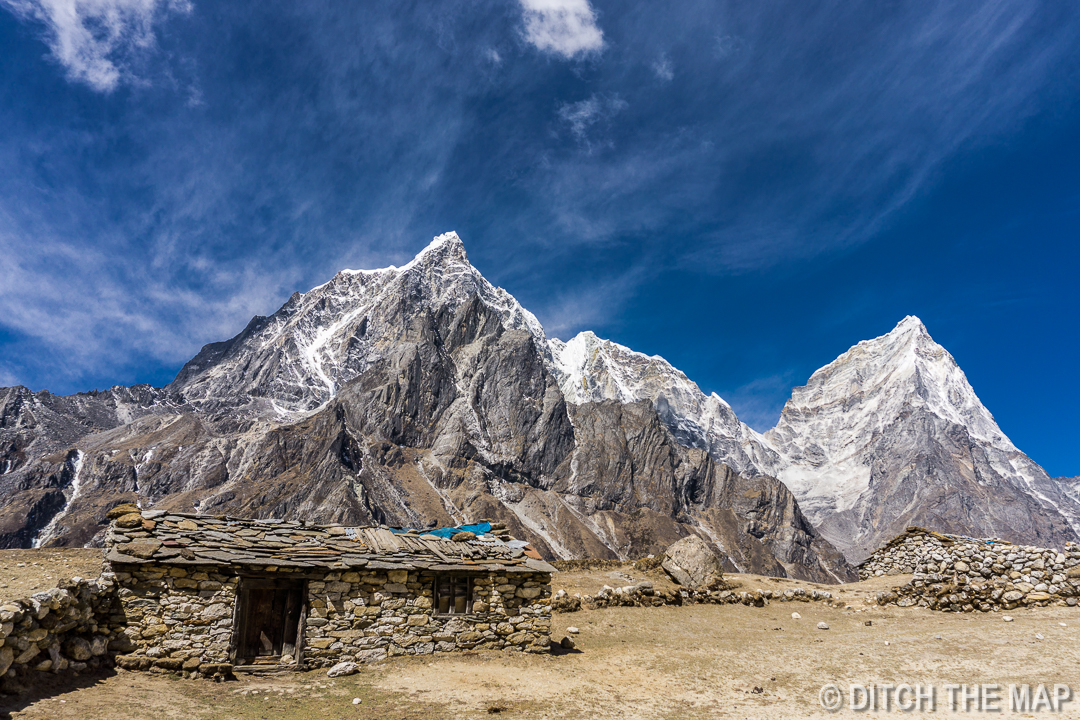 Within 2 hours we arrived at Dughla (Thukla), which is at an elevation of ~4,620 meters (15,160 ft). We had climbed 210 meters (690 feet) so far. We enjoyed a garlic and noodle soup, which is a local remedy for altitude sickness--it seemed to have cured Sylvie's headache.
We scrambled uphill for 45 minutes before being reprieved by the Dughla (Thukla) Pass. Throughout the pass there were dozens of tombstones commemorating the individuals who perished on Mt. Everest. Among the names was Scott Fischer, the American Guide leading the commercial Expedition Mountain Madness that was a main focus in the book Into Thin Air.
The rest of the day's hike was flat and gentle. We saw a smattering of tents camped at the base of Lobuche. Our guide told us that the climbers were going to wake up at 2:00am, summit the mountain, and then return to the base the same day.
We finally arrived at Lobuche at an altitude of 4,910 meters (16,110 ft).
The Town of Lobuche
There are 4 or 5 teahouses in the town of Lobuche as well as 2 higher-end lodges. The higher-end lodges charge $20/night, while the others charge the standard Khumbu Valley rate of 200rp ($2). Sylvie and I investigated 4 of the teahouses. Since we are expected to eat all meals at our teahouse we always first look at the food menu before the room. Rooms are largely the same, but the menus can differ slightly. Although the contents of the menus are essentially the same the prices vary from 10% to 20%.
Charging a laptop is 500rp ($5) per hour, but it will take you much longer than normal to charge the battery since the current put out by the solar power system is much less. Also, 100mb of data costs 350rp ($3.5)
The prices here are very expensive. For dinner Sylvie and I split fried noodles with vegies and egg, a piece of bread with peanut butter and a small soup for $14. We're leaving early tomorrow morning and the kitchen won't be open so we bought some cookies and a Snickers. The Snickers bar was $2.50 (compared to $0.50 in the shops south of Thamel in Kathmandu).
Day 8: Lobuche -> Gorak Shep
This morning was an extra early and cold one. Our alarm woke us up shortly after 5am. We packed our bags and dressed warmly for the day's hike. The simple task of refilling our water bottles was so difficult due to our painfully cold/numb hands. The temperature was low, very low. Also, the very high altitude lowers one's tolerance to the cold making hypothermia a much more realistic concern. I haven't changed my underwear, socks, undershirt or 2 top shirts in the last 7 days. It's too cold to expose any bare skin. My lips are permanently cracked and every time I scratch my scalp I shower myself in dandruff. The Diamox is drying me out from the inside out. I am slowly becoming a raison. Most people on the mountainwho are are taking it are taking "half-tabs", which is 125mg BID. I'm taking 250mg BID. I am using recommended dosages per the manufacture's insert labels, while most others are using the recommendation of the locals.
Walking from Lobuche to Gorak Shep and then an Out-and-Back to Everest Base Camp (EBC)
To Gorak Shep: At 6am sharp we were on the trail. Although it was light out the sun hadn't reached over the mountains. The surface was rocky and fairly flat for the majority of the hike to Gorak Shep. The knit mittens and glove liners we each had failed to keep our hands warm. My toes started to throb as the freezing temperatures overwhelmed my own heat generating capabilities and 3 pairs of socks. We gave our hiking poles to our porter freeing our hands so that we could shove them inside our jacket pockets.
The last portion of the hike was uphill as we traversed parallel to the Kumbhu Glacier. By this time the sun had come out and we were warming up quickly. We met Tom, a young Israeli traveler, and hiked with him until arriving in Gorak Shep. He told us about his 4 years in the army and his recent travels. We negotiated an 'Israeli Deal' with the reception, which included a free room if we ate all our meals there (we already had to eat all our meals there, but got a free room thanks to power by numbers).
The hike to Gorak Shep took us a little more than 2 hours. We climbed a total of 230 meters (755 ft) to an altitude of 5,140 meters (16,865 ft)
We ate a quick lunch at our teahouse and left for EBC around 10:15am.
To Everest Base Camp (EBC): The round trip hike to EBC took us 2-3 hours. From Gorak Shep we climbed another 225 meters (735 ft) to an altitude of 5,364 meters (17,600 ft) to get to EBC. However large portions of the hike were above the elevation of EBC. The terrain was very rocky and parts of the trail required quite a bit of scrambling. It was a good thing we left our hiking poles behind, as we needed both hands.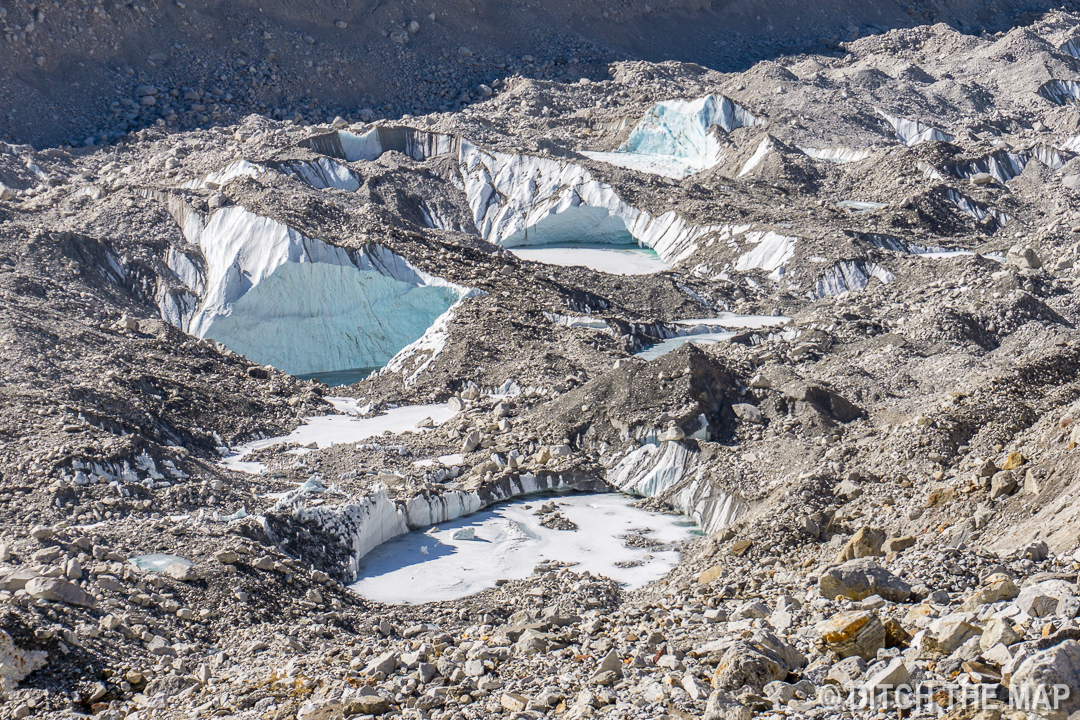 The last 15 minutes to EBC was breathtaking. We crossed onto the Khumbu Glacier via a small manmade rock stairway. Many of the rocks were loose and if we slipped off the 5-foot wide path we would end up 20 feet below in the adjacent frozen lake. We snapped some photos and before heading back to Gorak Shep. We each had 1L of water for the hike but it was not enough to fight off the increasingly dry air.
I challenged myself to see how quickly I could get back to our teahouse I was anxious to refill my water to rehydrate and my lips were so painfully cracked that I couldn't hurry back quickly enough.. The climate here is beating us up!
The Town of Gorak Shep
The town has 4 or 5 teahouses, all of which are nicer than the ones in Lobuche and seemingly the best stocked thus far (excluding Namche Bazaar). Compared to the last town (Lobuche) the prices have skyrocketed by another 25%. 2 hard-boiled eggs now cost 500rp ($5). One place accepted every type of credit card imaginable. However we are not staying at that particular teahouse. However this teahouse has a nice spread of condiments available for everybody's use. They have jam, peanut butter, hazelnut spread, tobasco sauce, mustards, and Vegemite for the Aussies. Many of the condiments are very expired and the ones that aren't have been aged terribly by the extreme weather conditions. They were in the sweltering sunny heat during their week-long journey up the mountains. The same can be said about the candy bars. Still, a Snickers bar that has been sitting on a porters unbathed back for a week in the sun is still worth the $2.50 after a long day of hiking.
The teahouses here seem to be much more crowded than in the previous towns. It must be since this is the last place to stay without actually summiting Mount Everest. From Gorak Shep one can hike to both EBC as well as Kala Patar.
Day 9: Gorak Shep -> Pangboche
We have been increasingly disgusted by the conditions of the bathrooms at the teahouses and the bathrooms here in Gorak Shep put us over our limits.
Although I woke up at 4:30am I refused to get out of bed until 5:30. My mouth was parched and my lips near bleeding but the bottle of ice-cold water was too far away…even though it was within arms reach. I held my overfilled bladder until I couldn't hold it any more--by 5:30 I had to get up.
I dressed in three layers of socks, two pairs of gloves, a buff around my face, a hat, and 5 layers of shirts. My thick down jacket was zipped to my chin and I snapped my large hood on tightly. I was as ready as I was ever going to be to take on Kala Patar and met my porter to leave around 5:50am.
Sylvie decided to stay in because she didn't want to deal with either the altitude or cold.
Walking an Out-and-Back from Gorak Shep to Kala Patar and then Onwards to Pangboche
To Kala Patar: The porter set a quick pace for much of the trek up to Kala Patar, which is at 5645 meters (18,515 ft), though some sources claim it's 5540 meters (18,200 ft). Towards the second half of the hike I felt that I was tailing so closely to our porter that I could have set an even quicker pace had I been alone. There were many hikers that left before us although a few left afterwards. The appeal in leaving early, despite the frigid temperature, is that the view of Everest just before sunrise is gorgeous. Since the sun rises early hikers must hit the trail ever earlier.
I was passing every hiker in sight and made it to the top just before 7:00, which made my total assent around 65 minutes. I thought the sun was going to rise at 7 sharp but it ended up peaking over the mountains around 6:40. I snapped a few photos just prior to sunrise when I was still 20 minutes from the peak.
The last 15 minutes to the peak of Kala Patar involved scrambling over freshly snow-covered boulders, which added a level of difficulty. At the top my porter took a few photos of me and I took my first sips of water since heading out.
He seemed to be on a mission during the descent and I challenged myself to keep up. We made it all the way down in only 30 minutes. During our way back down I talked with the porter a bit and he told me about some of his work. He says that during monsoon season the area is covered in magic mushrooms from here all the way to Lukla, but the mushrooms below Lukla can be poisonous.
Our total round trip time was around 1.5 hours. Several guidebooks claim that the assent alone can take anywhere from 1.5 to 3 hours and the descent between 1 and 2 hours. I feel pretty good about my 1.5-hr time versus the guidebooks suggestion of 2.5 to 5 hours.
To Pangboche: We walked through the towns of Lobuche and Dughla and then took a fork to go towards Periche, and not Tangboche. We arrived in Periche, but we both wanted to push ourselves so we went onwards to the next town. At the next town Sylvie and I were very tired but gave ourselves one more hour and pushed onwards to Pangboche, where we spent the night. The city of Periche was nice since there was a lot of flat ground and greenery, which differed from the other hilly towns we've seen.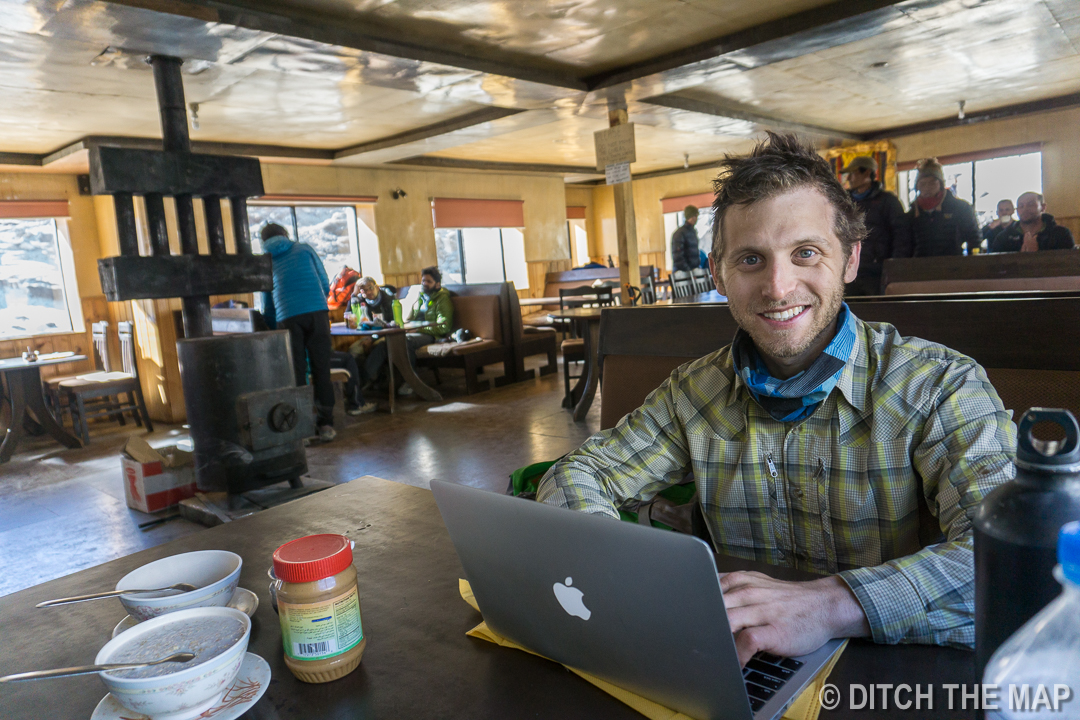 The hike from Gorak Shep to Pangboche took us 6 hours and we rested for 30 minutes. Pangboche is at an altitude of 3985 meters (13,075 ft). From my highest point today at the top of Kala Patar to Pangboche I descended a total of 1,560 meters (5,120 ft), or about 97% of a vertical mile.
The Town of Pangboche
We walked through the town of Pangboche, which is along the main hiking trail. Less than half of all the buildings were teahouses—the rest were just residences. After first stopping at a fullly booked teahouse we settled on our next place, which had no one else staying there. We ordered dinner: a veg pizza and a cheese hash brown with two fried eggs. We told them to have it ready at 5:15 and we went out so that Sylvie and I could satisfy our chocolate needs. I also got Vaseline for my chapped lips.
I had wanted to get our porter a little token of appreciation and thought a Snickers bar would do the trick. Sylvie told me that the Nepalese don't eat that stuff so we asked the storeowner. Although our conversation went on for several minutes I don't think the owner knew what we were even asking. We ended up buying our porter a can of juice. When I handed the can to him he shook his head and said, "no". I insisted and he refused to accept it. I told him it was a gift and that he can drink it when he wants. At that point he finally accepted it and said "thank you". He immediately put it on the furnace. I picked it up and told him that wasn't a good idea and that it may explode. I am doubtful he'll even drink it. Furnaces at teahouses are fueled by dried yak dung and garbage. Ventilation is almost non-existent and at nights the furnace can smog up the entire teahouse.
Sylvie witnessed a guy take a large chunk of Yak dung from a bucket place it into the furnace. He then went downstairs to prepare our food.
Day 10: Pangboche -> Namche Bazaar
Pancakes with Nutella, what a great way to start the day!
Walking from Pangboche to Namche Bazaar
Today's hike from Pangboche to Namche Bazaar involved a lot of gaining and loosing altitude. We spent just under 5.5 hours hiking to the Sherpa capital.
Day 11: Namche Bazaar -> Lukla
We started early this morning at 7:00am. Started the day with banana fritters with honey and a set breakfast, which included two pieces of toast with butter and gross jam, two eggs, potatoes, a tea, and warm orange Tang™. Seeing how the Tang was warm made me reconsider if our porter putting the can of juice on the furnace was intentional.
Walking from Namche Bazaar to Lukla
Today's hike took much longer than we had thought. In just over 6 hours (not including stops/break) we made our way to Lukla. Along the way I helped some guy with his copy machine in some rundown house in a schoolyard. There was quite a bit of up and down in today's hike...much more than either of us remembered.
The Town of Lukla
We met up with our porter and tipped him 2,000rp ($20). We had been debating whether or not it was enough, but after giving it to him I wished I had given him less. He was so ungrateful it really made me angry. We found a place for 200rp ($2), which offered us free Wi-Fi and free charging. We were also able to change our flight from the 27th to the 25th.
We stopped at a nice little café in Lukla after dropping our bags off. We treated ourselves to some beer and desserts. Sylvie was happy! We met some French hikers from Nice and a couple of guys from Seattle that had just returned from climbing Island Peak Mountain. We spent a few hours talking about all of our travels. The French couple had lived in Australia for two years and traveled in Bali and now in Nepal before returning home. The guys from Seattle met here to climb the mountain, but one of them has been traveling for a while—he lived in Australia and Bali for the last year or so. It's so refreshing to meet like-minded people.
During our 11-day hike from Lukla to Everest Base Camp and back (plus the out-and-back trips to Kala Patar and our side trips during our acclimatization days) we hiked well over 144km (90 miles).
It's crazy to imagane that everything in these villages had to brought up by person (porter) or animal. This adds tremendously to the cost of things. One teahouse owner said that a small canister of propane (the ones a family would use for the grill) costs 1500rp ($150). He then said that the transport costs were 1200rp ($120). You can see why everything is so expensive. 80% of the cost of a simple propane tank is the cost of transportation.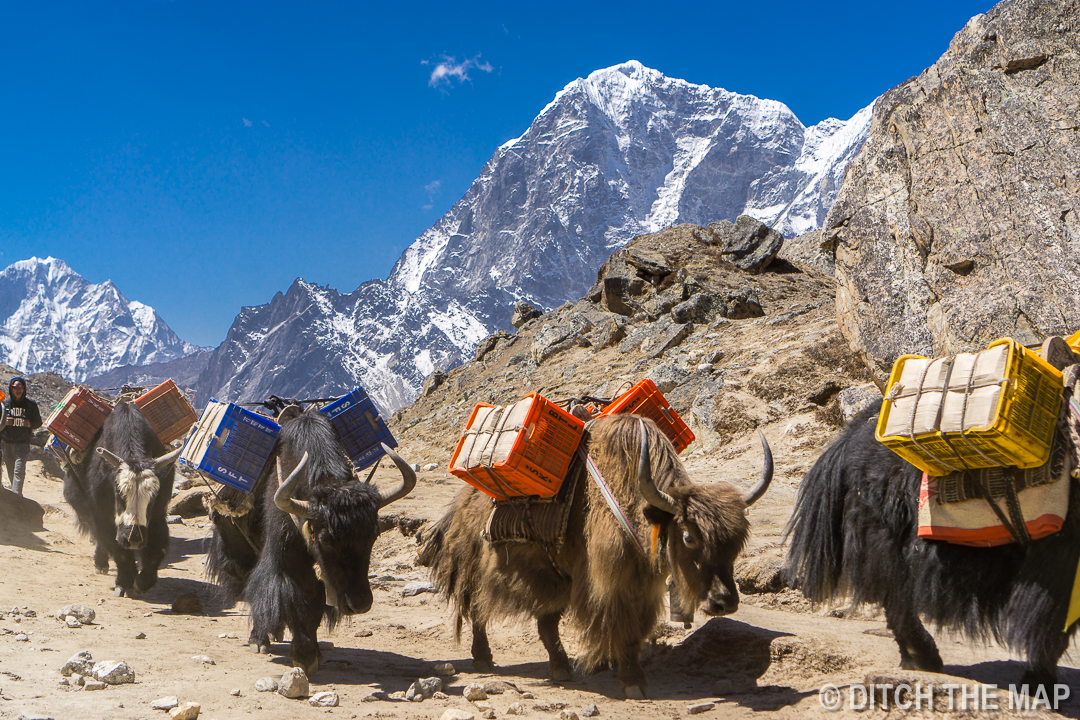 Towns below and including Namche Bazaar use Hydroelectric power, whereas all towns above Namche rely solely on Solar power. Becuase the Sherpa language is not a 'written language' many of their words,including towns, have multiple spelling (e.g. Tangboche vs. Thyangboche and Kala Patar vs. Kalla Patthar).
Original post written on April 14-24, 2016