Enjoying the City
We finally had finally in Varna after a very long and tiresome day of travel. We dropped our bags off and went straight out for dinner. Although we had passed some authentic street food I was craving somewhere to sit and be served. The first sit down place we came across was a Chinese restaurant. It was just ok.
Back at the hotel we had to have the attendant help us with our a/c unit. It was freezing in the room. The guy had no clue what to do but fiddled the heater for a good 10 minutes before finally offering us another room. Sylvie and I didn't want to repack our stuff and just asked for a room heater.
The next day we walked around the town. It was very walkable and some character, but being the nation's third largest city it was desolate. We walked to the Roman Bath, which according to the guidebooks has been partially reconstructed—however they looked just as old as they claimed to be.
There was a beautiful four-domed gold orthodox church in the center of town. I've come to love the architecture of Eastern Orthodox churches—they really add to the east-meets-west feeling of these cities.
We walked to the coast and took in the sunlight and cool breeze off the Black Sea. Despite the name it was in fact not black. We took off our shoes and socks and walked for some time up the coast until we got to a seaside café. We took two of the only remaining seats and faced the sea to relax for a while. I rubbed Sylvie's feet as we discussed our travels.
Thoughts on Traveling
I find myself talking about travel more now than ever. I don't mean travel in the sense of where we've been and what we've seen but travel as the abstract concept. Traveling is so much more than just visiting places. When I, and presumably we, have kids I will push more than anything else that they take a gap-year to better themselves. I beg anyone reading this to experiment with the idea of taking such a trip. Discard the "American" notion of a vacation where you know exactly what you're getting into when you step onto that plane. Long-term travel is not a vacation. Long-term travel is more akin to the experiences gained from being on a college campus away from home than it is a vacation at a Cancun resort. Travel is about experiencing things you didn't know you would experience. Vacation is about experiencing what you've paid to experience.
Going Out for Dinner
We regrouped back at the hotel and did a brief workout before heading out for the night. Sylvie gave me another haircut—my fourth since being on the road. We went to a Bulgarian chain restaurant that was their equivalent to a Cheesecake Factory. We each ordered a sushi roll and split quinoa salad, potato wedges, and an almond chicken dish. All this food plug two glasses of wine cost a whopping $19 USD. By Bulgarian standards this was very expensive. Trip Advisor rated this restaurant #2 out of almost 200 places.
Veliko Tarnovo
Bad Luck With Bulgarian Trains
We decided to take the early train in order to make the most of our day. The train departed Varna at 7:25am, which meant we had to leave our hotel by 6:30am. We arrived at the train station and each bought a huge piece of pizza for the trip. The trip was just over four hours with one changeover. We've had shitty luck with trains in Bulgaria.
We each slept on and off throughout our journey, but apparently we were both sleeping during the stop we were supposed to get off at. We missed our stop and the attendant just looked at our tickets and laughed and said that this was "direct to Sofia". Sylvie and I looked at each other. Fuck! While the attendant was telling other people how we missed our train she and the passengers laughed and seemed to get some type of enjoyment out of it. So far I am not in love with Bulgarian people. They are just one notch above the Serbians.
The train was not 'direct' in the sense that it did not stop elsewhere. We took the next stop and bought tickets back to the previous train station. We'll have to wait there for 2 hours for the connecting train to Veliko Tarnovo.
Our Airbnb
Our host was very nice and talked to us about the history of the house. She also talked about her grandfather and his clash with the communist party in the 40s. When Sylvie and I were finally left to our own we relaxed for a while before heading out into town. We got groceries for the next 4 days and were looking forward to cooking.
We spent all of Sunday staying in our our house and cooking and watching movies. It was great to be lazy.
Around Town
The next couple days we took things easy as well. We cooked multiple meals a day. One day we ventured to Tsarevets, a fortress that dates back to the 12th century. We walked the streets of old town. Another day we enjoyed the music festivities from the town festival. They celebrated their city for an entire day.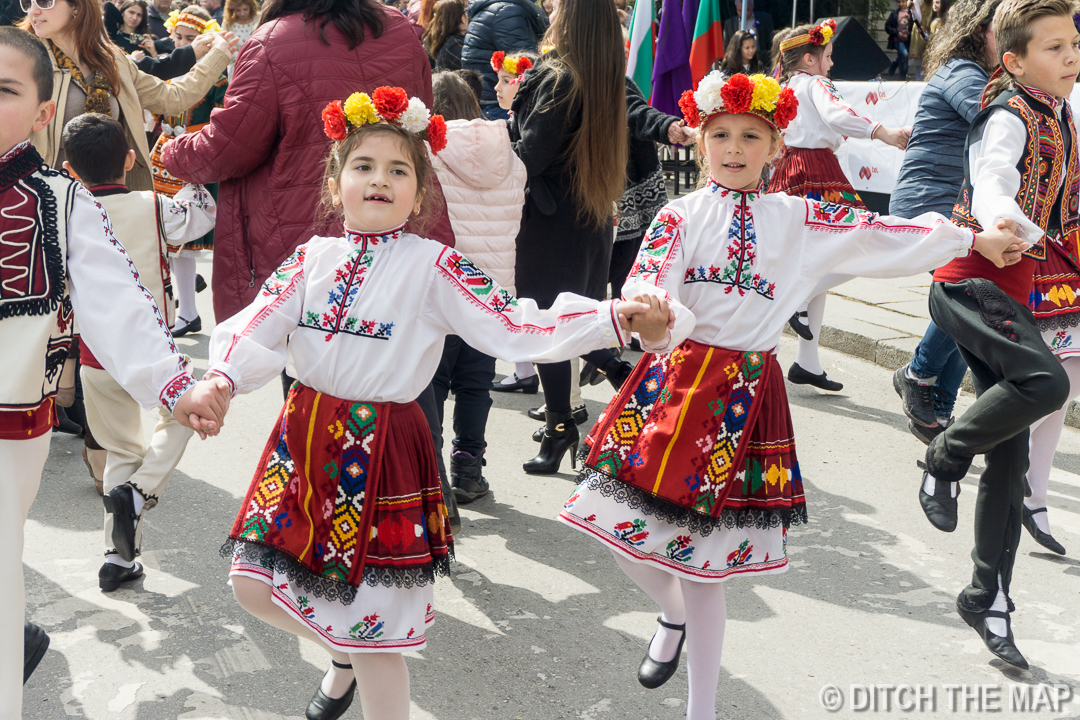 It rained much of the day so we didn't attend much of the day festival. We plan to catch the 10am train to Sofia, which should arrive sometime before 3pm.
Sofia
We arrived in Sofia midday and walked to our hostel. The dorms were onsite but the private rooms were half a kilometer down the road. We haven't stayed in too many dorms during our trip. While at the hostel Sylvie picked up the package that she had had delivered. She bought a low-price laptop from eBay.
For the majority of our time in Sofia it had rained. We walked around the city taking in what Sofia had to offer. I was pleasantly surprised to find the city rather clean. Also, I felt completely safe. The main Orthodox Cathedral was beautiful. I stumbled upon the Sofia Synagogue, which looked remarkably similar to an Orthodox Church.
We went to The Ale house, which had a large variety of craft beers, mostly from London. We were even able to pour our own beer from a tap right at the table.
I'm writing this portion while flying to Dubai, UAE. I could not be happier leaving Bulgaria. Unlike its northern brother, Romania, Bulgaria was filled with inconsiderate, daft, bigots. Even after being exposed to so many individuals during our 9-day stay I found the preponderance of Bulgarians to be quite dreadful. From the racist student on our first train, to the plethora of rude individuals at every restaurant's reception, to the girl working at the information desk at the airport…fuck them!
The student went on and on justifying his hatred for everyone. The Turks enslaved the Bulgarians 700 years ago. The Macedonians try to claim Bulgarian history as their own. The Bulgarians who move to get better jobs are disloyal. The foreigners who move to Bulgaria are polluting the Bulgarian gene pool…
Almost every single time we walked into a restaurant and asked for a table someone was there to tell us, "no". They then went on to offer up a facial expression of utter disgust—as if I had asked them to wipe my own ass.
At the airport when I asked where we could catch the free shuttle to terminal 1—one attendant looked at me and rolled her eyes and yelled at us to go "there" as she pointed to the information booth. The woman at the information rolled her eyes and pointed with her finger and said, "outside". Unless I asked her "where my dog can take a shit" her tone was completely unwarranted.
I have been scoffed-at no less than half a dozen times in the past week alone!
I really hate writing-off an entire culture when pulling from isolated and sparse experiences. However I consider fare to say that stereotypes exist for a reason and unless proven otherwise I will continue to believe that people in Bulgaria are predominantly idiots. I don't speak at the individual level, only at a society. I was really hoping for more 'small-town' charm but instead I got thick-browed, dim-witted assholes. Also, for a country that has been independent for such a long time I found the towns completely unoriginal and lacking of any type of higher cultural accomplishments.
Goodbye Bulgaria.
One funny thing to note is that at the Sofia Airport Sylvie had a field day. She was starving and wasn't satisfied until after eating 1 Mars bar, half a chocolate muffin, half a can of beer, a cup of ice-cream, and 2 personal pizzas. I kid you not—she ate all of it!