Timisoara
Figuring out transportation to Romania was difficult, but made easier thanks to owners of our hostel in Belgrade. Speaking in Serbian, they were able to communicate things a lot more efficiently saving us time and headache. They called to find out about train times and prices for a train from Belgrade to Timisoara (it was impossible to find a direct route to Sibui our desired destination so a stop over in Timisoara was necessary). We learned that the train would only cost 2 euro less than a private shuttle with pick up from our hostel. We settled for the shuttle option.
We spent several hours in Timisoara waiting for our next transport, a Bla Bla Car, to Sibui. Timisoara was a beautiful town and reminiscent of Western Europe with it's cobblestone pedestrian paths and piazzas. We shared a meal in a restaurant decorated in traditional Romanian style.
Our Bla Bla car was packed full with three Romanians, the driver, and us. They were curious to learn what brought us to Romania and our thoughts so far. When the driver dropped us off he kindly gave us his phone number and said that if we needed suggestions or someone to translate to give him a call
Sibiu
We were dropped off in Sibiu around midnight and the city was silent. Our hostel was not clearly marked and we walked by it several times before asking two guys for help. They were happy to help, look in their phone for the address and even walked us right up to the hostel. The people we've encountered in Romania have been very nice and helpful.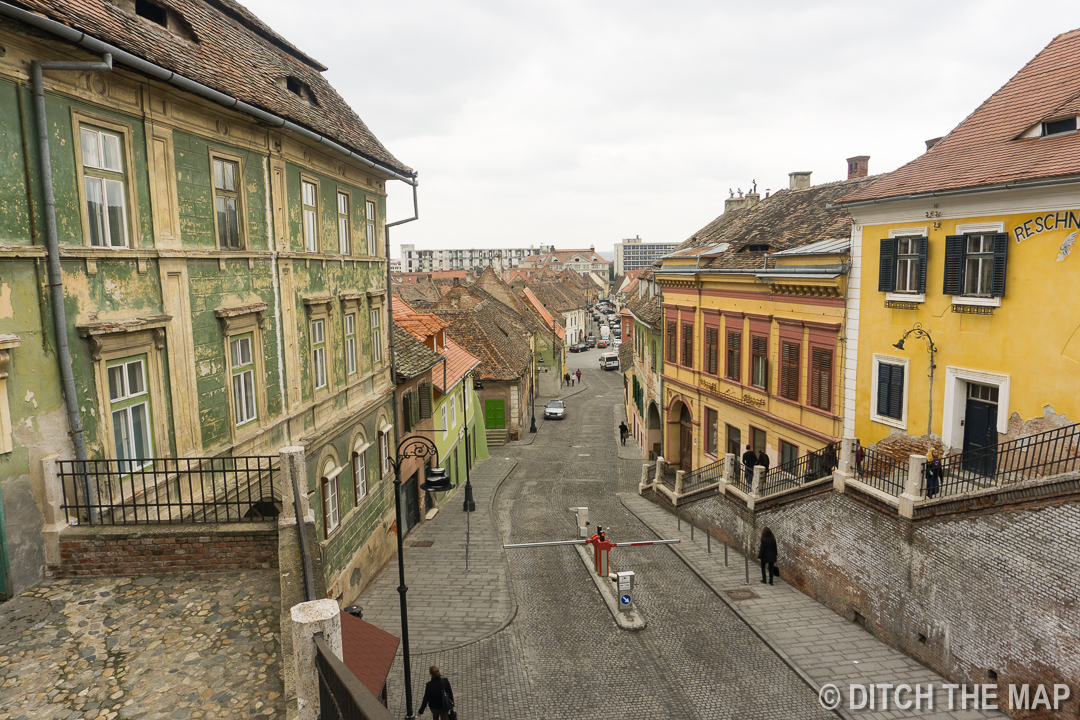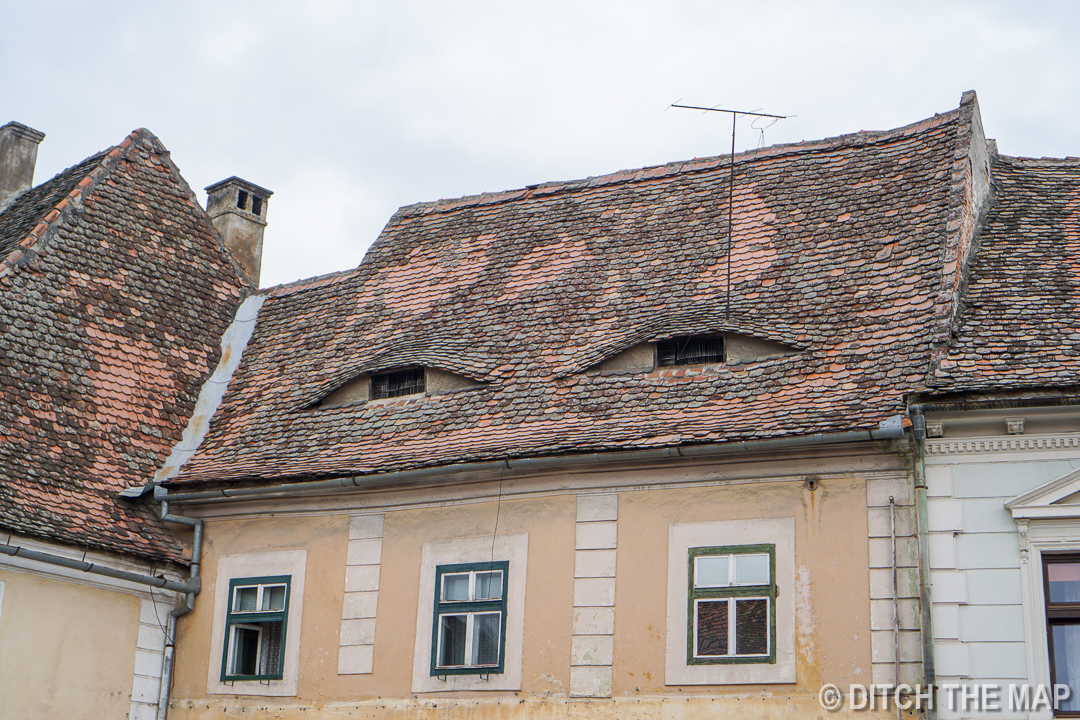 On our full day in Sibiu we walked around the medieval walled city. It's a small old town and very manageable by foot. The buildings were old and colorful and we laughed about how the windows in the slanting roofs looked like eyes, giving the houses a playful character.
We met some friendly travelers in our hostel from Mexico, California and Australia. We asked them about suggestions for places to visit in Romania. We heard mixed reviews about Bran Castle. Though rumored to be Dracula's castle this is untrue. We spent our time in the hostel researching and booking our next destinations in Romania- our time is running out! To do some research, we watched Anthony Bourdain's No Reservations about Romania. Neither of us are very familiar with him and after watching the show we both thought he was a pretty big jerk and ungrateful for his experiences in Romania.
Sighisoara
Train to Sighisoara
The next morning we caught a train to Sighisoara for only 26 lei, $6.5. Unfortunately we sat near the bathroom and the smell of urine was potent for the entire 2.5-hour ride, despite the window being open. We could just about taste the urine in the air.
The scenic train ride offered us a glimpse at rural Romanian peasant life. On the train 'gyspy' children roamed freely about and asked us for money while casting lingering glances at our electronics. These 'gypsy' kids shamelessly ask for money from us all the time when we are walking or eating. They have a "go-to" tone for asking for money- indirect eye contact and mumbling, which is a great difference from their behavior with each other that we observing at the train station- recklessly running over the tracks, flipping themselves over fences and picking up cigarette butts and smoking them.
Around the City
We reached the walled citadel of old town after stumbling onto a free internet signal somewhere outside of the city. We had forgotten to download the offline map of the city and weren't too sure where our hotel was. Once we located it it was a quick walk from the train station. The buildings showed their age but were all painted brightly. This brightly painted building theme seems to be common here in Eastern Europe. We had raid that after the fall of communism in Albania many of the buildings in Tirana had been painted in order to revive the people's spirit. The same thing had been brought to our attention in Bratislava. I imagine this was a common occurrence over the entire eastern block.
We checked into our guesthouse where the owner sat down with us and treated us to snacks and traditional Romanian apple liquor. He was incredibly friendly and hospitable. We could tell he took pride in his guesthouse and culture. Since it was low season and he had available rooms he had offered to upgrade our room for free.
Exploring the city by foot did not require too much time. There are only a few streets inside the walled city. The city was absolutely beautiful and was rather quiet. I think we visited at an ideal time of year as I read that in the summer the small streets are very crowded. We walked up a very long and fully covered stairway to the highest point in the walled city.
While in Sighisoara we enjoyed a traditional Romanian dish—pickled cabbage and a side of polenta. Polenta is found both in fine establishments as a side dish as well as on the street where it's fried and topped with sour cream.
Brasov
Getting to our Guesthouse
From Sighisoara we took another train to Brasov. The train was delayed for 50 minutes and we split a beer in a super smoky bar in the station. Smoking inside restaurants and bars is starting to get annoying. We were forced to take a cab to our guesthouse since it was over 5kms away. The driver tried to sell us on the idea of renting his services for the day to tour around the sites but we were not interested. We've learned from experience and did what we knew was the easiest thing. We told him we would think about it and asked for his number. This saved time having to defend ourselves had we just said no.
Our room was on the top floor of a tucked-away house just 15 minutes out of the city center. The owner of the guesthouse lived on the main floor with her young child. She apparently rented out two rooms. Sylvie and I are both excited in the prospect of renting out our place once (if) we return to the states. Ideally we'll have a 3-unit place and can rent out 2 of the units fulltime. If we have a smaller place we would consider doing Airbnb for short-term rentals. Either way we will definitely invite strangers for couchsurfing. What a great way to meet new people and to help make the world we live in smaller.
Exploring the City and the Sites
Brasov has a very large Church that was built in the 13th century. It suffered from a fire 400 years ago, ultimately giving it its name, the Black Church. The most popular destination for travelers coming to Brasov is just a short 45-minute bus ride out of town, Dracula's Castle (though we walked 3 miles to get to the station). Yes, Dracula was a real person and he was more horrible than you think. The castle is officially known as Bran Castle and is supposedly one of the best, if not the best, remaining examples of a medieval castle in Europe. It was ok, we decided the $4 entry fee was not worth it and moved on (remember what I said above about FOMO, we have none of it).
We headed back to Brasov and took a several hour detour to visit the Rasnov Fortress. This was very impressive; more so than the castle we had just came from. It was situated high on the hillside overlooking the city of Rasnov. We hiked up the endless stairs and paid the 6 lei/pp ($1.5) entrance fee. We made use of the free Internet at a café to research and decide our next destination, which will be Varna, Bulgaria—a beach town on the Black Sea.
Philosophy – By Scott
The 'sights' in many of these cities are great and many people plan trips to locations just for these 'sights'. The more we've traveled the more it has become apparent that many of these things are a city's way to commercialize itself. It's the way the streets wind, the smells from the bakery shops (or sewers…think Rio), the friendly locals, the sounds of foreign languages in the distance, the public transit systems, and the like that makes a city what it is. "The traveler sees what he sees, the tourist sees what he has come to see" This is how you Grok a city.
Going to see the bust of Vlad Dradula is just a checkmark on a list. Having been on the road for 7 months now we no longer have a 'checklist'. We have lost the need to go to places just because we are told it is a place that cannot be missed (i.e. Taj Mahal, Iguazu Falls, etc.). What would bring me more happiness—A day in Agra seeing the Taj Mahal or a week living on a Thai Beach eating fresh seafood and doing yoga in the sand? We're learning that it's the experiences that generate joy, not the obligatory sightseeing. This American concept of vacation is repulsive! Two weeks (and likely not in a row) is pathetic. This is our fucking life, FUCKING enjoy it! If you love your work and that is all you need to feel fully fulfilled than I have only one thing to say to you, I'm jealous! But I want more out of life and I don't mean only to travel. I just want more time for my own life. Traveling is cheap, time off is cheap, just stop spending $5 on coffee, getting a new TV all the time, throwing away over 50% of your groceries, and take a fucking bus once in a while!
Unless you're under the poverty line you are able to save more money than you think. I've met a handful of people that have been traveling on less than $40/day. Sylvie and I have traveled all over Europe (East and West) for under $80/day. For the most part we eat out at restaurants, go out for cocktails, have our own house/hotel room, and have no real limitations on what we do. Our largest expense has actually been transportation because we travel almost every other day. Our Irish friend we met in Mendoza has been traveling for a while and has only been spending his money on the occasional bus between cities. He's been using workaway.info. This is actually how we're going to work at an orphanage in Nepal (and how we met him while working on the vineyard). Helping an earthquake-ridden country with their surplus of orphans, what a great way to experience the world for what it truly offers (not to mention a great resume builder).
Almost done with my diatribe (for those of you that know me and have followed my African and/or SE Asian blog(s) you have probably been missing these). Being on the road is not some nomadic escape fulfilling my need for outward adventure but a road to self-discovery.
Sylvie and I have decided to skip China and instead spend more time in India and SE Asia. We are planning to incorporate China for our next RTW trip (during Sylvie's 30th). Our plans for that include Canada -> Greenland -> Scandinavia -> Greece -> Turkey -> Russia -> China (via Trans-Siberian Railroad).
Bucharest - By Scott
Getting to our Hotel
We are now enjoying yet another Romanian Train…this time to Bucharest. Although the trains are dated and can smell of urine, depending on your seat number, they make traveling the countryside rather pleasant. We pass by mountains that blend into the fog above and colorful towns with pointed and Terracotta-tiled roofs.
Sylvie began to feel sick on the train and after arriving to our hotel she took a couple hours to sleep in bed. We walked the 45 minutes to our hostel through the city. We both were expecting a much less developed city—Bucharest seemed very modern…at least compared to many of the other cities we've visited in the Balkans. We met a local who helped us find our way and we talked for while he walked for us a while. Although we didn't need his help he appreciated the sentiment.
Walking the City
We walked around Old Town at night and were shocked by the party scene. There were several streets that were lined with nothing except bars, clubs, restaurants, and high-class hotels. We ate some authentic cuisine. The prices relatively high by Romanian standards, but for us they were quite affordable. Our entire meal, which included entrées, salads, sides, and wine was about ~65 lei ($16 USD).
The next day we walked north, which was the opposite direction of old town, and visited the Museum of Romanian Peasants. It was ok and worth the 2 lei ($0.50 admission). Afterwards we continued to walk north to the main park. We crossed a large arch and headed towards the open-air museum. This is a reconstructed rural village that is open for tourists. We stopped for a quick bite at a street-side fast-food place. The menu was scribbled on the wall messily. Luckily a guy that was also in line helped us order. We stood and ate our lunch with him. He had invited us to visit his the nearby university, at which he was a student.
Meeting a Local
His name was Lucian, and we is studying landscape architecture. We walked through a garden that was tended and designed by the students at the university. He told us that he has loved traveling to different countries and trying their pot. Sylvie and I weren't sure we had heard him correctly. He went on to tell us that he had bought a 3D printer for $200 and sold colorful bongs that he had printed. I was impressed.
We visited the indoor facilities where students shared temperature and humidly controlled spaces in which they could grow their plants. We met his friend who had been working on his PhD in horticulture. He was a really cool guy. Actually, everyone we've met in Romania has been amazingly nice and has shown us immense hospitality. What a change from our experience in Serbia. After an hour or two we said our goodbyes and headed back to our hotel, deciding not to go to the open-air museum. We took some detours and finally arrived at our hotel well over an hour later. The student did warn us about not trusting any Bulgarians, but I've learned to look past these types of cultural stereotypes. I can and will make my own judgments on people.
We didn't feel like going out again and had pizza and salad delivered to us in our room. I had ordered over Facebook Messenger and paid with a credit card once the delivery guy arrived! It's funny to think that this type of service is expecting in the US and we've gone so long without. It's not something I really miss, but it was nice for a night.
There is one thing that really sticks out to me about Romanian culture. The drivers stop for pedestrians no matter what. They don't seem to do it out of kindness but out of duty. Several times I tried to wave a car by and was received with a horn honk and they didn't budge. Drivers would rather get caught in the center of an intersection than to cut off a pedestrian. In contract, Albanian drivers tried wracking up points by knocking pedestrians over. Romania has easily been one of the friendliest places I've ever been.