October 28 – November 5, 2016
Back to the First World; Thailand
After hiking in Hsipaw, an overnight bus to Yangon, and one more night in Yangon we took an early flight to Thailand. We were expecting to take a night bus to Chiang Mai the day of our arrival in Bangkok but Sylvie came down with her worst case of food poisoning yet. She almost escaped Myanmar without a case of dreaded the Burmese belly, but the last day got her. We put ourselves up in a nice hotel where she rested for a day and half.
We spent a lazy 4 days in Chiang Mai where we stayed in a luxurious condo 5 kms outside of the old city and took advantage of the pool, gym and balcony. I rented a scooter, which helped get around. We explored the old town, a few of the food markets, the night bazaar, and the hip college town just to the west of the city center. Chiang Mai is a nice place for people that want to try Thai food and see a few temples without really leaving their comfort zone.
The City of Pai
A grueling 3-hour bus ride took us to Pai. The drive through the mountains is known for its 762 curves. Luckily we had taken our motion sickness meds—the Thai woman sitting ahead of us did not and threw up.
We arrived in Pai a day before our 5-day yoga retreat. The city was much smaller than I had anticipated though very commercialized. The average traveler to Pai has several tattoos, wears their hair in dreads or hangs shells from long strands. Pai seems to exist solely for tourists. Coffee shops, healthy breakfasts with wheat bagels and avocado, matcha lattes, elephant print clothing stores, massage parlors, and scooter rentals line the main walking street in town. At night all the street vendors come out, some selling authentic thai cuisine. Many others selling things that vacation-goers want--baked mac and cheese, lasagna, tacos, brownies, etc. A pulled-pork sandwich with a side of Mexican bean chili all for $1.25…hard to resist, huh?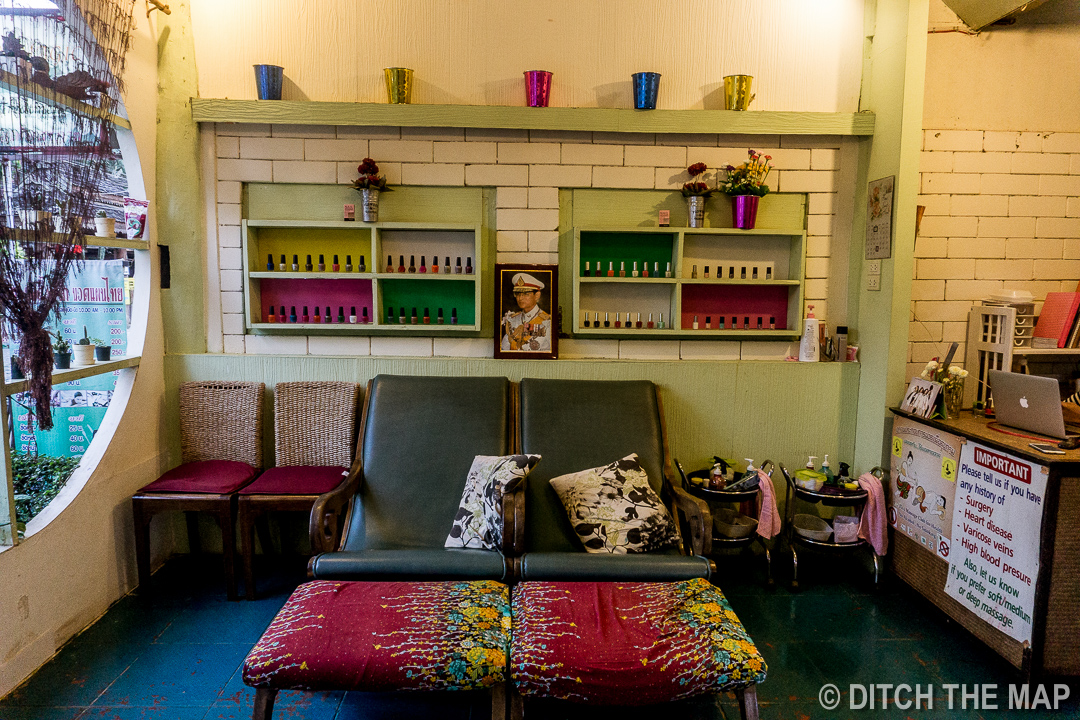 Sylvie reviewed a handful of yoga retreats throughout SE Asia and settled on Xhale Yoga Retreat because of it's glowing reviews, location, and timing. It is a 5-night all inclusive yoga program. On our retreat there were 9 students, 3 of whom were men. The instructor, Bhud, is a 50-year old Thai woman with the body, flexibility, and energy of a 14-year old Olympic gymnast. We had a basic, but clean, room at the neighboring Pai Resort. Although we didn't have air-conditioning the fan was just fine, the temperature is very mild in the morning and evening. Bhud built her business just a 3-minute walk from Pai resort. She has a dining area, an open-air studio, a 2-person meditation cave, and an open-air lounging area. Her staff consists of 3 women who work all day preparing our 3 meals, fruit shakes and multiple herbal teas. The location is absolutely perfect. So peaceful and quiet. Nothing but farm land and mountains surround the retreat. At night the sounds of frogs and crickets aid our meditation.
All of the food is absolutely delicious, organic and made fresh daily. For the duration of the retreat we went without milk, meat, caffeine (coffee, teas, and chocolates), refined sugar, and processed foods, the only gluten we got was in the form of 3 sugar-cube sized chunks of toasted bread served with our morning meal. Luckily fresh honey was provided to sweeten our drinks!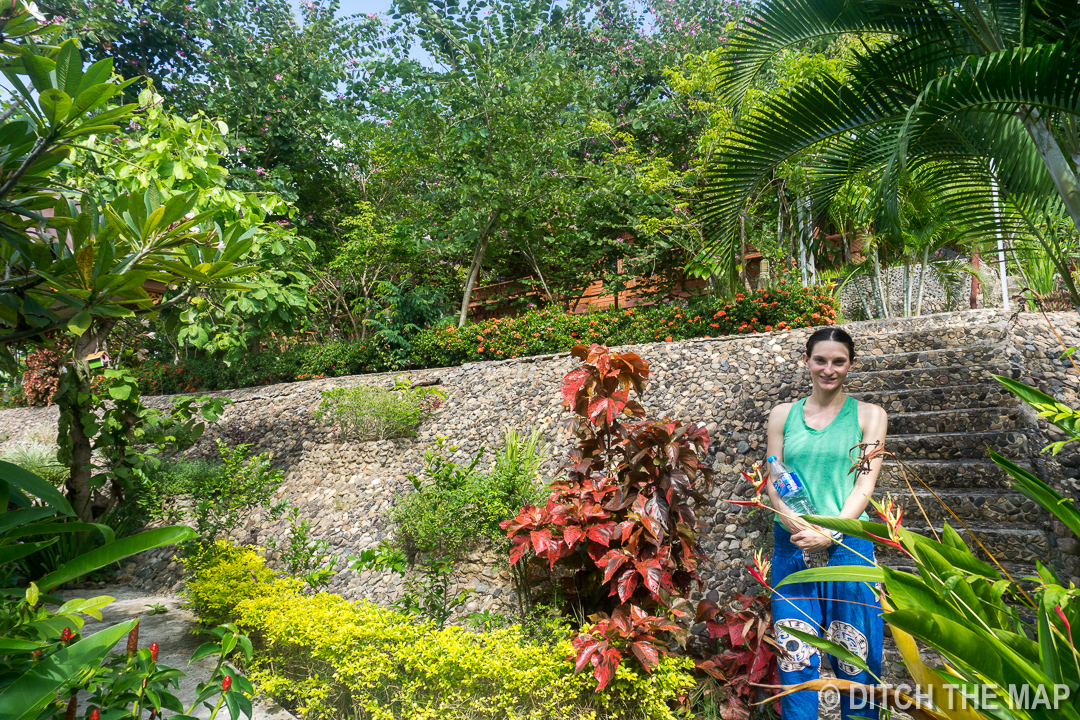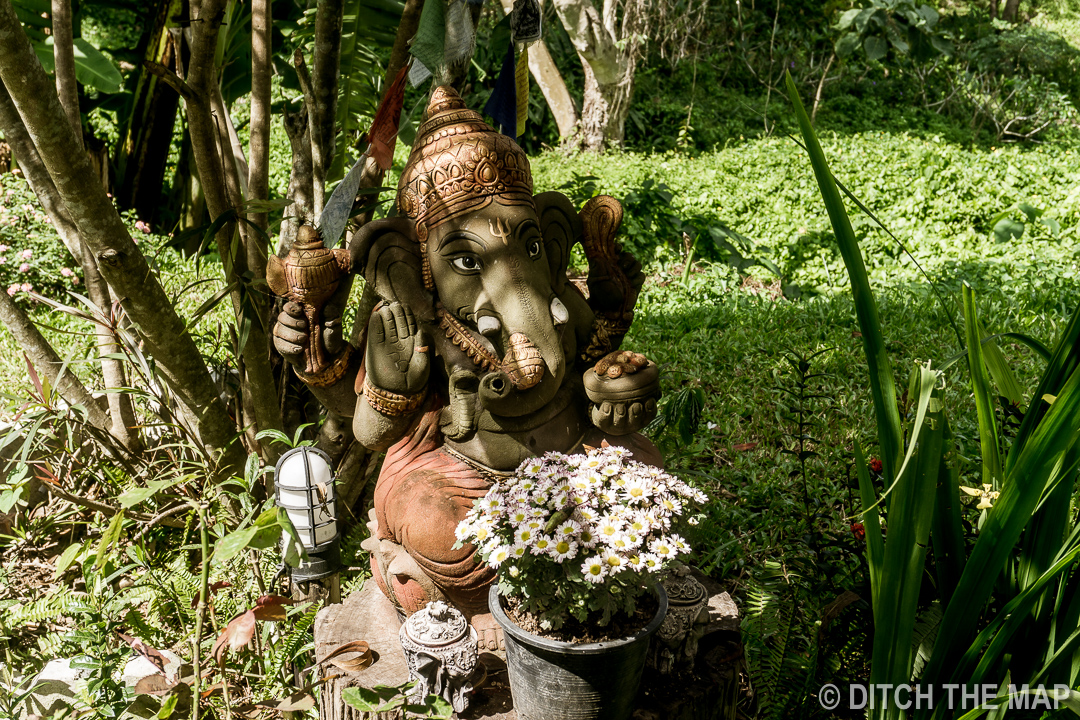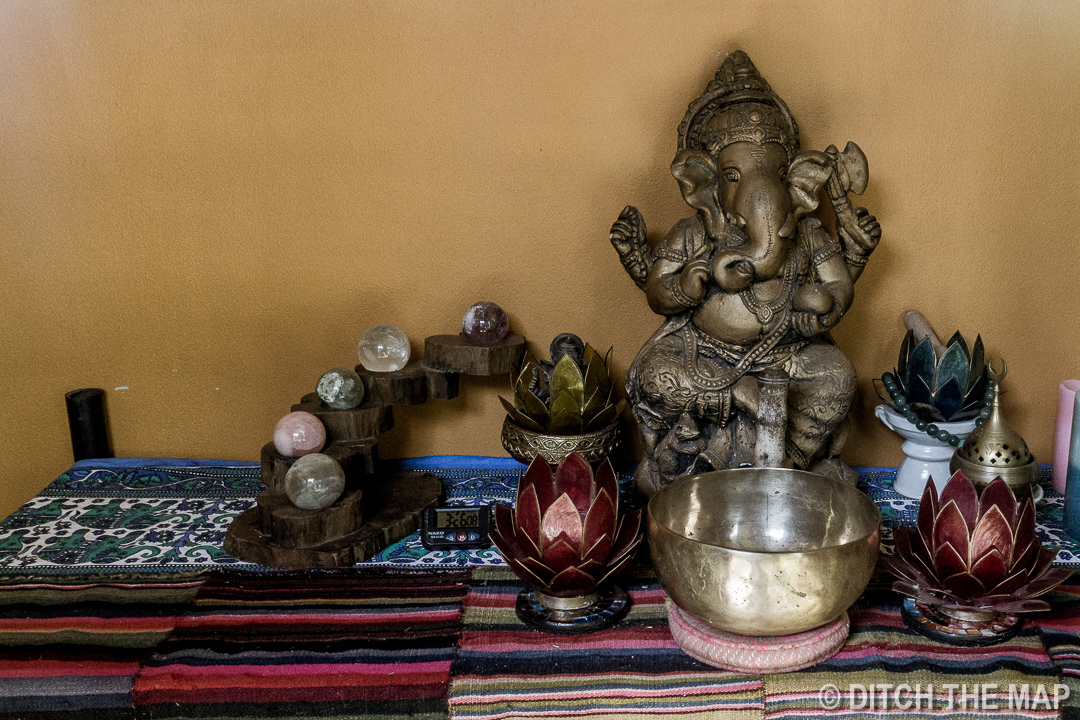 A Typical Day in the Retreat
From 7 in the morning until our mid-day lunch break at noon we are in silence. Additionally when we are in the yoga/meditation room we are also in silence. This amounts to a total of 8 hours of quietness during the day. We receive a solid 3-hour break after lunch, but other than that we don't have more than 15 minutes at a time from 7am until 9pm when our nightly meditation ends. Here is what our days looks like:
7:00 – 7:30 Morning Tea
We have two teas to choose from—a chai tea made with soy milk and no actual tea (no caffeine allowed) and a very mouth-drying lemon tea. Both are good, especially when honey is added.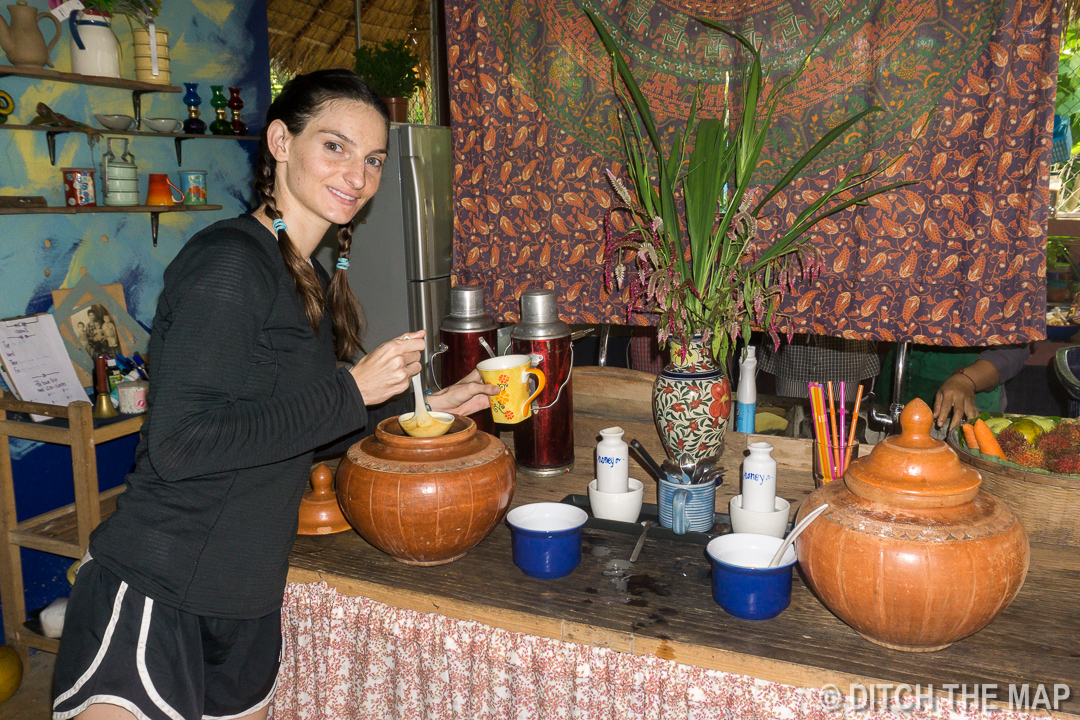 7:30 – 8:00 Nasal Cleaning
Although I've known about neti pots I have never actually used one before. That no longer holds true. Every morning we are to insert the nozzle of a small pot containing lukewarm saline into one nostril, tilt our head back to the side and raise the pot. The solution flows into one nostril and empties out the other. Once we have used the entire pot we refill it and continue with the other nostril. The sensation is said to feel like drowning. Although it I found it uncomfortable at first I got used to it and don't think much about doing it any longer.
8:00 – 8:45 Spine & Breath Exercises and Morning Meditation
At the sound of the gong we are reminded that our next session is starting. We silently enter the yoga room and look for our assigned yoga mats. I am 'compassion', which means the mat with 'compassion' written along its top is mine and I grab a seat wherever Bhud had placed it. We start off by warming up our spines and twist and bend—quite the demanding exercise for those of us who wake up stiff from a night's rest. Following the spinal movements we settle down and initiate our breathing practice where we cycle through 3 or so different techniques. The hum of the Tibetan singing bowl reminds us to switch methods. The last 20 minutes is reserved for our morning meditation. This is the part I like the least. I practice mindfulness the majority of my waking hours so meditation oftentimes feels forced for me, but maybe I'll grow to find more meaning out of it? We finish and chant 'Om' three times followed by an 'Om Shanti'…Namaste! Afterwards we re-enter the dining area for a homemade delightful breakfast and some more herbal teas.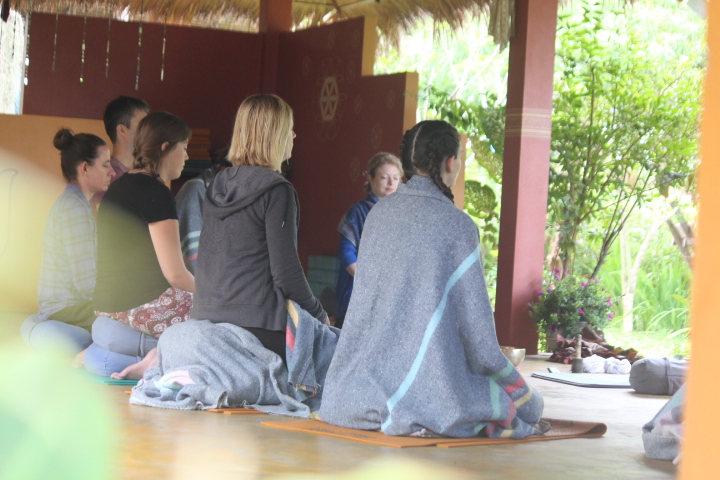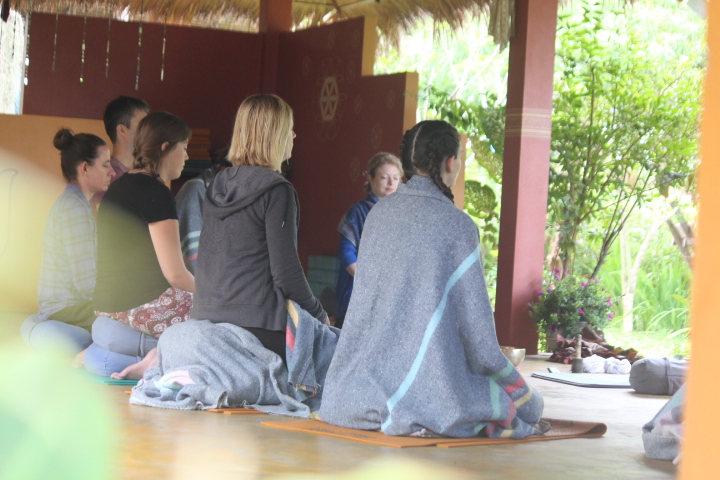 8:45 – 10:00 Breakfast and Break
For breakfast we're served a bowl containing a very healthy and delicious porridge-consistency food. One morning it was very red beet puree with a strong coconut flavor. Others day we had chunky purees containing nuts and fiber-rich vegetables. Breakfast is served with a green shot of wheat grass. Really tastes like grass, but kind of in a good way. The morning meal is always warm to gently warm up our bodies after a night of sleeping. Bhud starts breakfast at 8:45 in the morning so that we have 14 hours of fasting from the night before, allowing our body to have fully broken down and processed the foods from the day before.
The short break is spent reading and writing, although Bhud has strongly encouraged us to stay away from fiction that draws our attention away from the present.
10:00 - 12:00 Hatha Yoga Class
Hatha is the type of Yoga that we, in the Western world, think of when we hear the word Yoga. Bikram and Vinyasa are both Hatha. We start with sun salutations and progress to the warrior poses. Bhud joins in with all the positions.
Each day is spent focuses on a different part of the body—hamstrings, spinal inversions, twists, core etc. The class is strenuous and everyone is grateful for the inevitable shavasana, where we lay back and get into our final relation pose. We conclude the class with another session of 'Om' and 'Om Shanti'.
Starting off With Sun Salutations: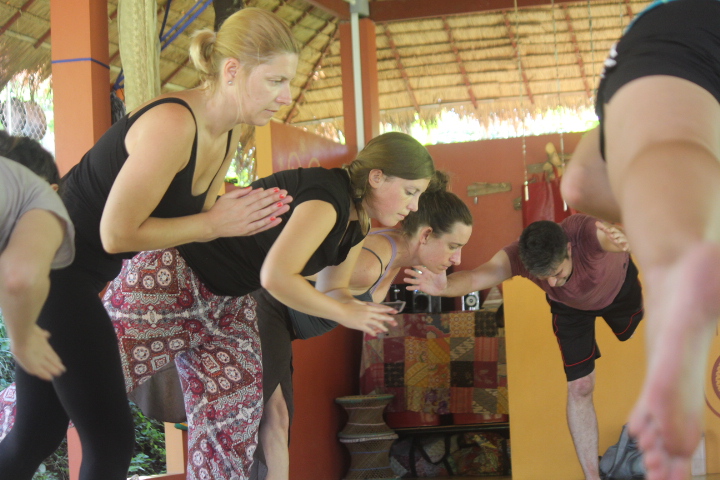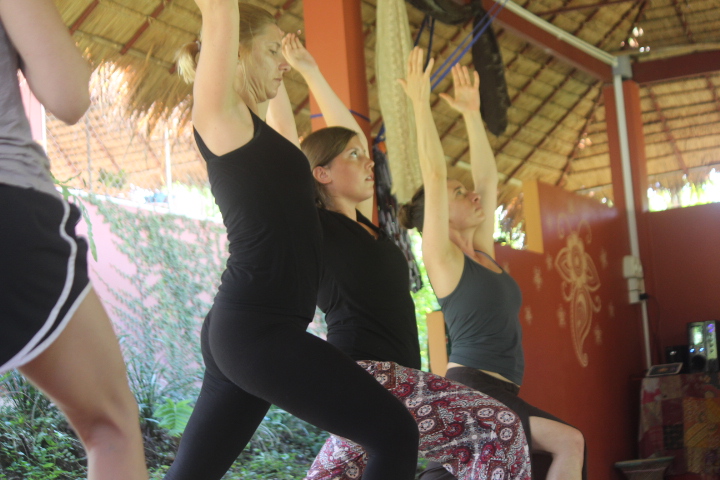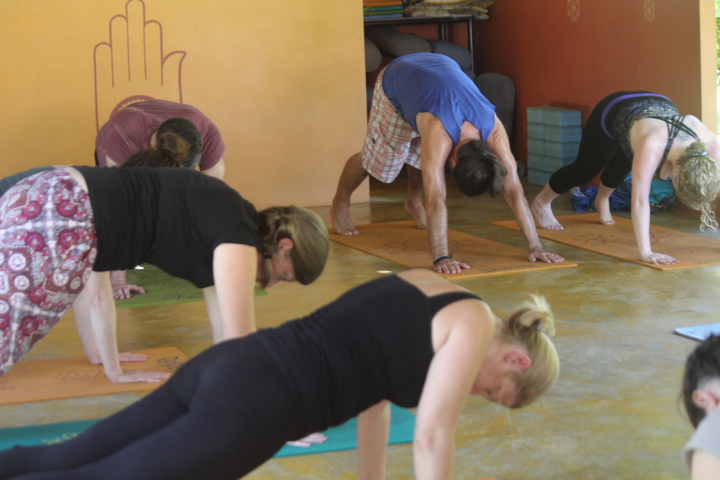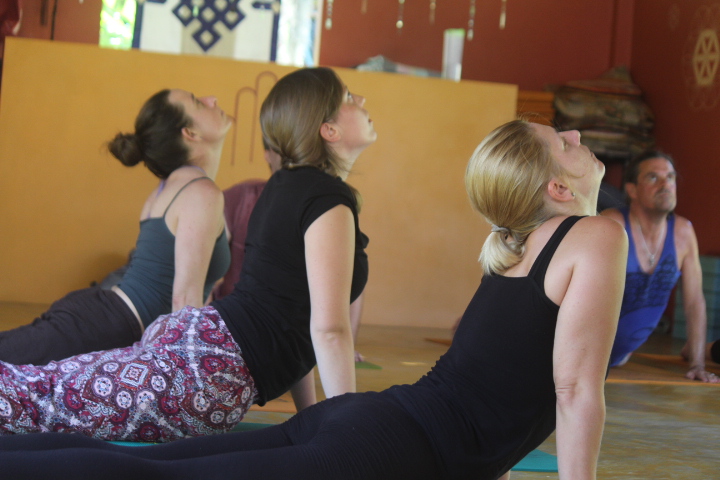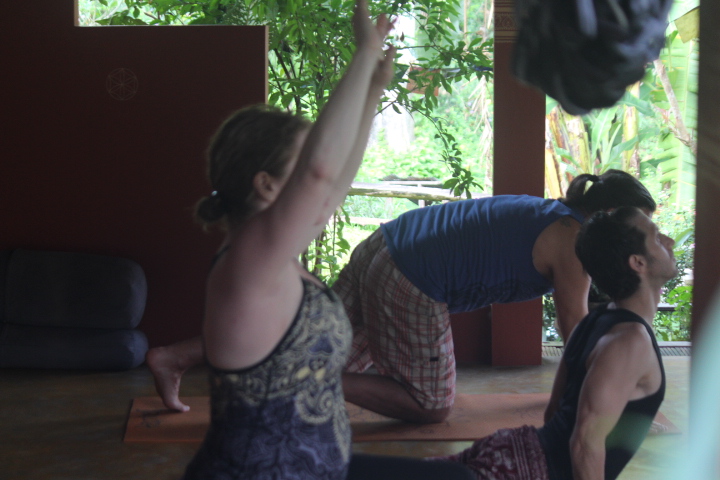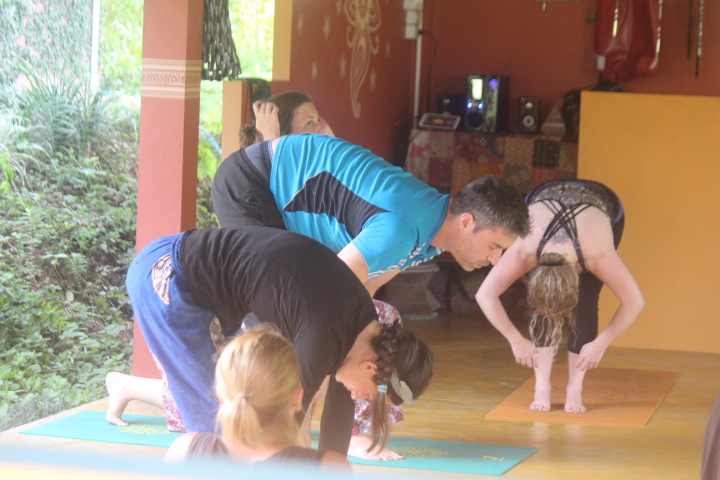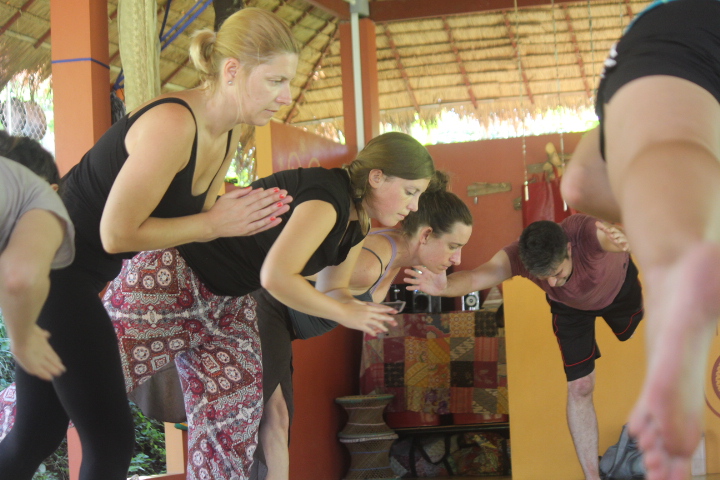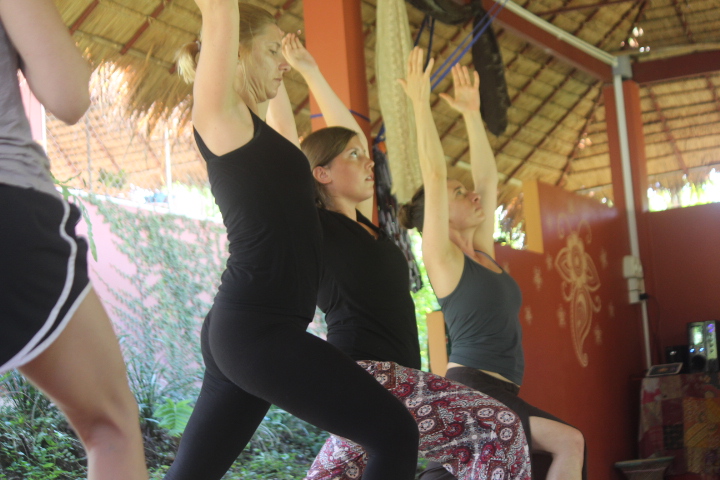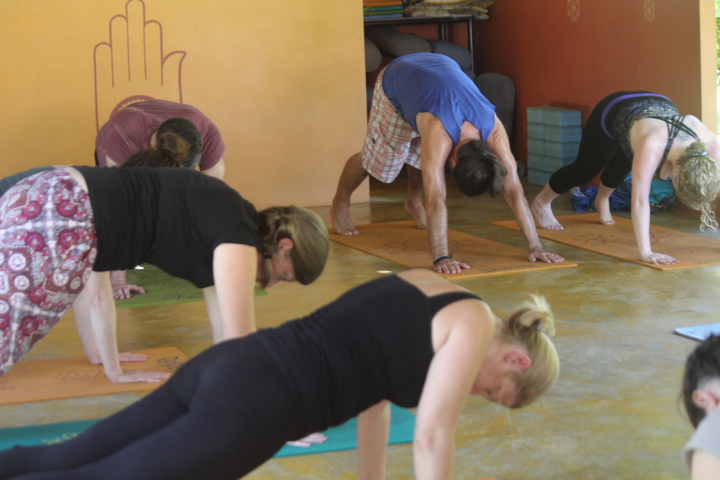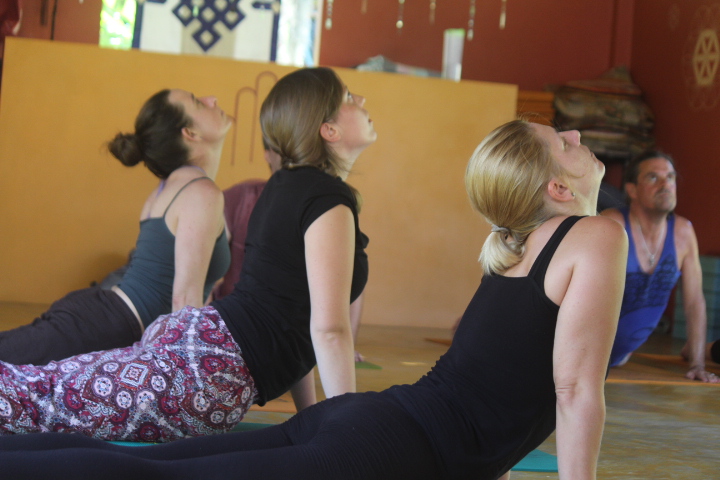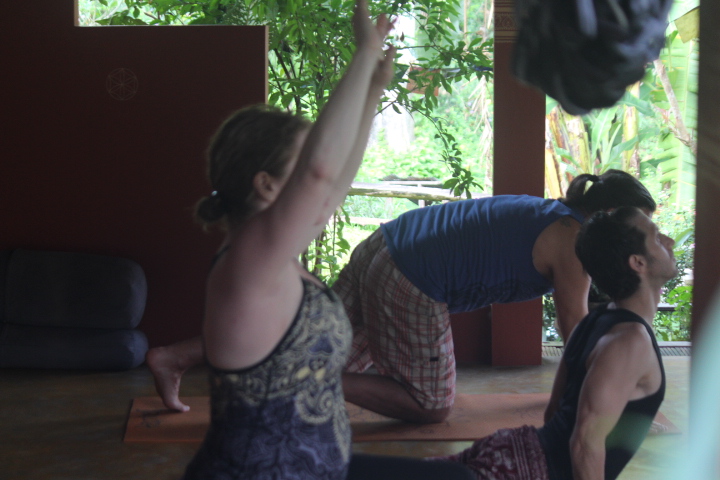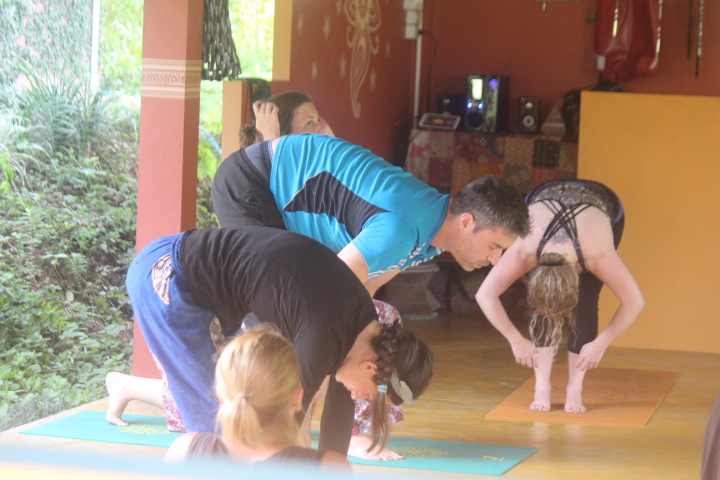 Then on to Warrior Poses: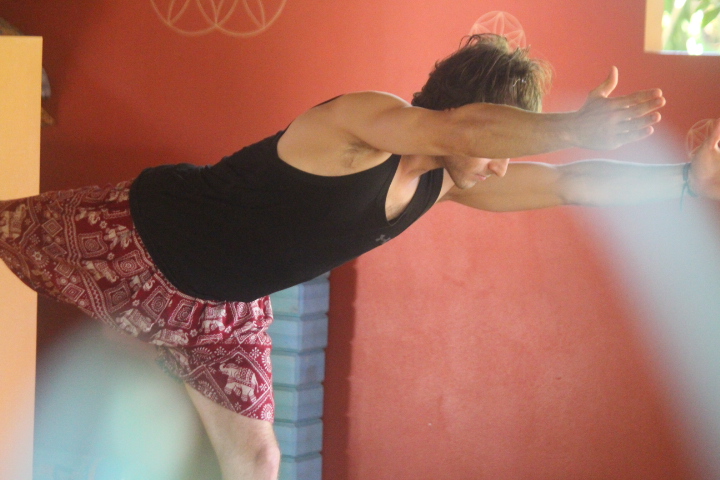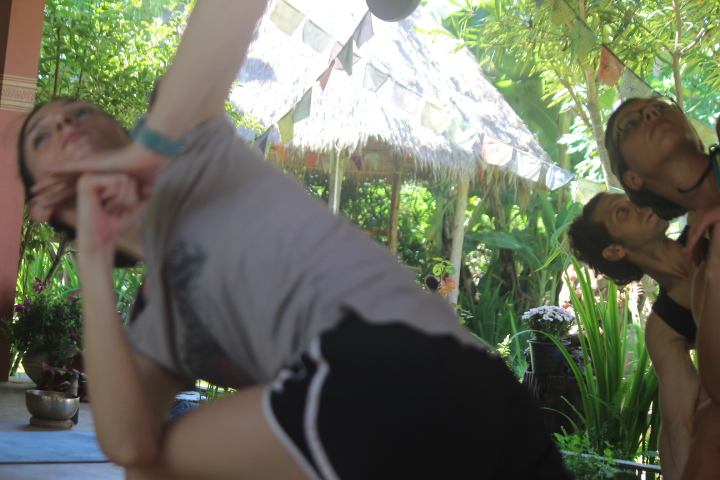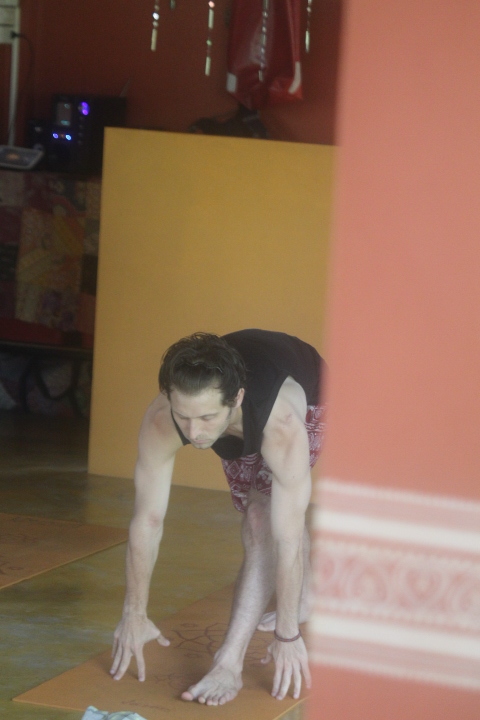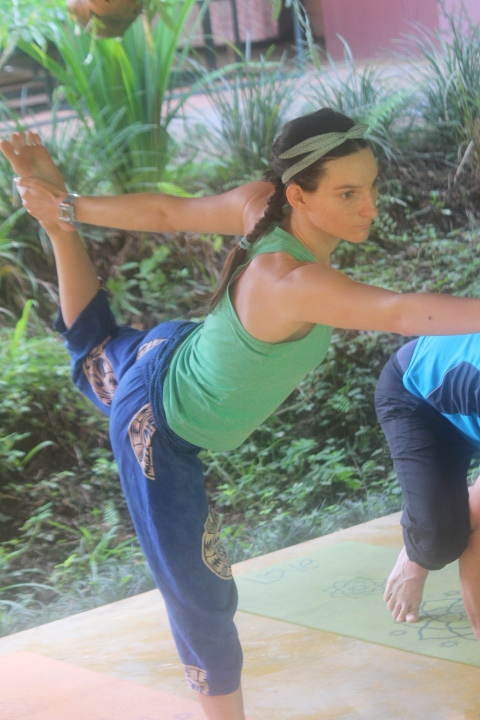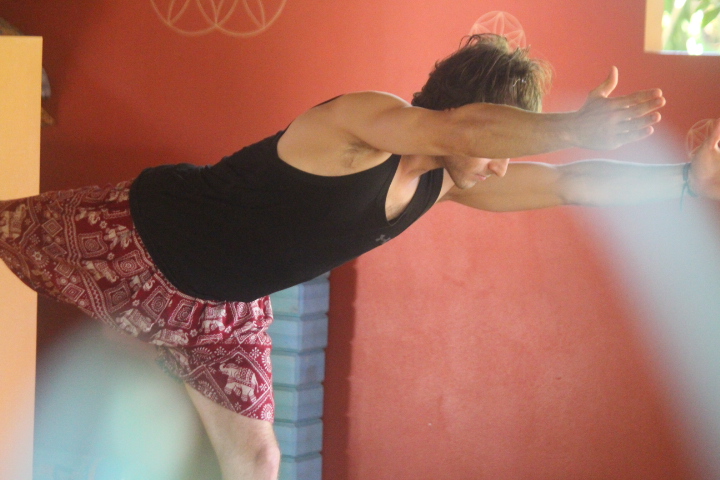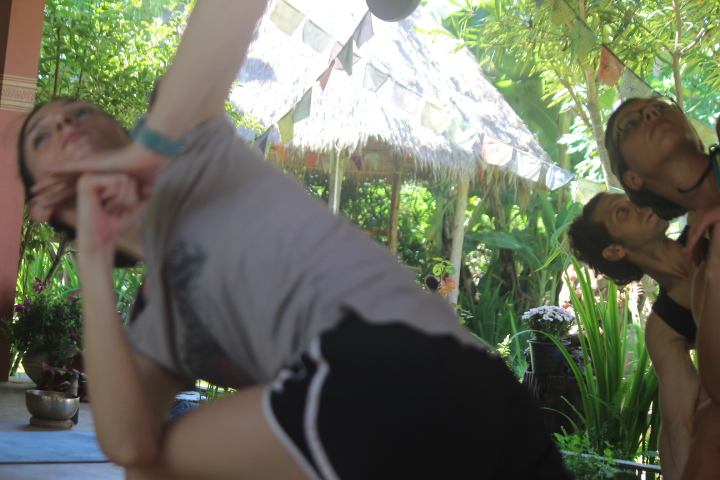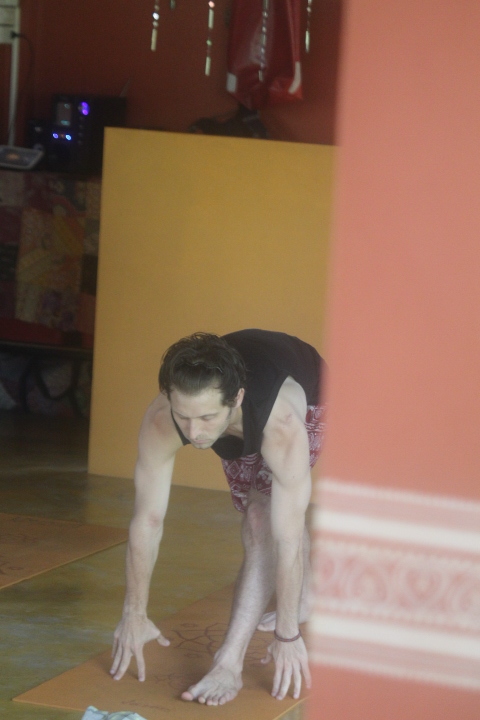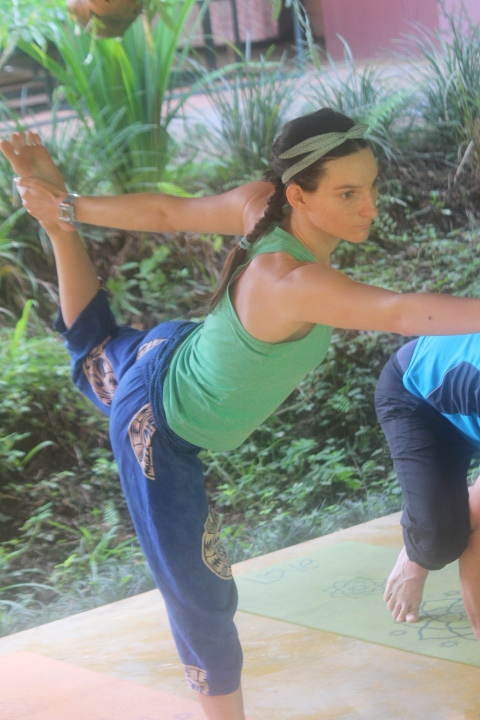 Then Various Other Poses: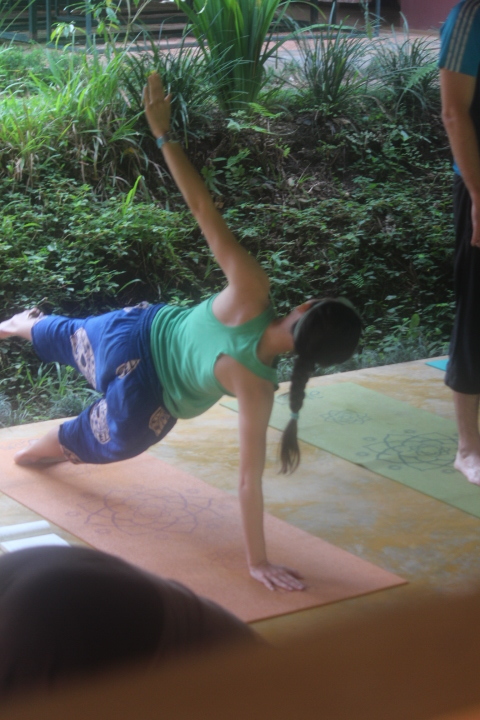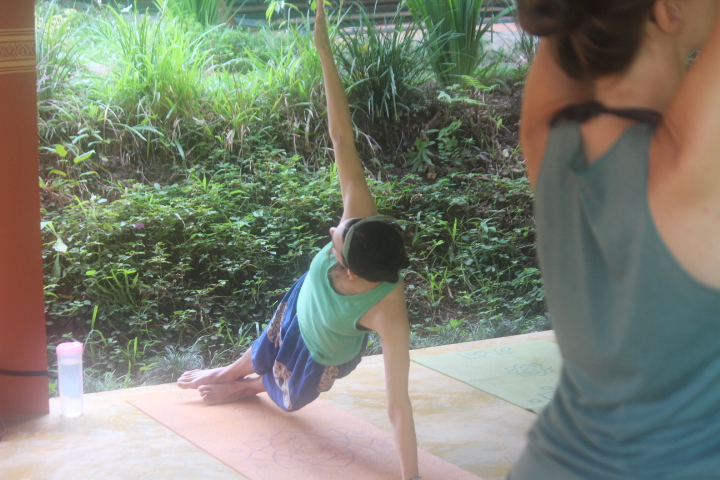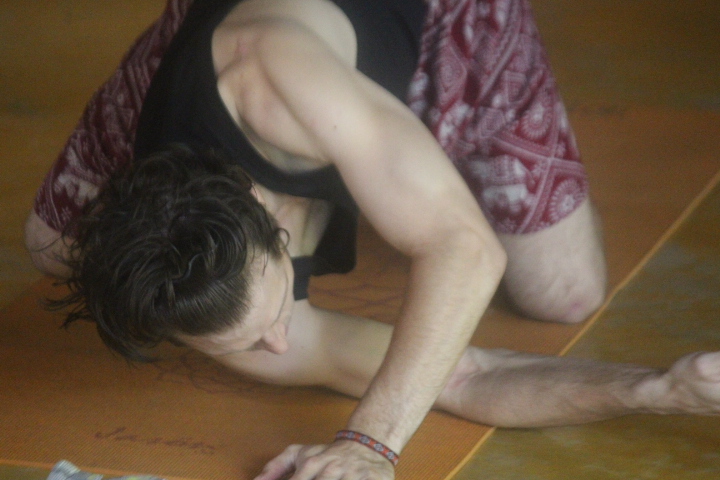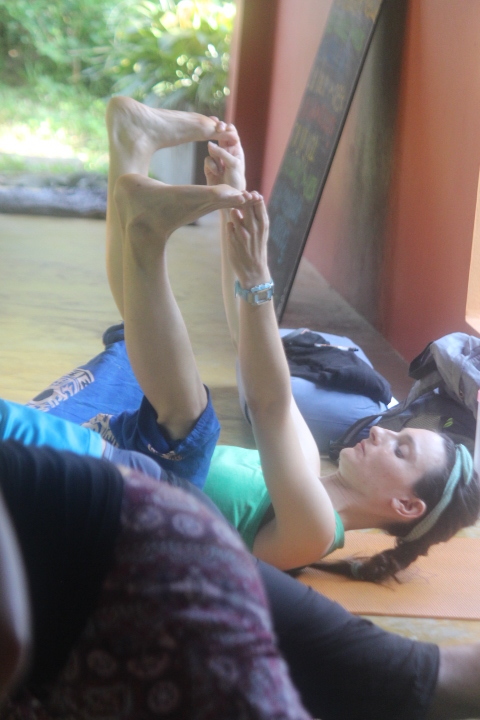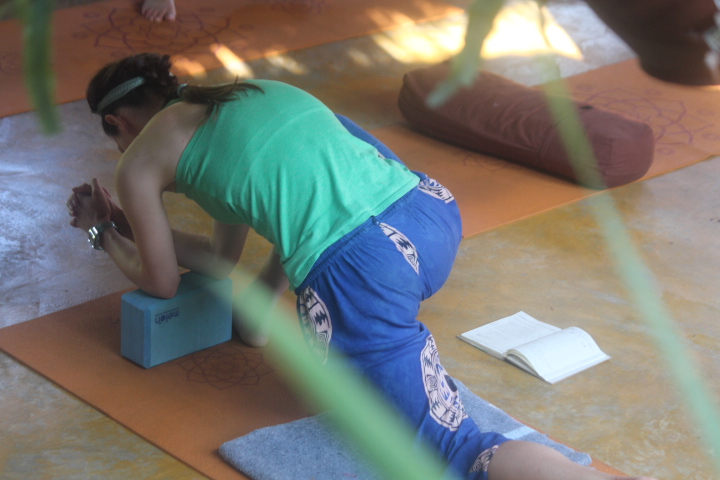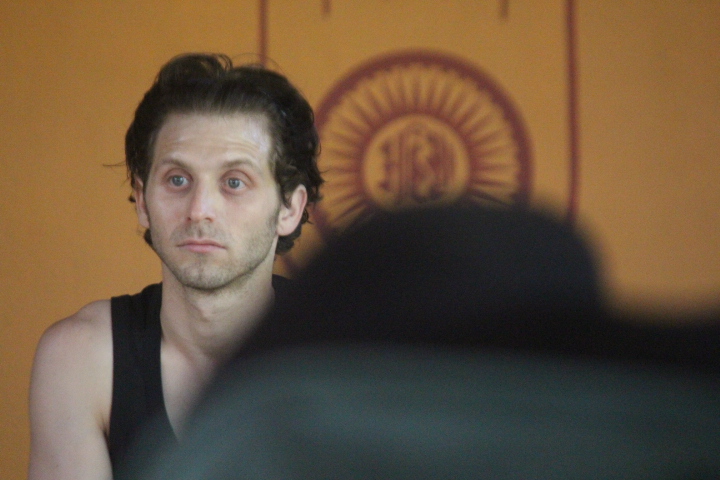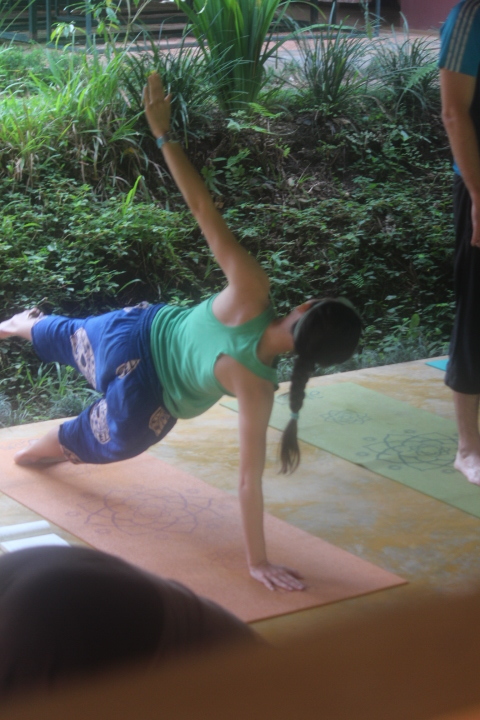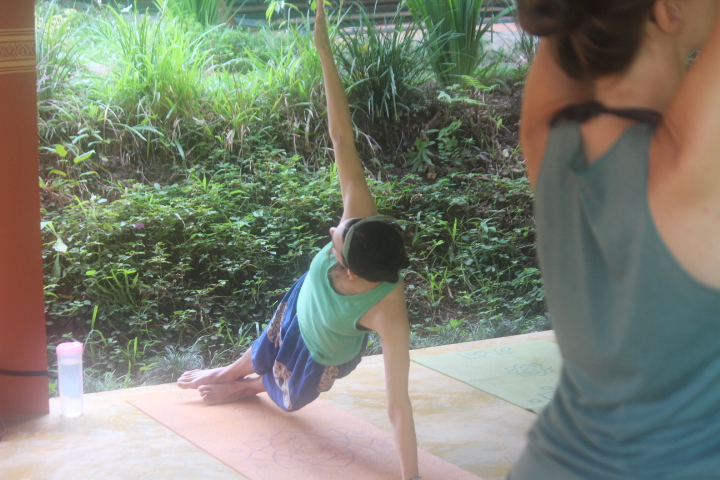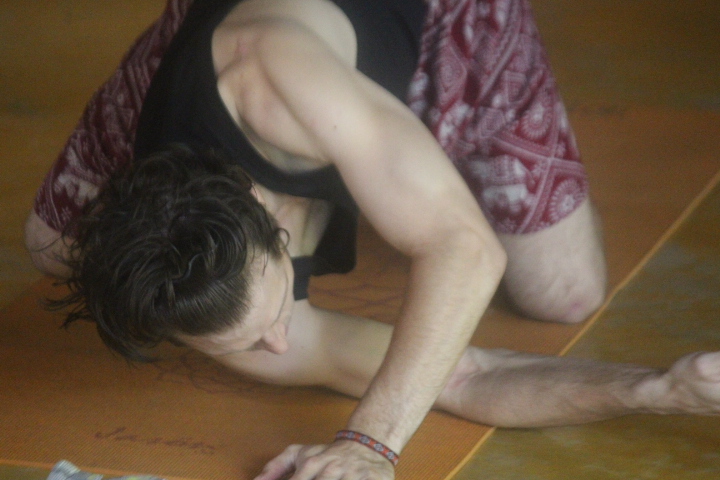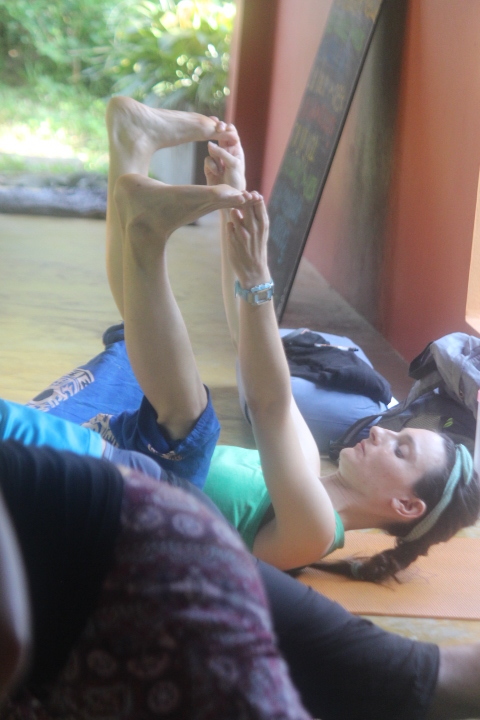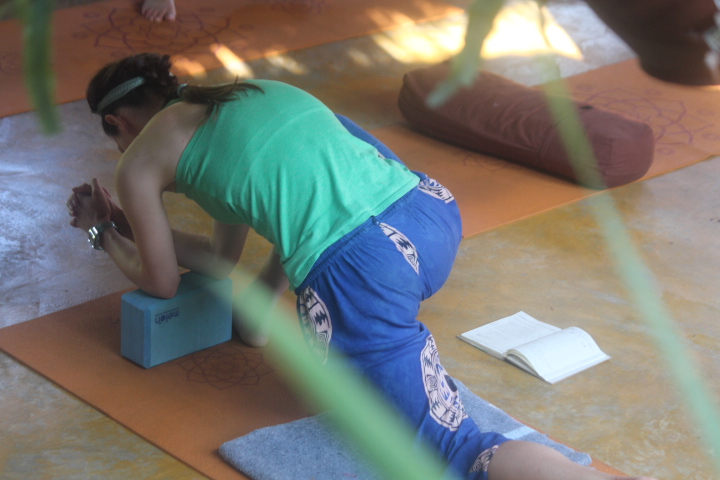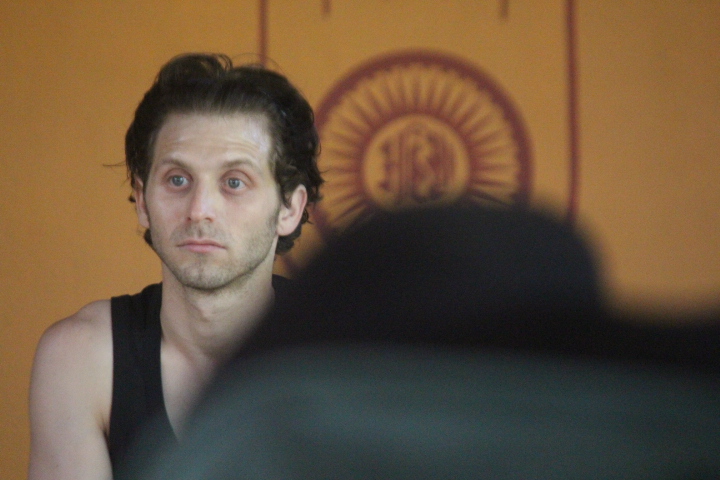 Then We Work on Some Inversions: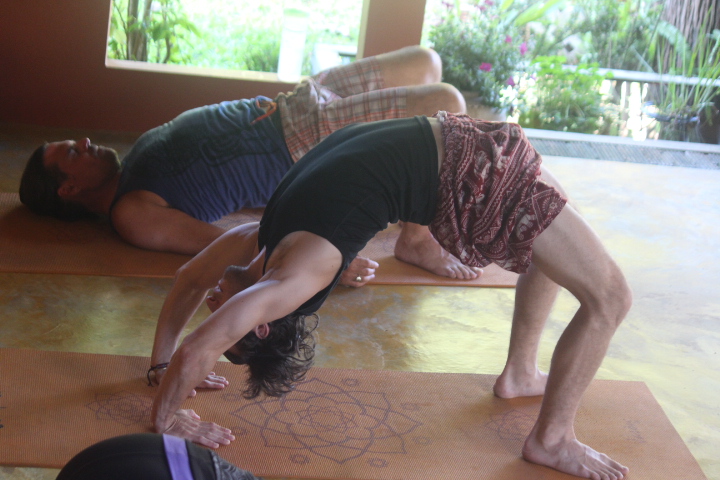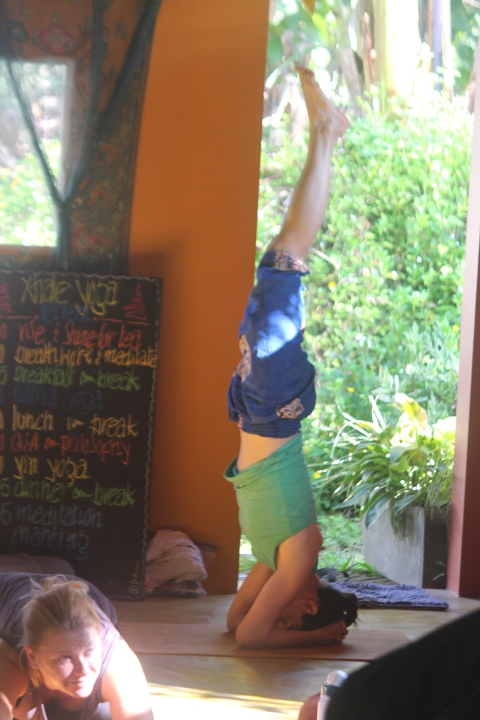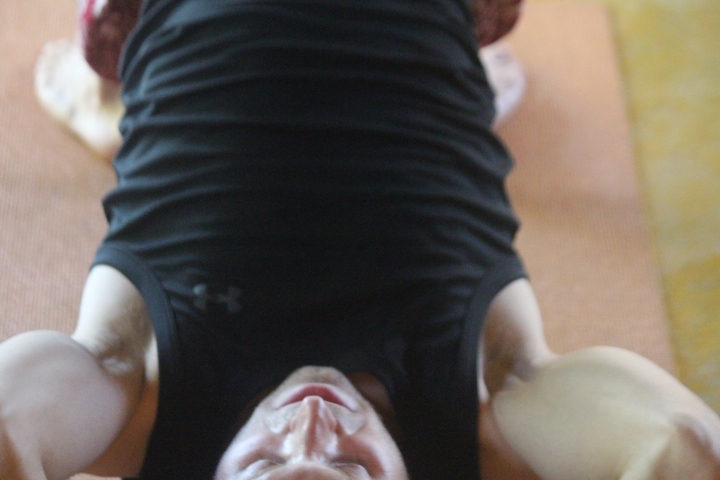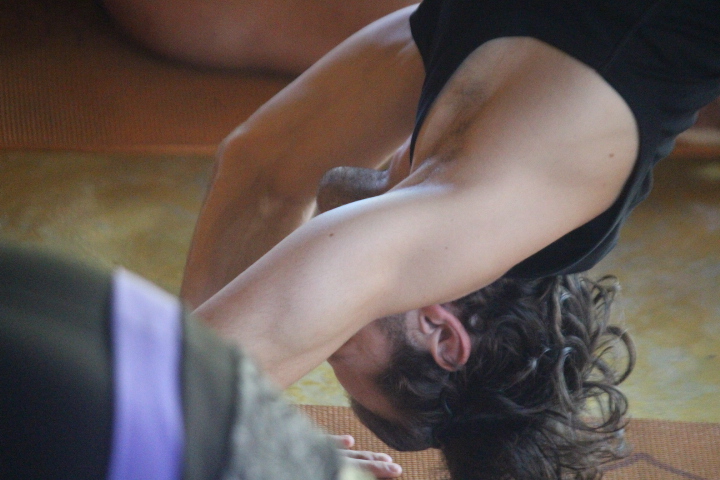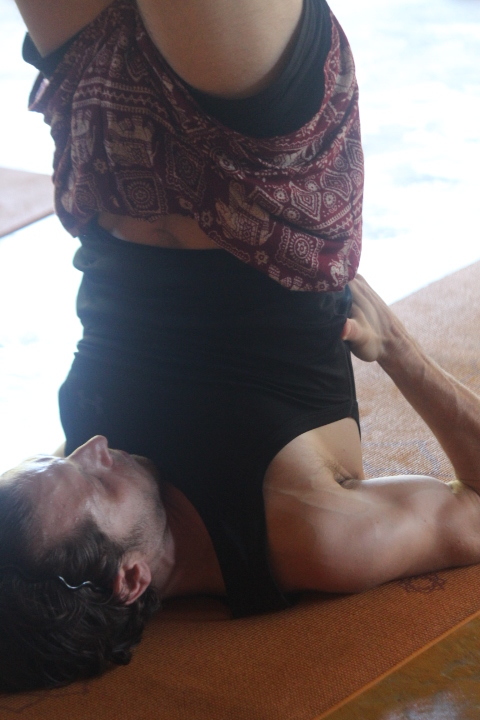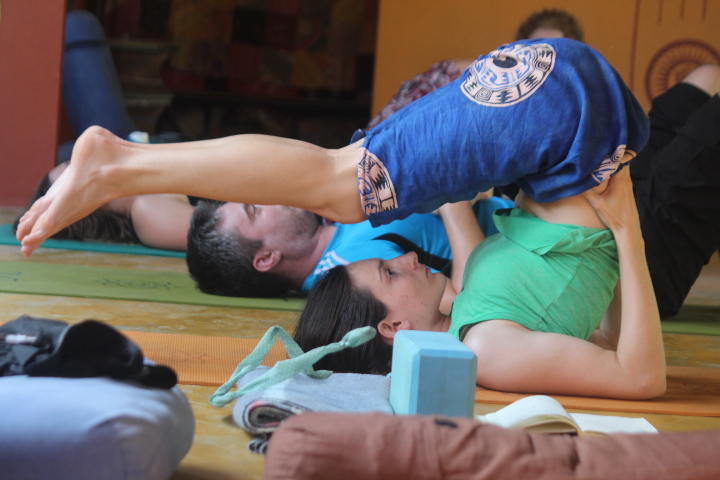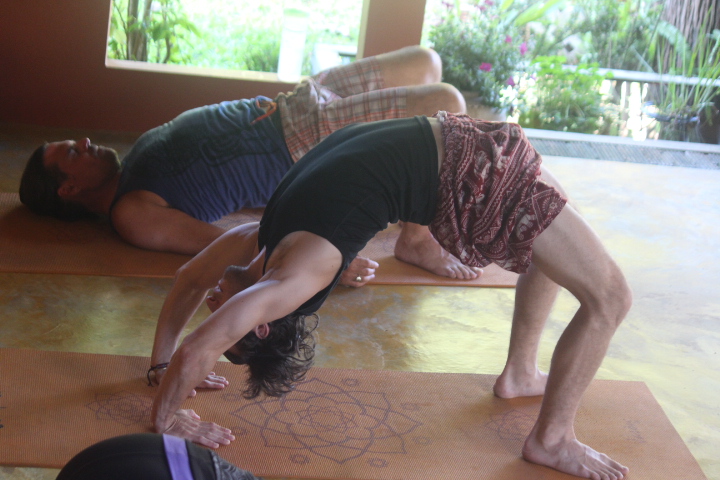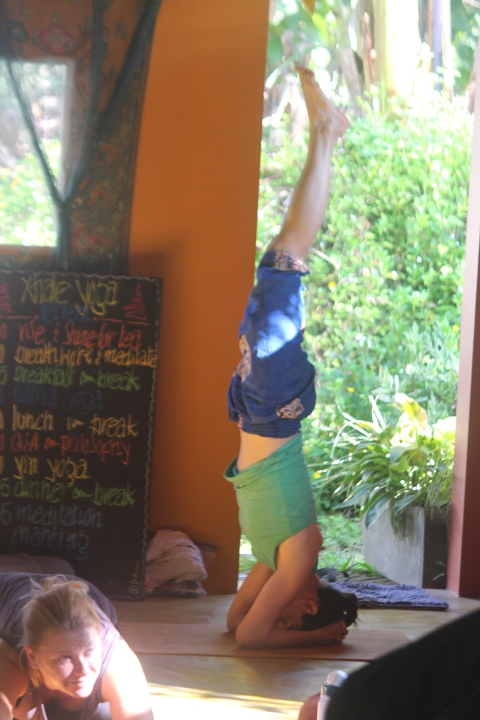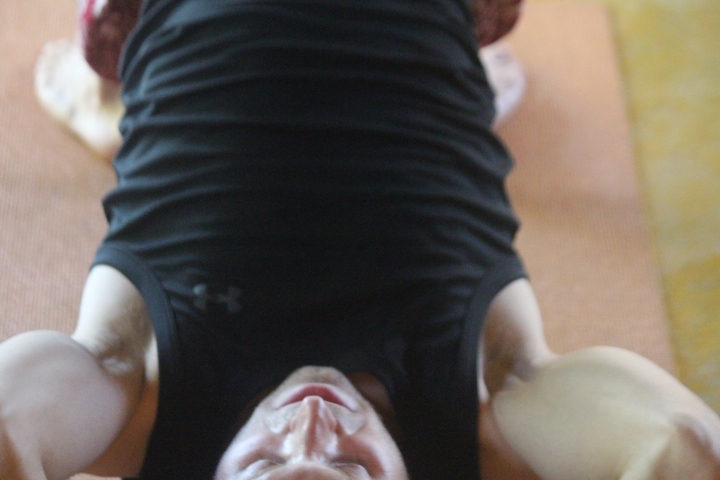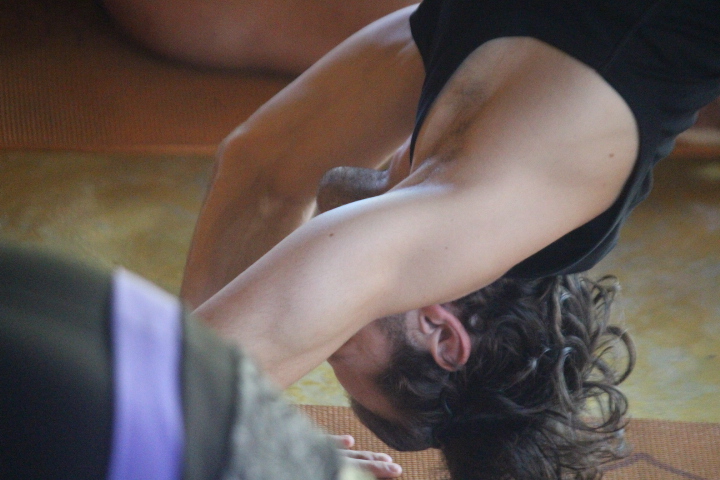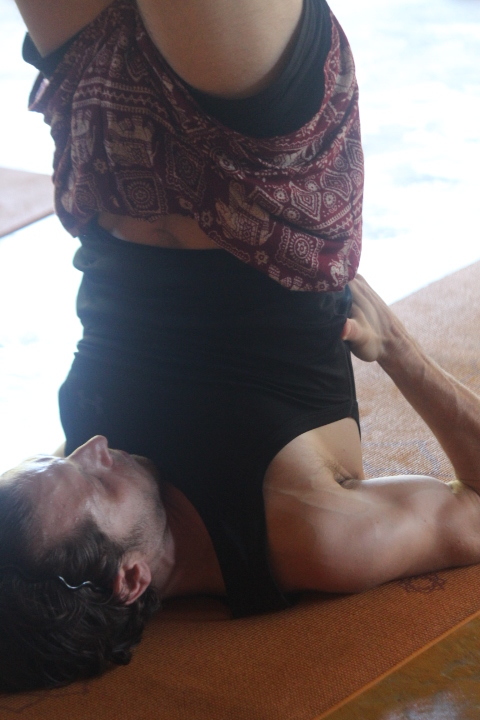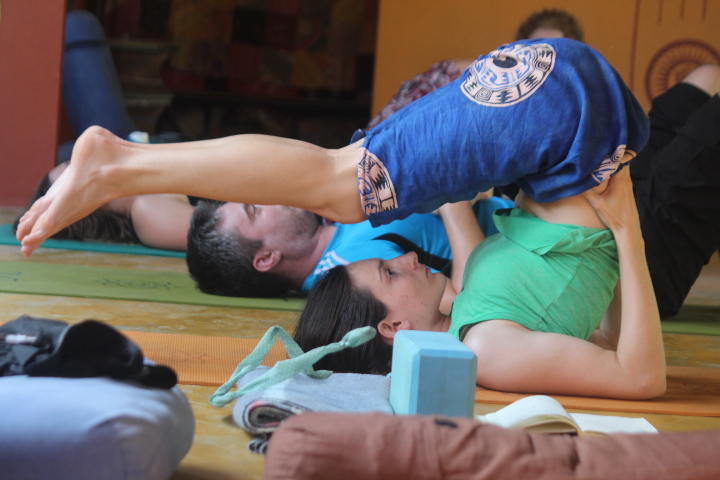 12:00-3:00 Lunch and Break
Every day during lunch we are surprised by our food and its beautiful presentation. Containing mostly vegetables each plate is professionally plated and resembles a painter's easel—exploding with vibrant colors. The taste is just as explosive and pairs well with the never-ending herbal teas provided throughout the day.
Now that we are able to speak the 9 of us make friendly conversation and discuss our travels. Sylvie and I are, by no surprise, the most experienced in travel. Many of the younger students seem rather inspired about our stories. The older students, of which there are 5, are very centered and seem like very happy people. In our group, some are from the UK, Germany, The Netherlands and another American.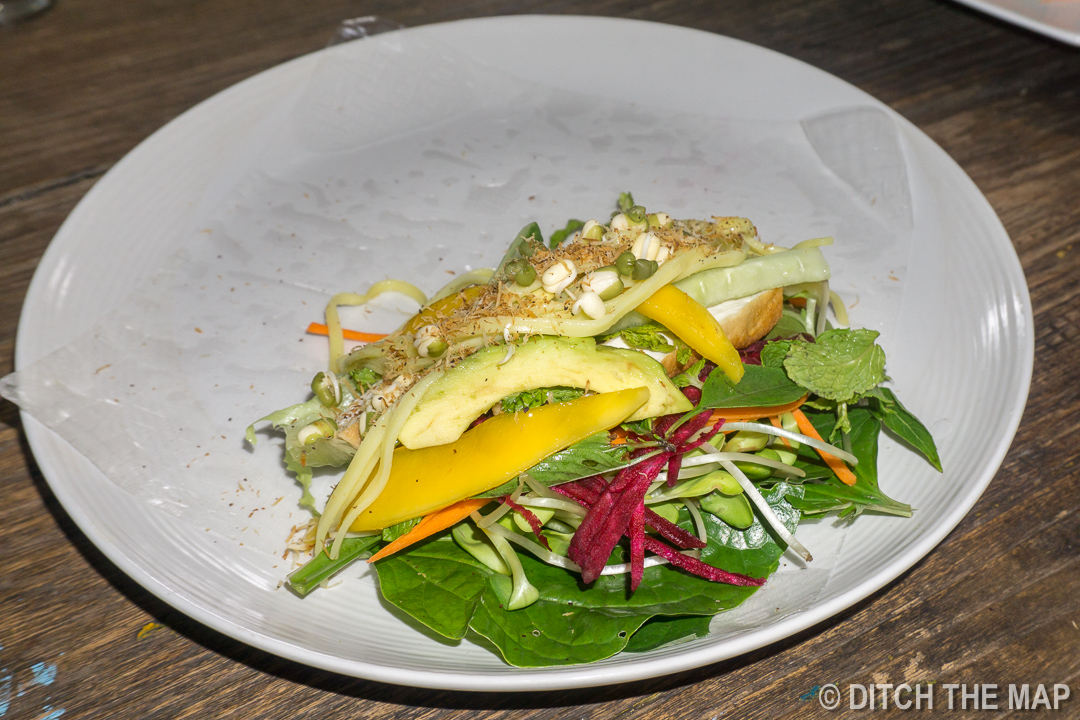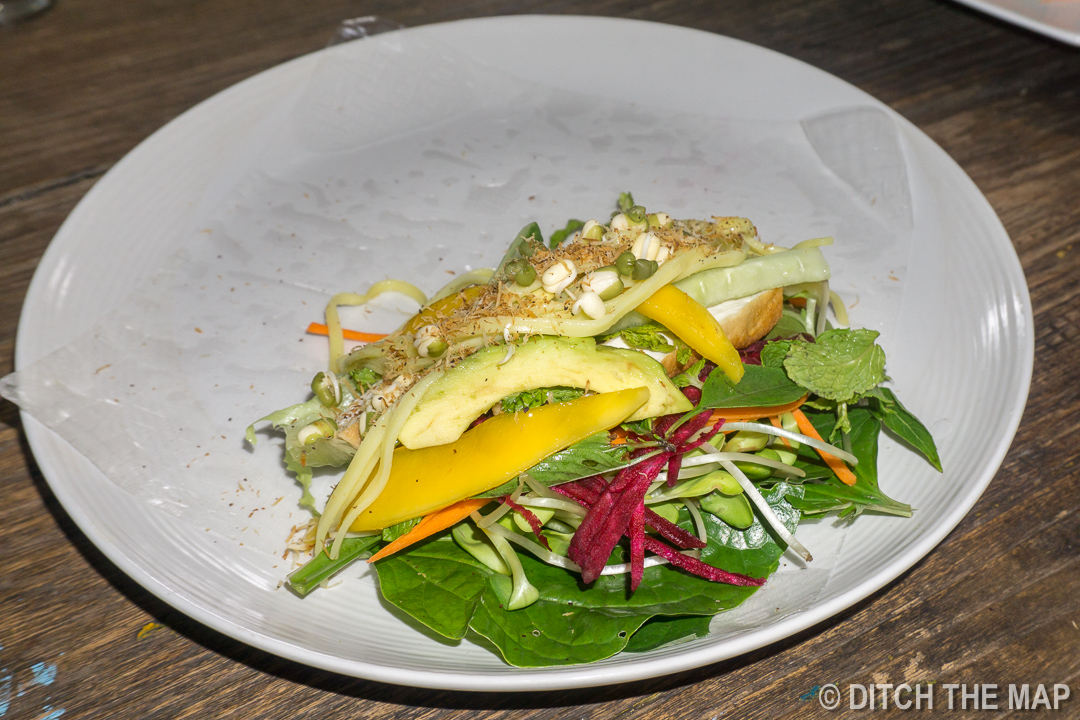 During one afternoon break we all took a trip into the city of Pai. Sylvie broke the rules (not really rules, more like suggestions to get the most out of the retreat) and indulged on a brownie with ice cream. I bought a few 'contraband' treats for when we were back at the retreat. Another day we received oil-massages at the yoga studio during our break, but our breaks were mostly spent reading, writing, relaxing, and making new friends.
3:00 – 5:00 Q&A and Philosophy
After our afternoon fruit shake we settle in and get comfortable for the discussion of yoga philosophy. We talk about lessons from the day, our thoughts, and the eight limbs of yoga placing an emphasis on the first two in particular- Yama and Niyama. Yama encompasses compassion for all things, truthfulness, energy moderation and non-desiring for things and wealth. Niyama is about personal observance, or as Bhud says, "knowing your shit," from self-study, personal effort and achieving contentment.
5:00-6:45 Yin Yoga
Having been largely unfamiliar with Yin yoga before, it has now become my favorite practice. As the sun starts to set we are on our mats and holding positions for five minutes at a time with the assistance of a strategically bolster (firm pillow) and Bhud's guidance. The sky darkens and the music and sounds of cicadas fills the air. It is ridiculously tranquil and such a great way to relax and reflect on the day. We deepen into the positions really feeling the stretch until it's time to meet in savasana.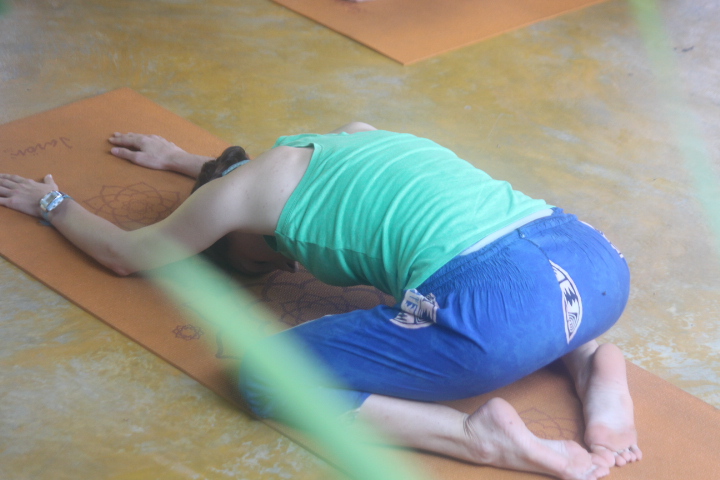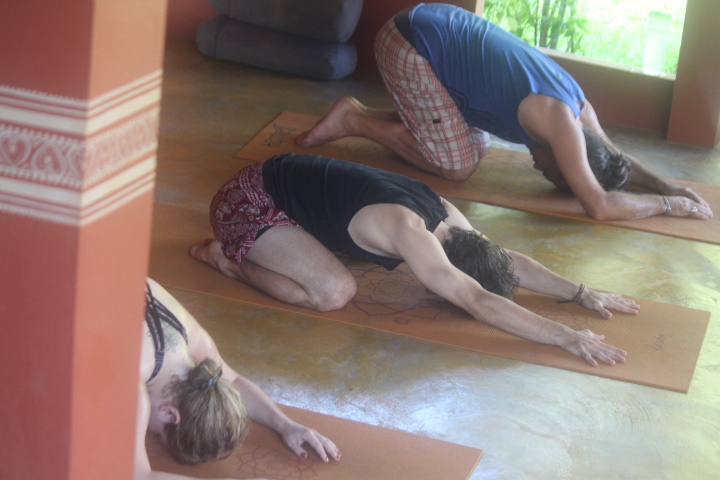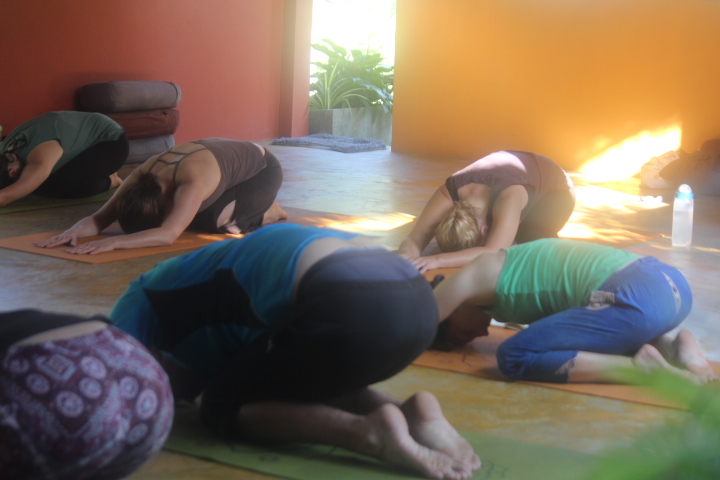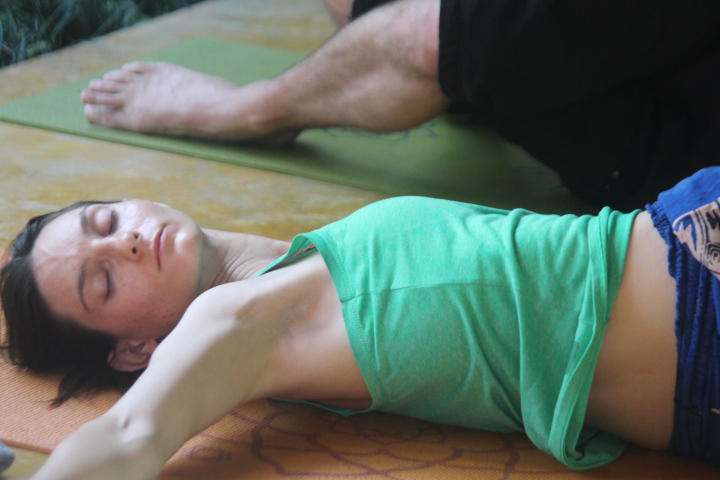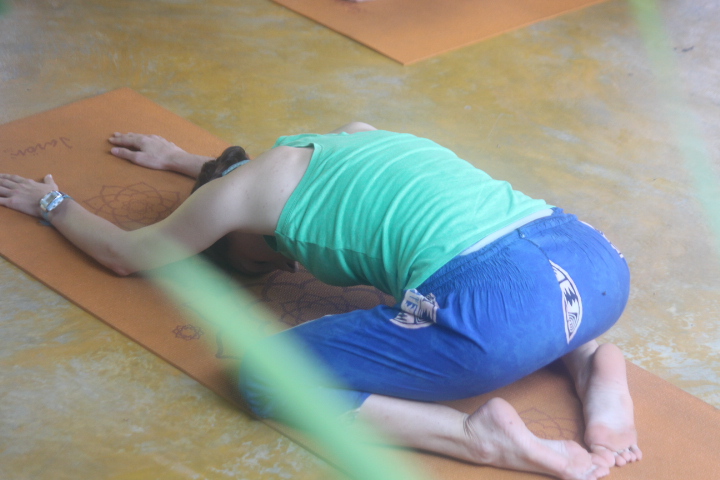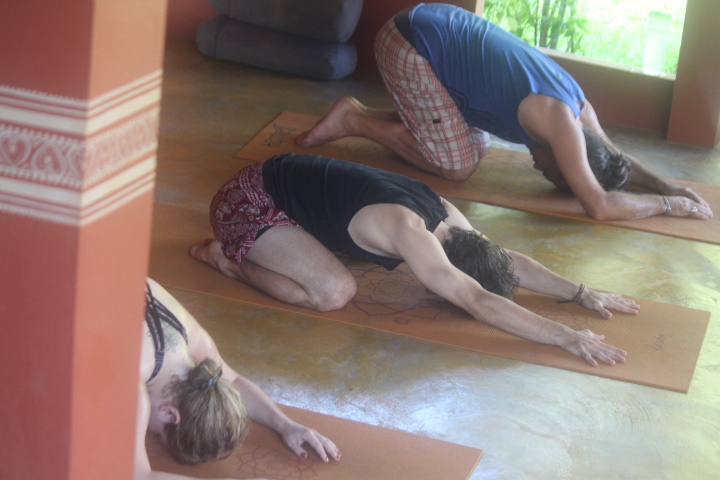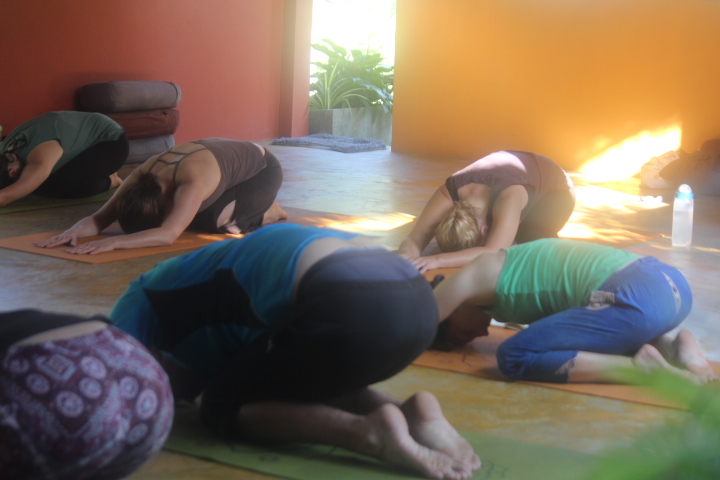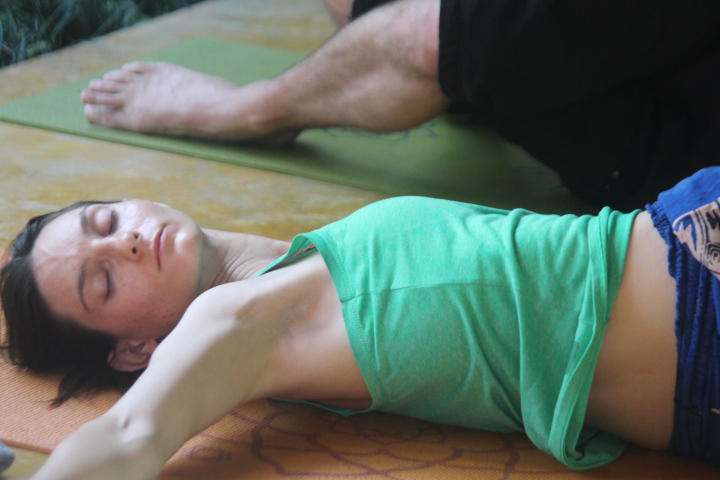 6:45-7:45 Dinner and Break
Another lovely meal was served each evening. All super healthy, tasty and satisfying. I didn't even miss meat or dairy during the entire 5 days. The meals look and taste like restaurant quality. Our bodies were thankful for the antioxidant and fiber rich meals.
7:45-9:00 Meditation and Chanting
Each night we sampled a new type of meditation introduced by Bhud; sitting meditation, meditation to music, movement meditation. One night in place of meditation we learned chanting. Assisted by Bhud on the drum we chanted several different chants. It was a really positive experience and we generated such great feelings and energy with our voices. Bhud encouraged us to dance and clap along if we were feeling moved. Another night we took a break completely and headed to a hot spring after dinner where we hung out with the group and chatted in the steaming pools.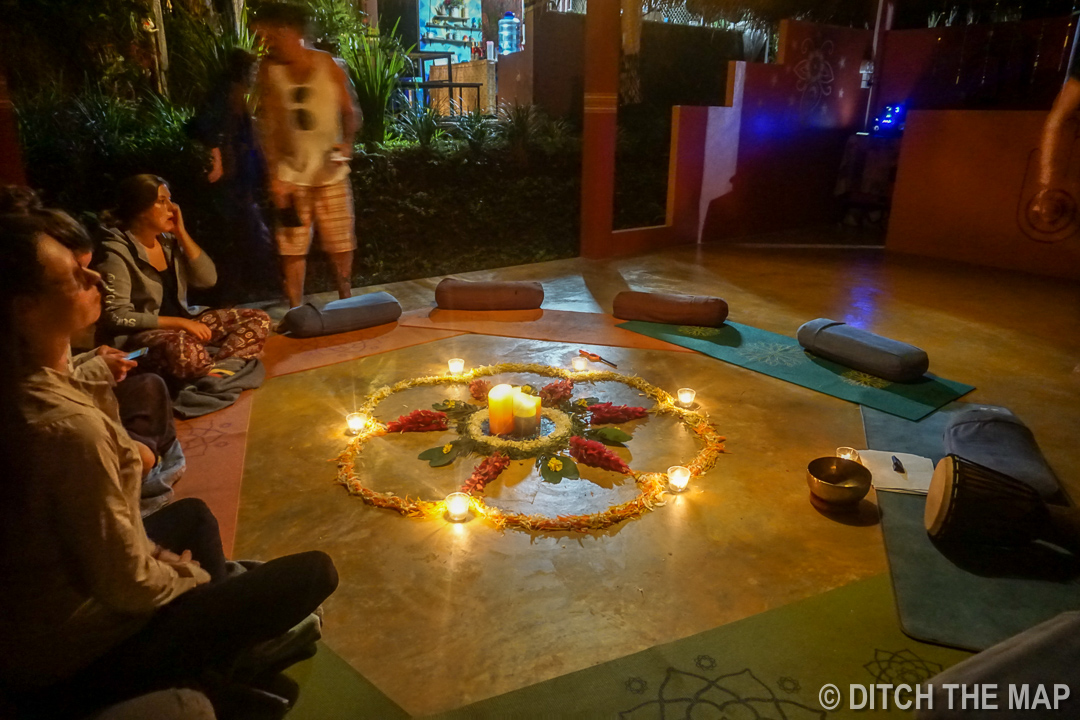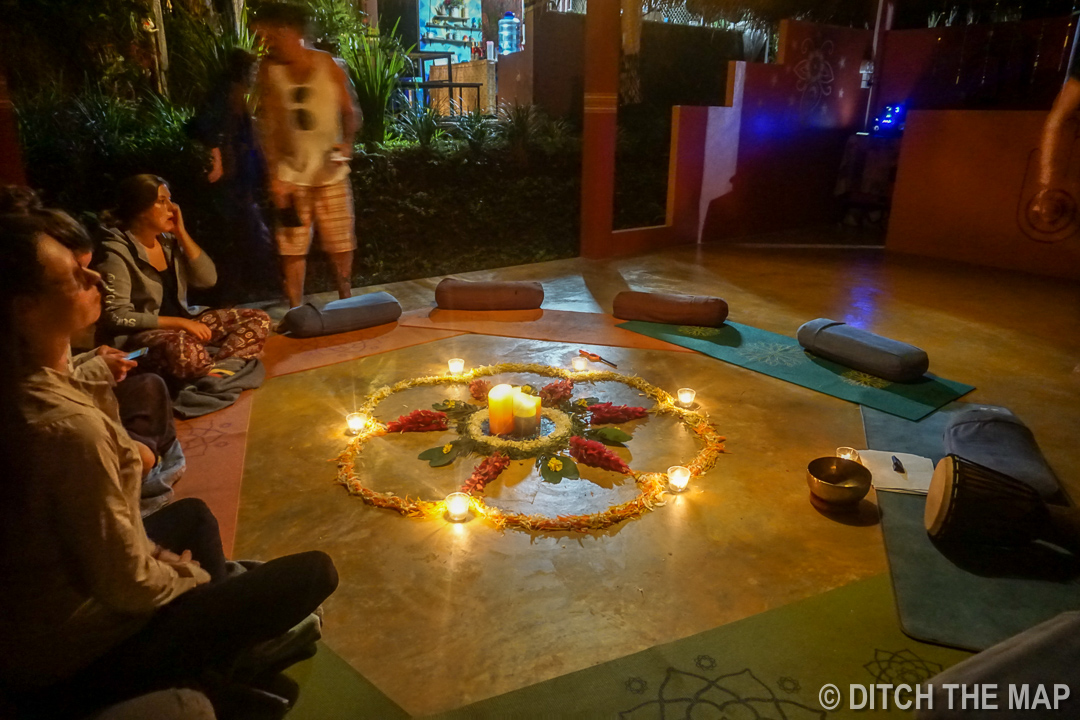 Reflections on the Experience
The retreat was such a special experience. It gave us a chance to unwind and reflect. We've had a busy 15 months of travel and both needed to slow down, recharge and restore our bodies and minds. The retreat offered us a chance for that and more. We were lucky to have such a positive and encouraging group. Not to mention, Bhud is one special and inspiring lady. The serenity of the grounds, the nutritious diet, the mind-opening conversations and the sense of acceptance and community made for a perfect experience. We were both sad to leave but left with a sense of lightness. We hope to maintain some of the lessons and lifestyle from the retreat. We highly recommend Xhale Yoga Retreat to anyone with 5 days to spend in Pai.