November 26-28, 2016
Ao Nang
Arriving in Ao Nang
Ao Nang is the largest city (and beach) in the Krabi province. The 3 hour mini van ride wasn't too eventful. I had a beer with a few gents at my hotel, one ended up being the owner. The other was a very crass Czech guy. By the end of my beer I had no remaining respect the man so I excused myself and went to my room. He had been bragging about his sexual achievements from the previous night. Then we went on to say he wanted to drink less tonight since when he called his 7-year old daughter the other night we was "fucking smashed". The owner was a bit more reserved but still put a bad taste in my mouth. They were both Trump supports and very 'macho' forward guys. I can see why they have gravitated to Thailand though. The owner had been living here for years but hadn't even traveled to 2 other Thai cities. What a pathetic human being. I successfully avoided those two gents the rest of my stay.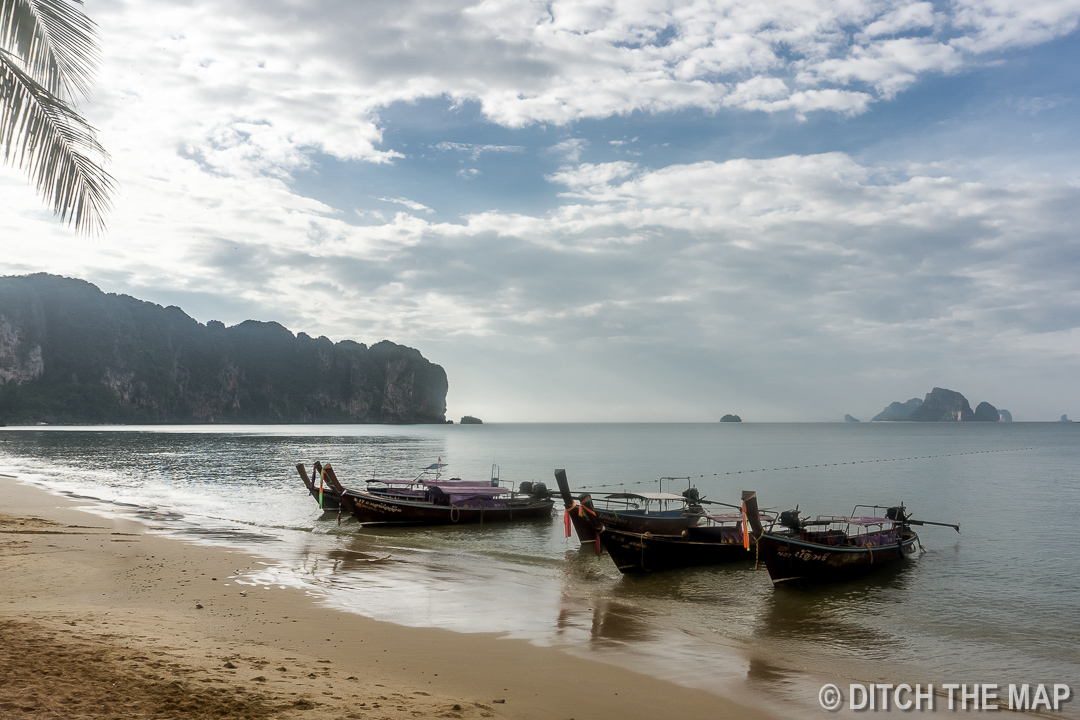 My hotel was a 30 minute walk from the beach, and in the intense heat, was quite tiring. The street leading to the beach was peppered with massage parlors, Thai restaurants offering "real Thai food", and 7-11s. Near my hotel, farther away from the beach, there were more authentic outdoor dining spots all set up with plastic chairs and everything. It reminded me of parts of Indonesia as many of the shops were Muslim-run and served similar food.
The main walking street runs parallel to the beach but I only walked it a short while before realizing that it's like every other Thai 'walking street'--rife with tourist shops and travel agencies.
My days were spent relaxing at cafes and walking the streets...oh, and 1 yoga class.
Climbing Limestone Karsts
Waking up early was a challenge but I made it out before 7:30 to catch the first longboat of the day out of Ao Nang beach. I took it all the way to Phra Nang Beach, which was absolutely gorgeous. On the way back I got off at Railay Beach. Railay's limestone karsts, weathered by years of rainfall, has given Railay notoriety within the global climbing community and attracts climbers from all over. I spent 3-4 hours doing a beginner climbing trip. I climbed 4 or 5 times but after that I was too tired and couldn't go on (same as with the two Norwegians in my group). My fingers ached more than any other part of my body. Each climb was between 50 and 100 feet high and ranged in difficulty. The climbs we did were rated as low at 5.1 and as high as 5.10.
Climbing on a rock wall is completely different than what I experienced on the karst. Rocks walls provide artificial 'rocks' to hold onto. Unlike these rock gyms the actual textures of the rock is much harder to grab onto. Some sections are weathered as smooth as glass while some other portions cut like a blade's edge. All-in-all it was a great trip and am sorry Sylvie didn't get to experience it with me.
Meeting some People
I met several interesting people on the trip as 4 other groups joined us on the same rock face. I only had two other people in my group, a very lovely Norwegian couple. As part of another group I met a girl that lives in South Philly but works in center city. Would you believe that she even belongs to The 12th Street Gym. Small world huh? She works for a foundation, started by a a particular Philadelphia athlete, which provides support to children in families suffering with addition problems.
Another interesting person I met was an 18-year old British guy who has been traveling for several months throughout SE Asia. He had been through Cambodia, Vietnam, Lao, and Myanmar. We is currently on his way to Singapore where he'll fly to and spend 6 months in Australia where he plans to work. Thailand has been full of 2-week resort vacation-goers and expats who have moved here for a cheaper way to maintain their drinking and responsibility-avoiding lifestyles. It was nice to meet another experienced traveler. We chatted about our experienced in SE Asia and I have him a few pointers about Singapore and Malaysia while he shared some of his experiences from his 2-week jaunt in Laos. He agreed with my decisions to skip over Laos for this trip. His opinions about Thailand were surprisingly inline with my own. For the Asian newbie Thailand is a safe place with beautiful weather, nice people, and interesting new food. However for the experienced traveler it lacks a certain authenticity and leaves one wanting. I was relieved when he had said his friends had visited Lanta and had positive things to say.