We almost missed our train to Goa after waiting at the wrong station. With 20 minutes to spare we realized our error and were able to catch a cab to the correct station. In all of our 9 months of traveling we have yet to miss a plane, train, or bus!
In our berth on the train were two friendly families. We chatted with the family of three across from us- a mom, dad, and young boy and the following morning the young married couple to our left gave us some advice for places to visit in Goa. They revealed that he was Muslim and she was Hindu- very uncommon and initially their families were not happy about the union. I think it's refreshing to see people staying from the limitations of tradition and following their hearts instead.
Arriving in Northern Goa
We rented an Airbnb for our stay in northern Goa. We were just a few minutes walk from Candolim beach. We have been so antsy for quality beach time. The apartment was beautiful and impeccably clean. The owner greeted us and was super professional and organized. He even provided written instructions for how to use the water filtration system and washing machine (a washing machine-how exciting!). The owner showed us around the apartment and said though he tried to provide everything we would need that "it's India and you can't always count on things like the gas, electricity, or WiFi working consistently." We definitely take these things for granted in the states- we expect them to work and they do. The owner was accompanied by his grounds keeper who was on-call for anything we needed during our stay, wow.
Having our own kitchen and fridge while traveling is one of our biggest pleasures. We stocked it with the essentials-veggies, ice cream, and beer to enjoy during our hours of relaxing. Click here for the Airbnb Listing.. New to Airbnb? Sign up here for a $40 credit on your first booking.
Goan Life
Candolim turned out to be a fun town with many shops, restaurants and bars lining the main road. Everything was very accessible and within walking distance. We were really impressed by the food at all of the restaurants we visited. We tried some local Goan cuisine including prawn xacuti and pork vindaloo. Xacuti is a curry sauce flavored with coconut and it is delicious! Before coming to Goa we did not know that vindaloo derives from here. Vindaloo is actually influenced by a Portuguese dish called Carne de Vinha d'alhos which is traditionally made with pork. The Portuguese occupied the region of Goa before the East India Trading company. The Portuguese influence can still be felt in some regards, with a small catholic population and the presence of churches.
We explored several of the Goan beaches along the coast during our stay. We were able to walk north to Baga and Calangute Beach, and then south to Sinquerium beach for the most spectacular sunset. Baga beach and Calangute are supposed to be more of the "party" beaches and they were lined with little beach shacks selling food and alcohol. There is definitely a drinking culture in Goa which is very different than anywhere else we've been in India. All of the restaurants here advertise and sell alcohol.
It is low season now so neither Baga nor Calangute were very crowded and several restaurants and shops were closed down until after the monsoon. Surprisingly Goa is visited by many Russian tourists and many signs are in Cyrillic, but the overwhelming majority of tourists are still Indian tourists from other regions. The rapid expansion of building to accommodate increasing levels of tourism has taken a toll on the environment in Goa. Resorts and hotels seem to be built without pre-planning- expanding where ever there is space without regard for infrastructure.
Scoot Scootin' Around Town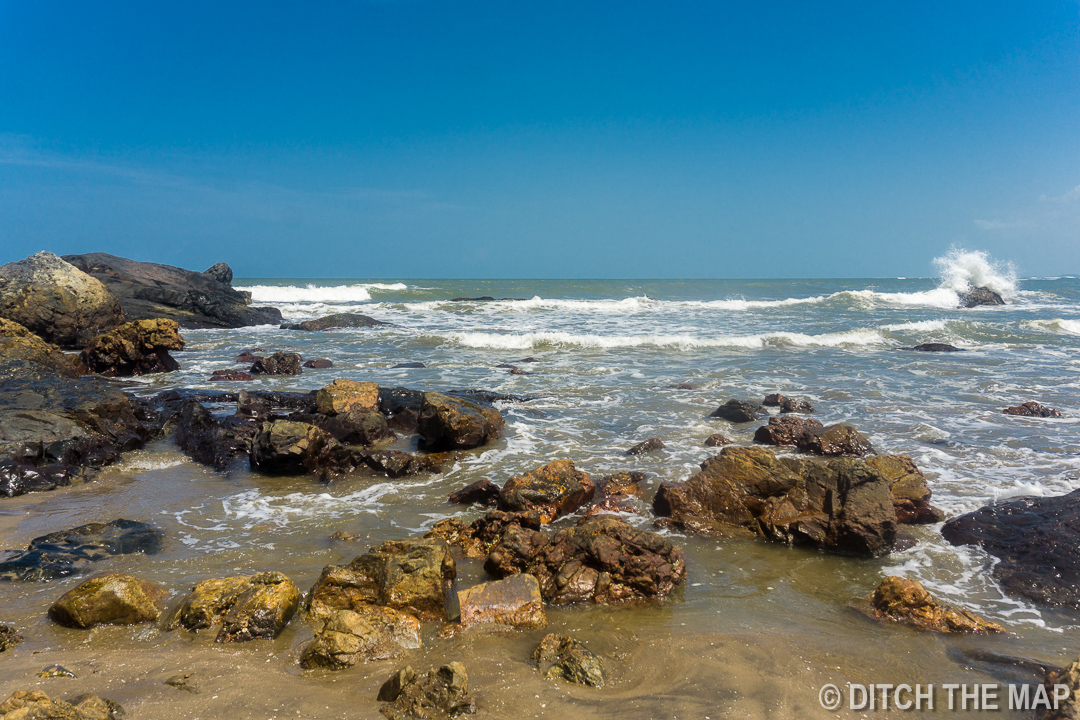 In true Indian style, we rented a scooter for the day to explore some of the beaches farther north. It cost us only $4 for a day rental! The quieter less trafficked beach roads are good for adjusting to the Indian driving style without extreme fear for your life or well-being (unlike in the big cities). We hopped on the scooter and scoot-ed up to Vagator and Anjuna Beach. Though all of the beaches we visited were within a 5 mile radius of each other, several of them had unique terrain, rocks and vegetation making for an interesting contrast. None of the beaches were very crowded and most of the women were in full clothing. After visiting several beaches, we concluded that we were very happy with our choice to stay in Candolim beach, which seems a bit more happening and upscale that the other beaches.
The scooter was an excellent way of getting around and we whizzed down the curvy back roads parallel to the beach. We admired some beautiful seaside scenery with the comfort of the breeze generated by our scooters momentum. The breeze was misleading however, as we both managed to get sunburned through our clothing and sunscreen! The sun is no joke down here by the equator. We had a small mishap on our scooter when it quite adorably put-putted to a stop signaling that we had ran out of gas. We were stranded on the side of a back country road. We managed to push our scooter up the street and around the bend, to our relief, we saw a strip of houses. Fortunately the people living in these small houses along the road have wised up to tourists naivety and love for scooters and sell water bottles full of gasoline for those who end up stranded just like us. (In our defense, nothing on our dashboard was working- not the speedometer, fuel gauge or warning lights.)
Tropical Spice Plantation Tour
The night prior to the spice tour we negotiated a price with a taxi driver on the street to take us to a spice plantation and then our next destination in Southern Goa. To our surprise, he was reliable and showed up on time in front of our apartment the following morning. We drove an hour to the Tropical Spice Plantation and were the only tourists there (off season-monsoon season-has it's perks). After paying the 400 rupee entrance fee per person, we were greeted with flower necklaces and bindi's applied to our foreheads. The set up was professional and geared toward tourists. We received a welcome drink of ginger and lemongrass then started our tour.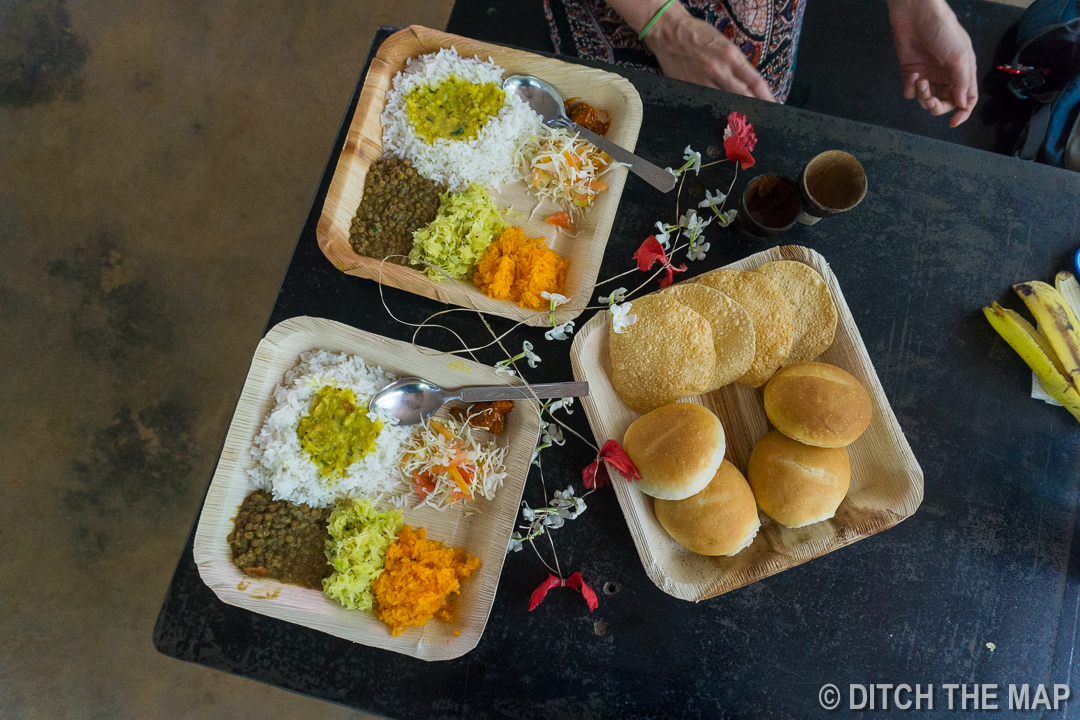 The tour guide lead us around a small portion of the over 100 acre plantation and showed us multiple different spice and fruit plants, taking about their culinary and medicinal use which range from curing tooth pain and indigestion to remedies for a night of sound sleep. We saw a cashew tree and learned that one tree only produces around 200 cashew each year, the cashew is attached to a fruit which they use in Goa to make an alcohol called fenny which we were able to sample at the end of the tour. The cashew was brought over from Brazil during Portuguese reign. We got to try a fruit fresh off the tree called a sour gherkin, in the same family as the star fruit. Our tour concluded with a plentiful Goan lunch.
Some interesting things we learned on the tour:
saffron, cardamom and vanilla are among the most expensive spices (saffron is the most expensive)

The 4 types of pepper (green, red, white and black) come from the same tree but have different harvest times and preparations

banana trees and sugar cane are actually grasses

bamboo can grow over 4 inches a day

male and female pineapples have different shapes and tastes

cinnamon comes from the bark of a tree

nutmeg and mace come from the same plant
Southern Goa
After the tour we were dropped off in Colva in southern Goa. We found our apartment and explored the town. Southern Goa has a more laid back and family friend vibe. It is quieter with less of a "party scene". The pre-monsoon weather was ominous on our first night, with dark skies, thunder and lighting. On our second night however we were able to catch a beautiful sunset.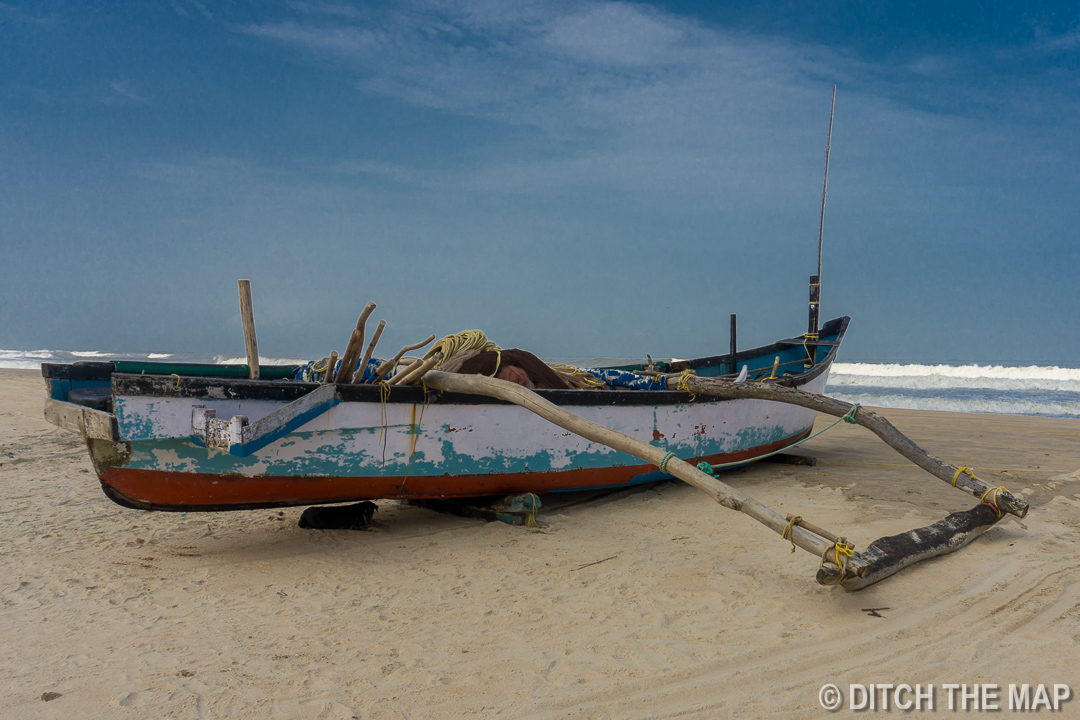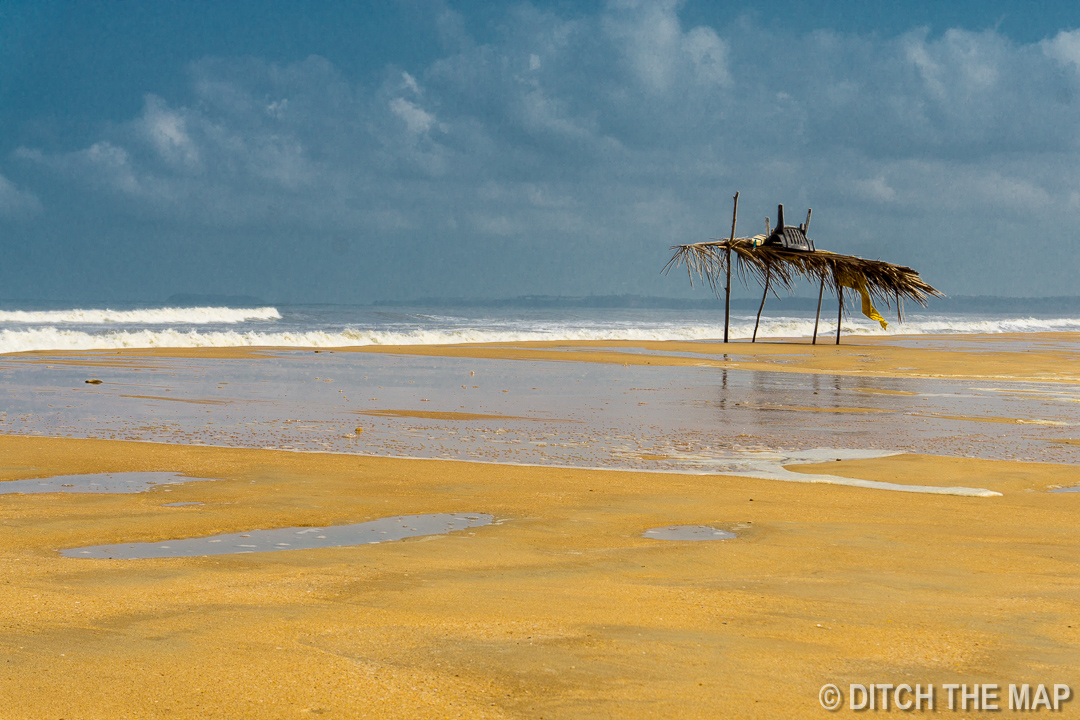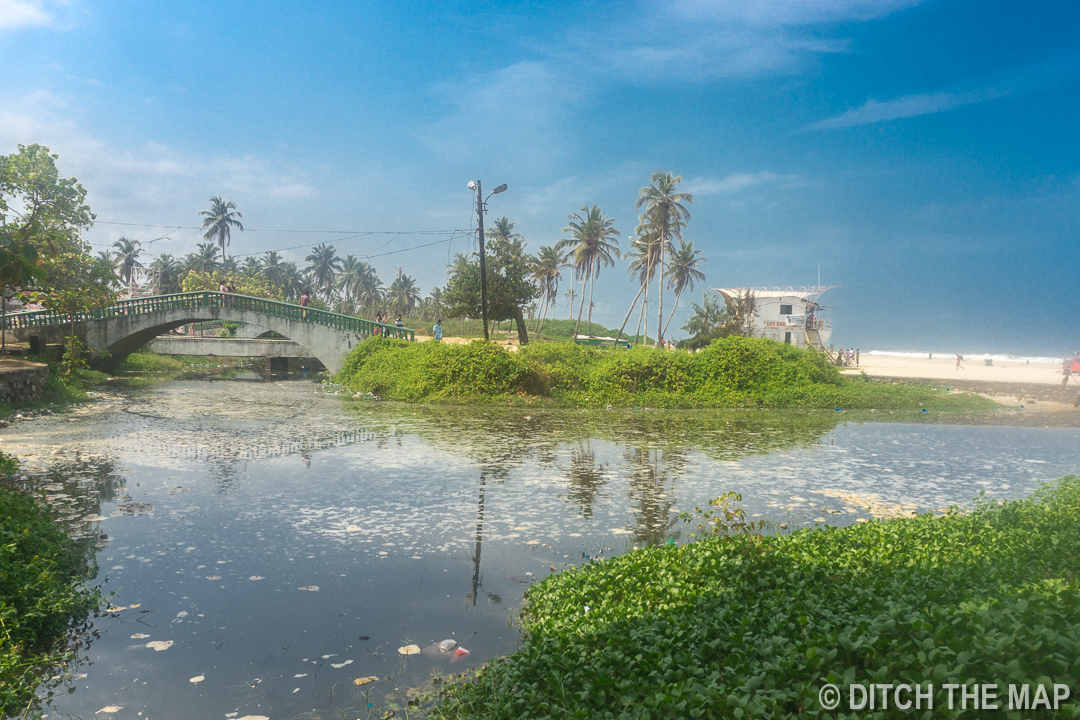 The hotel next door is run by the same owner as our apartment which allowed us to access the hotel pool for a small fee. We spent a lazy afternoon by the pool. We were the only ones at the pool, but there were some families and staff members at the restaurant next to the pool separated by a fence and tall shrubs.
A large Indian family sat down for lunch in the restaurant. While the family was eating, two of the young children wandered toward the pool. Our backs were turned to them, but we heard a splash. The young boy began trashing around, we assumed he was swimming. Our backs were turned and we did not immediately realize how young he was or that he didn't know how to swim. No other adults were around.
About 20 second passed and Scott grew alarmed. He picked the kid up by his arm pits and placed him on the ledge of the pool where the boy, who we could now tell was around 3 or 4, proceeded to throw up water. At that point we realized just how serious the situation was and how much worse it could have been. The boy hadn't been swimming, he had been frantically trying to get his head above the water to breath but had failed, only to gasp water into his lungs instead. I leaped over to the boy to console him, though I'm sure he didn't understand what I was saying. He started crying hysterically. What a traumatic experience for the poor kid. The chunky little girl had pushed him into the pool and then stood there after the fact just starring at him!
His family finally heard his cries and came running over. I don't think they realize the severity of what had just happened. They took him and stripped him out of his wet clothing while the kid cried and cried. About 30 minutes later a member of the family came over to thank us and confirmed that the boy did not know how to swim and that he and the little girl had been fighting. They didn't see any of it happen and I don't think they realize just how lucky they were that we were in the pool. Scott saved the little boy's life.
On our last full day in South Goa we rented another scooter and rode around for quite a few hours, stopping off at beaches along the way. We ended up stopping back at the beachside restaurant that we enjoyed a couple days ago. The food was good but the service was horrible. The manager was rude, spoke over us, refused to let me finish a sentence, and couldn't look me in the eye--he was looking at Scott since he was the man.
Original publish date: May 29 - June 6, 2016